Abstract
Cardiovascular smooth muscle cells (SMCs) exist as resting or activated cells. Resting SMCs produce contractile proteins and are nearly transcriptionally inactive; activated SMCs are transcriptionally active and are involved in pathological processes such as atherosclerosis. Soluble guanylate cyclase, protein kinase G, and protein kinase A are present in SMCs, but their levels can be decreased in activated cells. Phosphodiesterase 3 (PDE3) activity is abundant in cardiovascular tissues; both PDE3A and PDE3B are involved in cyclic adenosine monophosphate (cAMP) hydrolysis in these tissues. Cyclic-AMP-hydrolyzing PDE activities are altered during the phenotypic transition of SMCs from the resting to the activated phenotype. Similar changes have been observed in cyclic guanosine monophosphate cGMP-hydrolyzing PDEs, although the impact of these alterations on PDE5 inhibitor-mediated effects requires further study. This report presents the changes in PDE expression that accompany phenotypic modulation of SMCs and discusses the potential impact of these events on PDE5-mediated cell functions.
Access options
Subscribe to this journal
Receive 8 print issues and online access
$259.00 per year
only $32.38 per issue
Rent or buy this article
Get just this article for as long as you need it
$39.95
Prices may be subject to local taxes which are calculated during checkout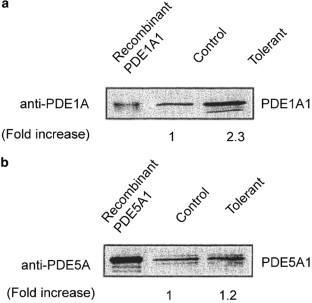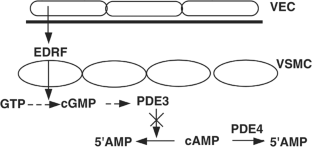 References
Liu H, Maurice DH . Expression of cyclic GMP-inhibited phosphodiesterases 3A and 3B (PDE3A and PDE3B) in rat tissues: differential subcellular localization and regulated expression by cyclic AMP. Br J Pharmacol 1998; 125: 1501–1510.

Palmer D, Maurice DH . Dual expression and differential regulation of phosphodiesterase 3A and phosphodiesterase 3B in human vascular smooth muscle: implications for phosphodiesterase 3 inhibition in human cardiovascular tissues. Mol Pharmacol 2000; 58: 247–252.

Dunkerley HA et al. Reduced phosphodiesterase 3 activity and phosphodiesterase 3A level in synthetic vascular smooth muscle cells: implications for use of phosphodiesterase 3 inhibitors in cardiovascular tissues. Mol Pharmacol 2002; 61: 1033–1040.

Maurice DH, Haslam RJ . Molecular basis of the synergistic inhibition of platelet function by nitrovasodilators and activators of adenylate cyclase: inhibition of cyclic AMP breakdown by cyclic GMP. Mol Pharmacol 1990; 37: 671–681.

Maurice DH, Haslam RJ . Nitroprusside enhances isoprenaline-induced increases in cAMP in rat aortic smooth muscle. Eur J Pharmacol 1990; 191: 471–475.

Rybalkin SD et al. Calmodulin-stimulated cyclic nucleotide phosphodiesterase (PDE1C) is induced in human arterial smooth muscle cells of the synthetic, proliferative phenotype. J Clin Invest 1997; 100: 2611–2621.

Rybalkin SD et al. Regulation of cGMP-specific phosphodiesterase (PDE5) phosphorylation in smooth muscle cells. J Biol Chem 2002; 277: 3310–3317.

Tilley DG, Maurice DH . Vascular smooth muscle cell phosphodiesterase (PDE) 3 and PDE4 activities and levels are regulated by cyclic AMP in vivo. Mol Pharmacol 2002; 62: 497–506.

Kim D et al. Upregulation of phosphodiesterase 1A1 expression is associated with the development of nitrate tolerance. Circulation 2001; 104: 2338–2343.

Dickinson NT, Jang EK, Haslam RJ . Activation of cGMP-stimulated phosphodiesterase by nitroprusside limits cAMP accumulation in human platelets: effects on platelet aggregation. Biochem J 1997; 323: 371–377.

Gustafsson AB, Brunton LL . Attenuation of cAMP accumulation in adult rat cardiac fibroblasts by IL-1beta and NO: role of cGMP-stimulated PDE2. Am J Physiol Cell Physiol 2002; 283: C463–C471.

Lugnier C, Keravis T, Eckly-Michel A . Cross talk between NO and cyclic nucleotide phosphodiesterases in the modulation of signal transduction in blood vessel. J Physiol Pharmacol 1999; 50: 639–652.
About this article
Cite this article
Maurice, D. Cardiovascular implications in the use of PDE5 inhibitor therapy. Int J Impot Res 16 (Suppl 1), S20–S23 (2004). https://doi.org/10.1038/sj.ijir.3901210
Published:

Issue Date:

DOI: https://doi.org/10.1038/sj.ijir.3901210
Keywords
phosphodiesterase

smooth muscle cells

cyclic AMP

cyclic GMP

protein kinase