Abstract
Secondary hypogonadism is more common than primary gonadal failure and is seen in chronic and acute illnesses. Although testosterone has a role in erections, its importance in erectile dysfunction (ED) has been controversial. Hypogonadism produced by functional suppression of pituitary gonadotropins has been shown to correct with clomiphene citrate, but with a modest effect on sexual function. We wondered if longer treatment would produce improved results. A total of 178 men with secondary hypogonadism and ED received clomiphene citrate for 4 months. Sexual function improved in 75%, with no change in 25%, while significant increases in luteinizing hormone (P<0.001) and free testosterone (P<0.001) occurred in all patients. Multivariable analysis showed that responses decreased significantly with aging (P<0.05). Decreased responses also occurred in men with diabetes, hypertension, coronary artery disease, and multiple medication use. Since these conditions are more prevalent with aging, chronic disease may be a more important determinant of sexual dysfunction. Men with anxiety-related disorders responded better to normalization of testosterone. Assessment of androgen status should be accomplished in all men with ED. For those with lower than normal age-matched levels of testosterone treatment directed at normalizing testosterone with clomiphene citrate is a viable alternative to giving androgen supplements.
Relevant articles
Open Access articles citing this article.
Manou Huijben

&

M. W. T. Tycho Lock

Tijdschrift voor Urologie Open Access 14 February 2022

Hermanus H. J. Leliefeld

&

Gert R. Dohle

Tijdschrift voor Urologie Open Access 09 November 2018
Access options
Subscribe to this journal
Receive 8 print issues and online access
$259.00 per year
only $32.38 per issue
Rent or buy this article
Prices vary by article type
from$1.95
to$39.95
Prices may be subject to local taxes which are calculated during checkout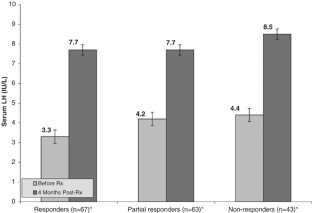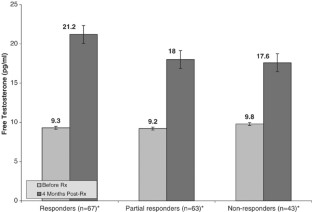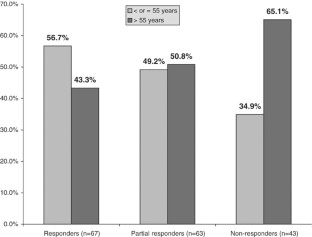 References
Feldman HA et al. Impotence and its medical and psychosocial correlates: results of the Massachusetts Male Aging Study. J Urol 1994; 151: 54–61.

Laumann EO, Paik A, Rosen RC . Sexual dysfunction in the United States. Prevalence and predictors. JAMA 1999; 281: 537–544.

Gray A, Feldman HA, McKinlay JB, Longcope C . Age, disease and changing sex hormone levels in middle-aged men: results of the Massachusetts Male Aging Study. J Clin Endocrinol Metab 1991; 73: 1016–1025.

Deslypere JP, Vermeulen A . Leydig cell function in normal men: effect of age, lifestyle, residence, diet, and activity. J Clin Endocrinol Metab 1984; 59: 955–962.

Nankin HR, Calkins JH . Decreased bioavailable testosterone in aging normal and impotent men. J Clin Endocrinol Metab 1986; 63: 1418–1420.

Tenover JS, Matsumoto AM, Plymate SR, Bremner WJ . The effects of aging in normal men on bioavailable testosterone and luteinizing hormone secretion: response to clomiphene citrate. J Clin Endocrinol Metab 1987; 65: 1118–1126.

Blackman MR, Weintrau BD, Harman SM . Comparison of the effects of lung cancer, benign lung disease, and normal aging on pituitary–gonadal function in men. J Clin Endocrinol Metab 1988; 66: 88–95.

Woolf PD et al. Transient hypogonadotrophic hypogonadism after head trauma: effects on steroid precursors and correlation with sympathetic nervous system activity. Clin Endocrinol 1986; 25: 265–274.

Woolf PD, McDonald JV, Lee LA, Kelly M . Hypogonadism of critical illness. J Clin Endocrinol Metab 1985; 60: 444–450.

Van den Berghe G, de Zeghert F, Lauwers P, Veldhuls JD . Luteinizing hormone secretion and hypoandrogenaemia in critically ill men: effect of dopamine. Clin Endocrinol 1994; 41: 563–569.

Guay AT, Bansal S, Heatley GJ . Effect of raising endogenous testosterone levels in impotent men with secondary hypogonadism: double blind placebo-controlled trial with clomiphene citrate. J Clin Endocrinol Metab 1995; 80: 3546–3552.

ACCE Clinical Practice Guidelines for the evaluation and treatment of hypogonadism in adult male patients. Endo Pract 2: 198–211.

Bhasin S, Bremner WJ . 1997 Emerging issues in androgen replacement therapy. J Clin Endocrinol Metab 1996; 82: 3–8.

Kosasih JB, Abbasi AA, Rudman D . Serum insulin-like growth factor-1 and serum testosterone status of elderly men in an inpatient rehabilitation unit. Am J Med Sci 1996; 311: 169–173.

Guay AT, Bansal S, Hodge MB . Possible hypothalamic impotence. Male counterpart to hypothalamic amenorrhea? Urology 1991; 38: 317–322.

Van den Bergeh G, de Zegher F, Bouillon R . Acute and prolonged critical illness as different neuroendocrine paradigms. J Clin Endocrinol Metab 1998; 83: 1827–1834.

Giagulli VA, Kaufman JM, Vermeulen A . Pathogenesis of the decreased androgen levels in obese men. J Clin Endocrinol Metab 1994; 79: 997–1000.

Govier FE, McClure RD, Kramer-Levien D . Endocrine screening for sexual dysfunction using free testosterone determinations. J Urol 1996; 156: 405–408.

LoGiudice F, Trimarchi F, Benvenga S . High prevalence of hypogonadism in impotence (Abstract). 10th International Congress of Endocrinology, San Francisco, 1996.

Murray FT et al. Gonadal dysfunction in diabetic men with organic impotence. J Clin Endocrinol Metab 1987; 65: 127–135.

Spark RF, White RA, Connolly PB . Impotence is not always psychogenic. JAMA 1980; 243: 750–755.

Carroll JL, Ellis DJ, Bagley DH . Age-related changes in hormones in impotent men. Urology 1990; 36: 42–46.

Dobs AS, El-Deiry S, Wand G, Wiederkehr M . Central hypogonadism: distinguishing idiopathic low testosterone from pituitary tumors. Endo Pract 1998; 4: 355–359.

Koreman SG et al. Secondary hypogonadism in older men: its relation to impotence. J Clin Endocrinol Metab 1990; 71: 963–969.

Guay AT, Velasquez E, Perez JB . Characterization of patients in a medical endocrine-based center for male sexual dysfunction. Endo Pract 1999; 5: 314–321.

Morales A, Johnston B, Heaton JPW, Lundie M . Testosterone supplementation for hypogonadal impotence: assessment of biochemical measures and therapeutic outcomes. J Urol 1997; 157: 849–854.

Burris AS et al. A long-term, prospective study of the physiologic and behavioral effects of hormone replacement in untreated hypogonadal men. J Androl 1992; 13: 297–304.

Bagatell CJ, Heiman JR, Rivier JE, Bremner WJ . Effects of endogenous testosterone and estradiol on sexual behavior in normal young men. J Clin Endocrinol Metab 1994; 78: 711–716.

Schiavi RC, White D, Mandeli J, Levine AC . Effect of testosterone administration on sexual behavior and mood in men with erectile dysfunction. Arch Sex Behav 1997; 26: 231–241.

Kwan M et al. The nature of androgen action on male sexuality: a combined laboratory-self-report study on hypogonadal men. J Clin Endocrinol Metab 1983; 57: 557–562.

Granata ARM et al. Relationship between sleep-related erections and testosterone levels in men. J Androl 1997; 18: 522–527.

Davidson JM, Camargo CA, Smith ER . Effects of androgen on sexual behavior in hypogonadal men. J Clin Endocrinol Metab 1979; 48: 955–958.

Heaton JPW, Varrin SJ . Effects of castration and exogenous testosterone supplementation in an animal model of penile erection. J Urol 1994; 151: 797–800.

Mills TM, Reilly CM, Lewis RW . Androgens and penile erection: a review. J Androl 1996; 17: 633–638.

Bivalacqua TJ et al. The influence of castration on pharmacologically induced penile erection in the cat. J Androl 1998; 19: 551–557.

Reilly CM, Stopper VS, Mills TM . Androgens modulate the α-adrenergic responsiveness of vascular smooth muscle in the corpus cavernosum. J Androl 1997; 18: 26–31.

Reilly CM, Lewis RW, Stopper VS, Mills TM . Androgenic maintenance of the rat erectile response via a non-nitric-oxide-dependent pathway. J Androl 1997; 18: 588–594.

Traish AM, Kim NN, Goldstein I, Moreland RB . Alpha-adrenergic receptors in the penis: identification, characterization, and physiological function. J Androl 1999; 20: 671–682.

Aversa A et al. Androgens and penile erection: evidence for a direct relationship between free testosterone and cavernous vasodilation in men with erectile dysfunction. Clin Endocrinol 2000; 53: 517–522.

van der Poli T, Romijn JA, Endert E, Sauerwein HP . Effects of tumor necrosis factor on the hypothalmic–pituitary–testicular axis in healthy men. Metabolism 1993; 42: 303–307.

Salchian B et al. Testicular pathologic changes and the pituitary–testicular axis during human immunodeficiency virus infection. Endo Pract 1999; 5: 1–9.

Zwart AD, Iranmanesh A, Veldhuis JD . Disparate serum free testosterone concentrations and degrees of hypothalamo–pituitary–luteinizing hormone suppression are achieved by continuous versus pulsatile intravenous androgen replacement in men: a clinical experimental model of ketoconazole-induced reversible hypoandrogenemia with controlled testosterone add-back. J Clin Endocrinol Metab 1997; 82: 2062–2069.

Danesi R et al. Clinical and experimental evidence of inhibition of testosterone production by suramin. J Clin Endocrinol Metab 1996; 81: 2238–2246.

Donnelly P, White C . Testicular dysfunction in men with primary hypothyroidism; reversal of hypogonadotrophic hypogonadism with replacement thyroxine. Clin Endocrinol 2000; 52: 197–201.

Mitchell R et al. Less acidic forms of luteinizing hormone are associated with lower testosterone secretion in men on haemodialysis treatment. Clin Endocrinol 1994; 1: 65–73.

Hayami S, Sasagawa I, Nakada T . Influence of sex hormones on prostate volume in men on hemodialysis. J Androl 2000; 21: 258–261.

Murialdo G et al. Sex hormones and pituitary function in male epileptic patients with altered or normal sexuality. Epilepsia 1995; 36: 360–365.

Wang C, Tso SC, Todd D . Hypogonadotropic hypogonadism in severe β-thalassemia: effect of chelation and pulsatile gonadotropin-releasing hormone therapy. J Clin Endocrinol Metab 1989; 68: 511–516.

Bergendahl M et al. Fasting suppresses pulsatile luteinizing hormone (LH) secretion and enhances orderliness of LH release in young but not older men. J Clin Endocrinol Metab 1998; 83: 1967–1975.

Odell WD . Testosterone treatment of men treated with glucocorticoids. Arch Intern Med 1996; 156: 1133–1134.

Wang S-W et al. Effects of methanol extract of Chansu on hypothalamic–pituitary–testis function in rats. Metabolism 1998; 47: 1211–1216.

Reid IR, Wattie DJ, Evans MC, Stapleton JP . Testosterone therapy in glucocorticoid-treated men. Arch Intern Med 1996; 156: 1173–1176.

Rosmond R, Dallman MF, Bjorntorp P . Stress-related cortisol secretion in men: relationships with abdominal obesity and endocrine, metabolic and hemodynamic abnormalities. J Clin Endocrinol Metab 1998; 83: 1853–1859

Veldhuis JD . Recent insights into neuroendocrine mechanisms of aging of the human male hypothalmic–pituitary–gonadal axis. J Androl 20: 1–17.

Hardy MP, Ganjam VK . 1997 Stress, 11β-HSD, and Leydig cell function. J Androl 1999; 18: 475–479.

Singh A et al. Differential hypothalamic-pituitary-adrenal axis reactivity to psychological and physical stress. J Clin Endocrinol Metab 1999; 84: 1944–1948.

Chatterton RT Jr, Vogelsong KM, Lu Y-C, Hudgens GA . Hormonal responses to psychological stress in men preparing for skydiving. J Clin Endocrinol Metab 1997; 82: 2503–2509.

Wang C et al. Testosterone replacement therapy improves mood in hypogonadal men—a clinical research center study. J Clin Endocrinol Metab 1996; 81: 3578–3583.

Synder PJ et al. Effect of testosterone treatment on bone mineral density in men over 65 years of age. J Clin Endocrinol Metab 1999; 84: 1966–1972.

Spratt DI et al. Neuroendocrine-gonadal axis in men: frequent sampling of LH, FSH, and testosterone. Am J Physiol 1988; 17: E658–E666.

Jain P, Rademaker AW, McVary KT . Testosterone supplementation for erectile dysfunction: results of a meta-analysis. J Urol 2000; 164: 371–375.

Guay AT, Perez JB, Fitaihi WA, Vereb M . Testosterone treatment in hypogonal men: prostate-specific antigen level and risk of prostate cancer. Endo Pract 2000; 6: 132–138.

Purvin VA . Visual disturbance secondary to clomiphene citrate. Arch Ophthalmol 1995; 113: 482–484.
Acknowledgements
We thank Ms Gail Macey for her work as research coordinator, and Ms Polly Zorolow and Ms Lynda Charters for their editorial assistance.
About this article
Cite this article
Guay, A., Jacobson, J., Perez, J. et al. Clomiphene increases free testosterone levels in men with both secondary hypogonadism and erectile dysfunction: who does and does not benefit?. Int J Impot Res 15, 156–165 (2003). https://doi.org/10.1038/sj.ijir.3900981
Published:

Issue Date:

DOI: https://doi.org/10.1038/sj.ijir.3900981
Keywords
clomiphene citrate

erectile dysfunction

hypogonadotropic hypogonadism