Abstract
The International Index of Erectile Function (IIEF) is a widely used, multi-dimensional self-report instrument for the evaluation of male sexual function. It is has been recommended as a primary endpoint for clinical trials of erectile dysfunction (ED) and for diagnostic evaluation of ED severity. The IIEF was developed in conjunction with the clinical trial program for sildenafil, and has since been adopted as the 'gold standard' measure for efficacy assessment in clinical trials of ED. It has been linguistically validated in 32 languages and used as a primary endpoint in more than 50 clinical trials. This review summarizes early stages in the psychometric validation of the instrument, its subsequent adoption in randomized clinical trials with sildenafil and other ED therapies, and its use in classifying ED severity and prevalence. The IIEF meets psychometric criteria for test reliability and validity, has a high degree of sensitivity and specificity, and correlates well with other measures of treatment outcome. It has demonstrated consistent and robust treatment responsiveness in studies in USA, Europe and Asia, as well as in a wide range of etiological subgroups. Although only one direct comparator trial has been performed to date, the IIEF is also sensitive to therapeutic effects with treatment agents other than sildenafil. A severity classification for ED has recently been developed, in addition to a brief screening version of the instrument. This review includes the strengths as well as limitations of the IIEF, along with some potential areas for future research.
Your institute does not have access to this article
Relevant articles
Open Access articles citing this article.
Chan Ming Tow

,

Jonathan Tang

…

Joe Lee King Chien

Basic and Clinical Andrology Open Access 21 March 2022

Chakariya Lin

,

Junya Pattraraachachai

…

Surapote Wongyai

Clinical Phytoscience Open Access 21 February 2022

Marion BENDAYAN

,

Emine SAIS

…

Florence BOITRELLE

Basic and Clinical Andrology Open Access 16 February 2022
Access options
Subscribe to Journal
Get full journal access for 1 year
$119.00
only $14.88 per issue
All prices are NET prices.
VAT will be added later in the checkout.
Tax calculation will be finalised during checkout.
Buy article
Get time limited or full article access on ReadCube.
$32.00
All prices are NET prices.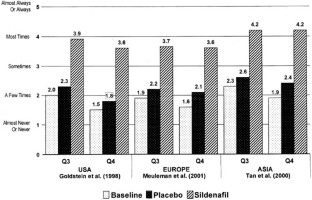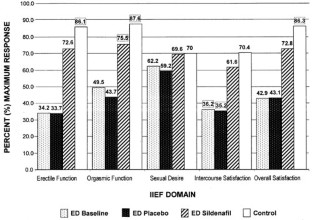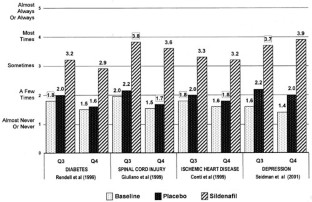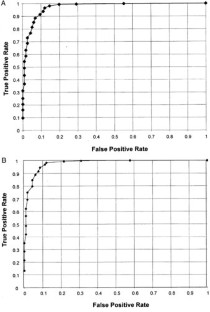 References
Levine LA, Lenting EL . Use of nocturnal penile tumescence and rigidity in the evaluation of male erectile dysfunction Urol Clinic N Am 1995 22: 775–788

Meuleman EJ, Diemont WL . Investigation of erectile dysfunction: diagnostic testing for vascular factors in erectile dysfunction Urol Clin N Am 1995 22: 803–819

Kaufman JM et al. Evaluation of erectile dysfunction by dynamic infusion cavernosometry and cavernosography (DICC) Urology 1993 41: 445–451

Frohib DA et al. Characterization of penile erectile states using external computer-based monitoring J Biomech Eng 1987 109: 110

Rosen RC, Keefe FJ . The measurement of human penile tumescence Psychophysiol 1978 15: 366–376

Boolel M, Gepi-Attee S, Gingell JC, Allen MJ . Sildenafil, a novel effective oral therapy for male erectile dysfunction Br J Urol 1996 78: 257–261

Moreland RB, Goldstein I, Kim NN, Traish A . Sildenafil citrate, a selective phosphodiesterase type 5 inhibitor: research and clinical implications in erectile dysfunction Trends Endocrinol Metab 1999 10: 97–104

Uckert S, Kuthe A, Stief CG, Jonas U . Phosphodiesterase isoenzymes as pharmacological targets in the treatment of male erectile dysfunction World J Urol 2001 19: 14–22

Rosen RC et al. The International Index of Erectile Function (IIEF): a multidimensional scale for assessment of erectile dysfunction Urology 1997 49: 822–830

Cappelleri JC et al. Some developments on the International Index of Erectile Function (IIEF) Drug Info J 1999 33: 179–190

Cappelleri JC, Siegel RL, Osterloh IH, Rosen RC . Relationship between patient self-assessment of erectile function and the erectile function domain of the International Index of Erectile Function Urology 2000 56: 477–481

Jardin A et al., eds. Erectile dysfunction: 1st international consultation on erectile dysfunction Health Publications Plymouth, UK 2000

Rosen R . Sexual function assessment in the male: physiological and self-report measures Int J Impot Res 1998 10: S59–S63

NIH Consensus Panel on Impotence. Impotence JAMA 1993 270: 83–90

Goldstein I et al. Oral sildenafil in the treatment of erectile dysfunction New Engl J Med 1998 338: 1397–1404

Montorsi F et al. Efficacy and safety of fixed-dose oral sildenafil in the treatment of erectile dysfunction of various etiologies Urology 1999 53: 1011–1018

Meuleman E et al. Dose-escalation study to assess the efficacy and safety of sildenafil citrate in men with erectile dysfunction BJU Int 2001 87: 75–81

Tan HM et al. Asian sildenafil efficacy and safety study (ASSESS-1): a double-blind, placebo controlled, flexible dose study of oral sildenafil in Malaysian, Singaporean, and Filipino men with erectile dysfunction. The Assess-1 study Group Urology 2000 56: 635–640

Chen J et al. Clinical efficacy of sildenafil in patients on chronic dialysis J Urol 2001 165: 819–821

Dinsmore WW et al. Sidenafil citrate (Viagra) in erectile dysfunction: near normalization in men with broad spectrum erectile dysfunction compared with age-matched healthy control subjects Urology 1999 53: 800–805

Rendell MS, Rajfer J, Wicker P, Smith M . Sildenafil for treatment of erectile dysfunction in men with diabetes: a randomized controlled trial JAMA 1999 281: 421–426

Giuliano F et al. Randomized trial for sildenafil for the treatment of erectile dysfunction in spinal cord injury Ann Neurol 1999 46: 15–21

Conti CR, Pepine CJ, Sweeney M . Efficacy and safety of sildenafil citrate in the treatment of erectile dysfunction in patients with ischemic heart disease Am J Cardiol 1999 83: 29C–34C

Olsson A M, Persson C-A . Efficacy and safety of sildenafil citrate for the treatment of erectile dysfunction in men with cardiovascular disease Int J Clin Prac 2001 55: 171–176

Seidman SN et al. Treatment of erectile dysfunction in men with depressive symptoms: results of a placebo-controlled trial with sildenafil citrate Am J Psychiatry 2001 158: 1623–1630

Padma-Nathan H et al. On demand IC351 (Cialis) enhances erectile function in patients with erectile dysfunction Int J Impot Res 2001 13: 2–9

Porst H et al. The efficacy and tolerability of vardenafil, a new, oral, selective phosphodiesterase type 5 inhibitor, in patients with erectile dysfunction: the first at-home clinical trial Int J Impot Res 2001 13: 192–199

Goldstein I, Carson C, Rosen R, Islam A . Vasomax for the treatment of male erectile dysfunction World J Urol 2001 19: 51–56

Goldstein I . Oral phentolamine: an Alpha-1, Alpha-2 adrenergic antagonist for the treatment of erectile dysfunction Int J Impot Res 2000 12: (Suppl 1) S75–80

Dula E et al. Efficacy and safety of fixed-dose and dose-optimization regimens of sublingual apomorphine versus placebo in men with erectile dysfunction. The Apomorphine Study Group Urology 2000 56: 130–135

Dula E, Bukofzer S, Perdok R, George M . the Apomorphine Study Group. Double-blind, crossover comparison of 3 mg apomorphine SL with placebo and with 4 mg apomorphine SL in male erectile dysfunction Eur Urol 2001 39: 558–564

Reiter WJ et al. Dehydroepiandrosterone in the treatment of erectile dysfunction: a prospective, double-blind, randomized, placebo-controlled study Urology 1999 53: 590–594 discussion 594–595

Shabsigh R et al. Intracavernous alprostadil alfadex is more efficacious, better tolerated, and preferred over intraurethral alprostadil plus optional actis: a comparative, randomized, crossover, multicenter study Urology 2000 55: 109–113

Feldman HA et al. Impotence and its medical and psychosocial correlates: results of the Massachusetts Male Aging Study J Urology 1994 151L: 54–61

Burchardt M et al. Hypertension is associated with severe erectile dysfunction J Urol 2000 164: 1188–1191

McCullough DK et al. The prevalence of diabetic impotence Diabetologia 1980 18: 279–286

Romeo JH, Seftel AD, Madhun ZT, Aron DC . Sexual function in men with diabetes type 2: association with glycemic control J Urol 2000 163: 788–791

Lowentritt BH et al. Sildenafil citrate after radical retropubic prostatectomy J Urol 1999 162: 1617–1619

Zippe CD et al. Role of Viagra after radical prostatectomy Urology 2000 55: 241–245

Feng MI et al. Effect of sildenafil citrate on post-radical prostatectomy erectile dysfunction J Urol 2000 164: 1935–1938

Blander DS, Sanchez-Ortiz RF, Wein AJ, Broderick GA . Efficacy of sildenafil in erectile dysfunction after radical prostatectomy Int J Impot Res 2000 12: 165–168

Jarow JP, Burnett AL, Geringer AM . Clinical efficacy of sildenafil citrate based on etiology and response to prior treatment J Urol 1999 162(3-I): 722–725

Weber DC, Bieri S, Kurtz JM, Miralbell R . Prospective pilot study of sildenafil for treatment of postradiotherapy erectile dysfunction in patients with prostate cancer J Clin Oncol 1999 17: 3444–3449

Malavaud B et al. Evaluation of male sexual function after pelvic trauma by the International Index of Erectile Function Urology 2000 55: 842–846

Cappelleri JC et al. Diagnostic evaluation of the erectile function domain on the International Index of Erectile Function Urology 1999 54: 346–351

Malavaud B et al. High prevalence of erectile dysfunction after renal transplantation Transplantation 2000 69: 2121–2124

May AG, DeWeese JA, Rob CG . Changes in sexual function following operation on the abdominal aorta Surgery 1969 65: 41–47

Weinstein MH, Machleder HI . Sexual function after aorto-iliac surgery Ann Surg 1975 181: 787–790

Lee ES, Kor DJ, Kuskowski MA, Santilli SM . Incidence of erectile dysfunction after open abdominal aortic aneurysm repair Ann Vasc Surg 2000 14: 13–19

Schmid DM, Schurch D, Hauri D . Sildenafil in the treatment of sexual dysfunction in spinal cord-injured male patients Eur Urol 2000 38: 184–193

Hultling C et al. Quality of life in patients with spinal cord injury receiving Viagra (sildenafil citrate) for the treatment of erectile dysfunction Spinal Cord 2000 38: 363–370

Cappelleri JC et al. Diagnostic evaluation of the erectile function domain on the International Index of Erectile Function Urology 1999 54: 346–351

Derby CA et al. Measurement of erectile dysfunction in population-based studies: the use of a single question self-assessment in the Massachusetts Male Aging Study Int J Impot Res 2000 12: 197–204

Rosen RC et al. Development and evaluation of an abridged, 5-item version of the International Index of Erectile Function (IIEF-5) as a diagnostioc tool for erectile dysfunction Int J Impot Res 1999 11: 319–326

Cappelleri JC et al. Relationship between patient self-assessment of erectile function and the Sexual Health Inventory for Men Clinical Therapeutics 2001 23: 1707–1719

Day D, Ambegaonkar A, Harriot K, McDaniel A . A new tool for predicting erectile dysfunction Adv Therapeutics 2001 18: 131–139

The Process of Care Consensus Panel. A process of care model for evaluation and treatment of erectile dysfunction Int J Impot Res 1999 11: 11–19

Blander DS, Sanchez-Ortiz RF, Broderick GA . Sex inventories: can questionnaires replace erectile dysfunction testing? Urology 1999 54: 719–723

Vroege JA . Letter to the Editor. The sexual health inventory for men (IIEF-5) Int J Impot Res 1999 11: 177

Vroege JA . Letter to the Editor. The sexual health inventory for men (IIEF-5): reply to Cappelleri and Rosen Int J Impot Res 2000 12: 297–298

Rosen RC, Cappelleri JC . Correspondence (reply). The sexual health inventory for men (IIEF-5): Reply to Vroege Int J Impot Res 2001 12: 342–343

Cappelleri JC, Rosen RC . Correspondence (reply). The sexual health inventory for men (IIEF-5) Int J Impot Res 1999 11: 353–354

Van der Linden W, Hambleton RK eds. Handbook of modern item response theory Springer Verlag: New York 1997
About this article
Cite this article
Rosen, R., Cappelleri, J. & Gendrano, N. The International Index of Erectile Function (IIEF): a state-of-the-science review. Int J Impot Res 14, 226–244 (2002). https://doi.org/10.1038/sj.ijir.3900857
Received:

Accepted:

Published:

Issue Date:

DOI: https://doi.org/10.1038/sj.ijir.3900857
Keywords
erectile dysfunction

sexual dysfunction

psychometric validation

diagnostic classification

self-report questionnaire