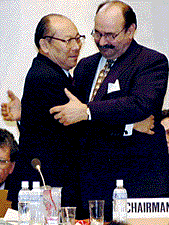 The need to extend the final day of the Kyoto conference meant that many participants, exhausted by rounds of all-night talks, were forced to miss their flights home and negotiate without interpreters, who left as their contracts expired at midnight on 10 December. But perhaps the biggest surprise came when the president of the conference announced his resignation and walked out of the plenary session before the finale — only to withdraw his resignation an hour later.
Hiroshi Ohki, Japan's environment minister and president of the conference, resigned from his post on the morning of 11 December and hastily left the conference hall to catch a train back to Tokyo to vote in a no-confidence motion against Prime Minister Hashimoto's cabinet. Enraged members of Japanese nongovernmental organizations are said to have pursued Ohki to Kyoto station, as well as contacting members of the parliament, to stop Ohki from boarding the train.
The parliament made a last-minute arrangement to exempt Ohki from the noconfidence vote, so he was able to resume his presidency and clinch the landmark protocol for the reduction of greenhouse gases shortly after 2 p.m. that day.
Critics claimed that the incident highlighted the lack of leadership by Japan during the conference. "The fact that the prime minister tried to call Ohki back to Tokyo on the final day of the conference reflects their [the Japanese government's] degree of commitment on this issue," says Makoto Hoshino, director of the World Wide Fund for Nature in Japan. Others, however, said that Japan should share the credit for the fact that a final compromise agreement was reached between the various conflicting points of view.
About this article
Cite this article
Saegusa, A. Minister's near miss at the final curtain. Nature 390, 650 (1997). https://doi.org/10.1038/37693
Comments
By submitting a comment you agree to abide by our Terms and Community Guidelines. If you find something abusive or that does not comply with our terms or guidelines please flag it as inappropriate.