Abstract
Apoptotic cell death is important in the development and homeostasis of multicellular organisms1 and is a highly controlled means of eliminating dangerous, damaged or unnecessary cells without causing an inflammatory response or tissue damage1,2. We now show that the presence of apoptotic cells during monocyte activation increases their secretion of the anti-inflammatory and immunoregulatory cytokine interleukin 10 (IL-10) and decreases secretion of the proinflammatory cytokines tumour necrosis factor-α (TNF-α), IL-1 and IL-12. This may inhibit inflammation and contribute to impaired cell-mediated immunity in conditions associated with increased apoptosis, such as viral infections, pregnancy, cancer and exposure to radiation.
Access options
Access options
Subscribe to Journal
Get full journal access for 1 year
$199.00
only $3.90 per issue
All prices are NET prices.
VAT will be added later in the checkout.
Rent or Buy article
Get time limited or full article access on ReadCube.
from$8.99
All prices are NET prices.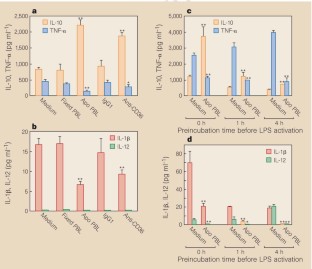 References
1

Vaux, D. L. Proc. Natl Acad. Sci. USA 90, 786–789 (1993).

2

Savill, J., Facok, V., Henson, P. & Haslett, C. Immunol. Today 14, 131–136 (1993).

3

Abel, E. A. Dermatol. Clinics 13, 841–849 (1995).

4

Trott, K. . Strahlenther. Onkol. 170, 1–12 (1994).

5

Savill, J., Hogg, N., Ren, Y. & Haslett, C. J. Clin. Invest. 90, 1513–1522 (1992).

6

Paul, W. E. & Seder, R. A. Cell 76, 241–251 (1994).

7

Mosmann, T. R. Adv. Immunol. 56, 1–26 (1994).

8

Kang, K., Hammerberger, C., Meunier, L. & Cooper, K. D. J. Immunol. 153, 5256–5264 (1994).

9

Meunier, L., Bata-Csorgo, Z. & Cooper, K. D. J. Invest. Dermatol. 105, 782–788 (1995).

10

Parr, E. L., Tung, H. N. & Parr, M. B. Biol. Reprod. 36, 211–225 (1987).

11

Nielsen, H. J. Brit. J. Surg. 82, 582–587 (1995).
Comments
By submitting a comment you agree to abide by our Terms and Community Guidelines. If you find something abusive or that does not comply with our terms or guidelines please flag it as inappropriate.