Abstract
Leptin acts on the central nervous system to cause a reduction in food intake and body weight1,2. The melanocortin system in the brain is also implicated in energy homeostasis, with agonists of the melanocortin-4 (MC4) receptor reducing food intake3 and targeted mutation of the MC4 receptor causing obesity4. We now show that MC4 receptor signalling is an important mediator of leptin's effects on food intake and body weight, demonstrating a link between the two systems.
Access options
Access options
Subscribe to Journal
Get full journal access for 1 year
$199.00
only $3.90 per issue
All prices are NET prices.
VAT will be added later in the checkout.
Rent or Buy article
Get time limited or full article access on ReadCube.
from$8.99
All prices are NET prices.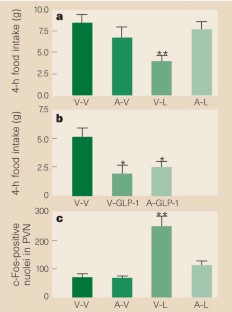 References
1

Seeley, R. J. et al. Hormone Metabol. Res. 28, 664–668 (1996).

2

Campfield, L. A., Smith, F. J., Gulsez, Y., Devos, R. & Burn, P. Science 269, 546–549 (1995).

3

Fan, W., Boston, B. A., Kesterson, R. A., Hruby, V. J. & Cone, R. D. Nature 385, 165–168 (1997).

4

Huszar, D. et al. Cell 88, 131–141 (1997).

5

Cheung, C. C., Clifton, D. K. & Steiner, R. A. Endocrinology 138, 4489–4492 (1997).

6

Tang-Christensen, M. et al. 271, R848-R856 (1996).

7

Thiele, T. E. et al. 272, R726-R730 (1997).

8

van Dijk, G., Thiele, T. E., Seeley, R. J., Woods, S. C. & Bernstein, I. L. Nature 385, 214 (1997).

9

Turton, M. D. et al. Nature 379, 69–72 (1996).

10

van Dijk, G. et al. 271, R1096-R1100 (1996).

11

Comuzzie, A. G. et al. Nature Genet. 15, 273–276 (1997).
Comments
By submitting a comment you agree to abide by our Terms and Community Guidelines. If you find something abusive or that does not comply with our terms or guidelines please flag it as inappropriate.