Abstract
Alt et al. have reported in Scientific Correspondence1 what they thought to be the first 'unequivocal' evidence for the existence of healed trepanations (cranial surgery) from Ensisheim, Alsace, dated to 5100 bc. However, there is compelling evidence that such intra vitem surgery was carried out at an earlier date in eastern Europe, during the preceding Mesolithic period.
Access options
Access options
Subscribe to Journal
Get full journal access for 1 year
$199.00
only $3.90 per issue
All prices are NET prices.
VAT will be added later in the checkout.
Rent or Buy article
Get time limited or full article access on ReadCube.
from$8.99
All prices are NET prices.
References
1

Alt, K. W.et al. Nature 387, 360 (1997).

2

Lillie, M. C. Curr. Anthropol. 37, 135–142 (1996).

3

Lillie, M.C. in Invisible People and Processes: Writing Gender and Childhood into European Archaeology (eds Moore, J & Scott, E.) 213-228 (Leicester Univ. Press, London, 1997).

4

Gokhman, I. I. Naselenie Ukrainy v epokhu mezolita i neolita: anthropologicheskiy ocherk (The Population of the Ukraine in the Mesolithic and Neolithic Periods: an Anthropological Outline) 141-142 (Nauka, Moscow, 1966).

5

Potekhina, I. D. & Telegin, D. Ya. Curr. Anthropol. 36, 823–826 (1995).

6

Jacobs, K. Curr. Anthropol. 34, 311–324 (1993).

7

Lisowski, F. P. in Diseases in Antiquity: a Survey of Diseases, Injuries and Surgery of Early Populations (eds Brothwell, D. and Sandison, A. T.) 651-672 (C. C. Thomas, Illinois, 1967).
Further reading
Fernando Ramirez Rozzi

&

Alain Froment

Scientific Reports (2018)

Gregorio Oxilia

,

Marco Peresani

,

Matteo Romandini

,

Chiara Matteucci

,

Cynthianne Debono Spiteri

,

Amanda G. Henry

,

Dieter Schulz

,

Will Archer

,

Jacopo Crezzini

,

Francesco Boschin

,

Paolo Boscato

,

Klervia Jaouen

,

Tamara Dogandzic

,

Alberto Broglio

,

Jacopo Moggi-Cecchi

,

Luca Fiorenza

,

Jean-Jacques Hublin

,

Ottmar Kullmer

&

Stefano Benazzi

Scientific Reports (2015)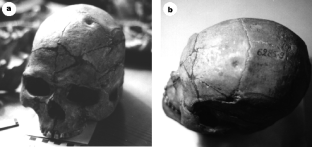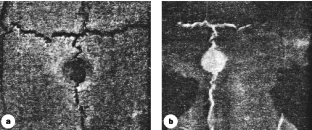 Comments
By submitting a comment you agree to abide by our Terms and Community Guidelines. If you find something abusive or that does not comply with our terms or guidelines please flag it as inappropriate.