Abstract
Using a large human male population of 507,125, we find clear evidence for a dependence of body height at age 18 on birth month. Over 10 years there is a sinusoidal variation with a period of 1.0 year with maxima in spring and minima in autumn differing by 0.6 cm. Although global environmental factors1 are small and can be studied only with the help of sophisticated methods on very large sample sizes, they might offer insights into still undiscovered mechanisms of human development. This may provide empirical facts for clinical research on the pineal gland and melatonin2.
This is a preview of subscription content
Access options
Subscribe to Journal
Get full journal access for 1 year
$199.00
only $3.90 per issue
All prices are NET prices.
VAT will be added later in the checkout.
Tax calculation will be finalised during checkout.
Buy article
Get time limited or full article access on ReadCube.
$32.00
All prices are NET prices.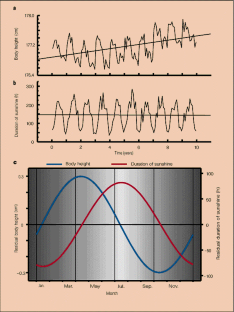 References
Henneberg, M. & Louw, G. J. Am. J. Phys. Anthropol. 91, 235–244 (1993).

Kennaway, D. J., Goble, F. C. & Stamp, G. E. J. Clin. Endocr. Metab. 81, 1525–1532 (1996).

Breitinger, F. E. Advances in the Biology of Human Populations 139-148 (Hungarian Academy of Sciences, Budapest, 1966).

Statistical Handbook of Austria XVII-XXVI (Österreichisches Statistisches Zentralamt, Österreichische Staatsdruckerei, Vienna, 1966 onwards).

Scargle, J. D. Astrophys. J. 263, 835–853 (1982).

Mirmiran, M., Kok, J. H., Boer, K. & Wolf, H. Neurosci. Biobehav. Rev. 16, 371–378 (1992).

Valcavi, R., Zini, M., Maestroni, G. J., Conti, A. & Portioli, I. Clin. Endocrinol. 39, 193–199 (1993).

Bellastella, A. et al. J. Endocrinol. Invest. 17, 37–40 (1994).

Burton, K. A., Kabigting, E. B., Steiner, R. A. & Clifton, D. K. Am. J. Physiol. — Endocrinol. Metab. 32, 716–722 (1995).

Williams, L. M., Hannah, L. T., Hastings, M. H. & Maywood, E. S. J. Pineal Res. 19, 173–177 (1995).

Weber, G. W., Seidler, H., Wilfing, H. & Hauser, G. Ann. Hum. Biol. 22, 277–288 (1995).
About this article
Cite this article
Weber, G., Prossinger, H. & Seidler, H. Height depends on month of birth. Nature 391, 754–755 (1998). https://doi.org/10.1038/35781
Issue Date:

DOI: https://doi.org/10.1038/35781
Comments
By submitting a comment you agree to abide by our Terms and Community Guidelines. If you find something abusive or that does not comply with our terms or guidelines please flag it as inappropriate.