Pelicans flying in a 'V' can glide for extended periods using the other birds' air streams.
Abstract
Many species of large bird fly together in formation, perhaps because flight power demands and energy expenditure can be reduced when the birds fly at an optimal spacing1,2,3, or because orientation is improved by communication within groups4. We have measured heart rates as an estimate of energy expenditure in imprinted great white pelicans (Pelecanus onocrotalus) trained to fly in 'V' formation, and show that these birds save a significant amount of energy by flying in formation. This advantage is probably a principal reason for the evolution of flight formation in large birds that migrate in groups.
Access options
Subscribe to Journal
Get full journal access for 1 year
$199.00
only $3.90 per issue
All prices are NET prices.
VAT will be added later in the checkout.
Tax calculation will be finalised during checkout.
Rent or Buy article
Get time limited or full article access on ReadCube.
from$8.99
All prices are NET prices.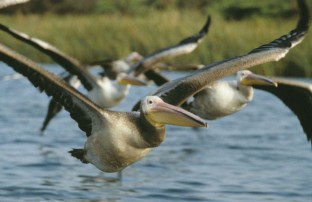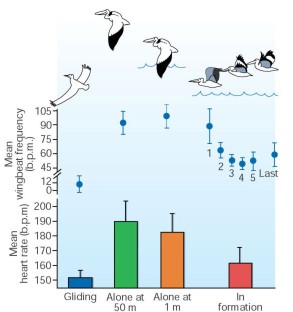 References
1

Lissaman, P. B. S. & Shollenberg, C. A. Science 168, 1003–1005 (1970).

2

Badgerow, J. P. & Hainsworth, F. R. J. Theor. Biol. 93, 41–52 (1981).

3

Hummel, D. J. Theor. Biol. 104, 321–347 (1983).

4

Hamilton, W. J. in Animal Orientation and Navigation (ed. Storm, R. M.) 57–71 (Oregon State Univ. Press, Corvallis, 1967).

5

Weimerskirch, H. et al. Proc. R. Soc. Lond. B 267, 1869–1874 (2000).

6

Hainsworth, F. R. J. Exp. Biol. 135, 431–444 (1988).

7

Badgerow, J. P. Auk 105, 749–755 (1988).

8

Cutts, C. J. & Speakman, J. R. J. Exp. Biol. 189, 251–261 (1999).

9

Higdon, J. J. L. & Corrsin, S. Am. Nat. 112, 727–744 (1978).

10

O'Malley, J. B. E. & Evans, R. M. Can. J. Zool. 60, 1388–1396 (1982).

11

Gould, L. L. & Heppner, F. Auk 91, 494–506 (1974).
About this article
Cite this article
Weimerskirch, H., Martin, J., Clerquin, Y. et al. Energy saving in flight formation. Nature 413, 697–698 (2001). https://doi.org/10.1038/35099670
Comments
By submitting a comment you agree to abide by our Terms and Community Guidelines. If you find something abusive or that does not comply with our terms or guidelines please flag it as inappropriate.