Abstract
The third Conference of the Parties in Kyoto set the target of reducing greenhouse-gas emissions by an average of 5.3% with respect to 1990 values by 2008–2012. One of the main objections to the protocol's ratification is that compliance would pose an unbearable economic burden on the countries involved1. But we show here that this is not the case if costs apart from the direct costs of energy production are also considered. Costs are also incurred in rectifying damage to human health, material goods, agriculture and the environment related to greenhouse-gas emissions.
Access options
Subscribe to Journal
Get full journal access for 1 year
$199.00
only $3.90 per issue
All prices are NET prices.
VAT will be added later in the checkout.
Tax calculation will be finalised during checkout.
Rent or Buy article
Get time limited or full article access on ReadCube.
from$8.99
All prices are NET prices.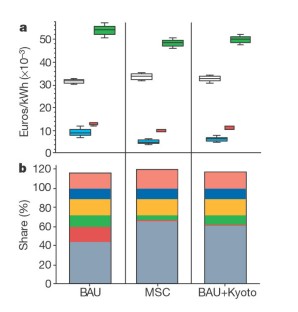 References
1

Remarks by President G. W. Bush on Global Climate Change (Office of the Press Secretary, The White House, 11 June 2001).

2

De Leo, G. A., Rizzi, L. & Caizzi, A. in Proc. 29th Int. Conf. Automation and Decision Making 247–256 (FAST, Milan, 2000).

3

Callan, S. J. & Thomas, J. M. Environmental Economics and Management: Theory, Policy and Applications (Irwin, Chicago, 1996).

4

De Paoli, L. & Lorenzoni, A. Economia e politica delle fonti rinnovabili e della cogenerazione (Franco Angeli, Milan, 1999).

5

IEA/OECD Experience Curves for Energy Technology Policy (IEA, Paris, 2000) (http://www.iea.org/public/studies/curves.htm).

6

European Commission ExternE: Externalities of Energy Vols 1–6 (EC, Brussels, 1995) (http://externe.jrc.es/index.html).

7

Rowe, R. D. et al. ESEERCO, New York State Environmental Externalities Cost Study Vols 1, 2 (Oceana, New York, 1995).

8

Russell, L. (ed.) External Costs and Benefits of Fuel Cycles (Oak Ridge National Laboratory and Resources for the Future, Oak Ridge, Tennessee, 1994).

9

Gatto, M. & De Leo, G. A. Bioscience 50, 347–355 (2000).

10

Interlaboratory Working Group Scenarios for a Clean Energy Future (Oak Ridge National Laboratory, Tennessee, and Lawrence Berkeley National Laboratory, California; OPRNL/CON-476 and LBNL-44029, 2000).
About this article
Cite this article
De Leo, G., Rizzi, L., Caizzi, A. et al. The economic benefits of the Kyoto Protocol. Nature 413, 478–479 (2001). https://doi.org/10.1038/35097156
Comments
By submitting a comment you agree to abide by our Terms and Community Guidelines. If you find something abusive or that does not comply with our terms or guidelines please flag it as inappropriate.