Abstract
Every biotechnology success story increases the number of decisions that the lay public must make about genetics. But vibrant public discussion about these far-reaching changes has been rare, and research on the public's understanding of genetics has barely scratched the surface. This article reviews what we know about the public's attitudes towards genetics, proposes some concepts for thinking about public involvement and indicates some future lines of research.
Relevant articles
Open Access articles citing this article.
Klára Bíró

,

Viktor Dombrádi

…

Róza Ádány

BMC Public Health Open Access 10 September 2020

Madeline Crosswaite

&

Kathryn Asbury

Life Sciences, Society and Policy Open Access 03 November 2016

Shelly Benjaminy

&

Tania Bubela

BMC Medical Ethics Open Access 16 July 2014
Access options
Subscribe to Journal
Get full journal access for 1 year
$79.00
only $6.58 per issue
All prices are NET prices.
VAT will be added later in the checkout.
Tax calculation will be finalised during checkout.
Buy article
Get time limited or full article access on ReadCube.
$32.00
All prices are NET prices.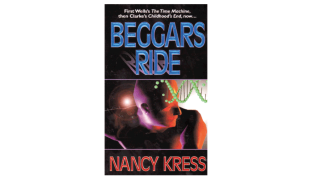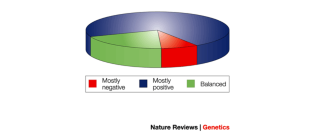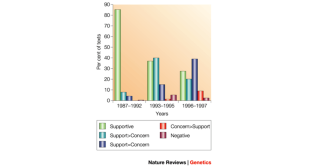 References
Hallowell, N., Statham, H. & Murton, F. Women's understanding of their risk of developing breast/ovarian cancer before and after genetic counseling. J. Genet. Counsel. 7, 345–364 (1998).

Cox, S. M. & McKellin, W. 'There's this thing in our family': predictive testing and the construction of risk for Huntington disease. Sociol. Hlth Illness 21, 622–646 (1999).

Wertz, D. C., Sorenson, J. R. & Heeren, T. C. Clients' interpretation of risks provided in genetic counseling. Am. J. Hum. Genet. 39, 253–264 (1986).

Sorenson J. R., Swazey, J. P., Scotch, N. A., Kavanagh, C. M. & Matthews, D. B. Reproductive pasts, reproductive futures. Genetic counseling and its effectiveness. Birth Defects Orig. Artic. Ser. 17, 1–192 (1981).

Singer, E., Corning, A. & Lamias, M. The polls — trends: genetic testing, engineering, and therapy. Publ. Opin. Quart. 62, 633–664 (1998).

Priest, S. H. US public opinion divided over biotechnology? Nature Biotechnol. 18, 939–942 (2000).

Davis, A., Barns, I. & Schibeci, R. Problematic publics: A critical review of surveys of public attitudes to biotechnology. Sci. Tech. Hum. Values 22, 317–348 (1997).

Gaskell, G. et al. Biotechnology and the European public. Nature Biotechnol. 18, 935–938 (2000).

Frewer, L. J., Howard, C. & Shepherd, R. Public concerns in the United Kingdom about general and specific applications of genetic engineering: risk, benefit, and ethics. Sci. Tech. Hum. Values 22, 98–124 (1997).

Morris, S. H. & Adley, C. C. Irish public perceptions about attitudes to modern biotechnology: an overview with a focus on GM foods. Trends Biotechnol. 19, 43–48 (2001).

Oda, L. M. & Soares, B. E. C. Genetically modified foods: economic aspects and public acceptance in Brazil. Trends Biotechnol. 18, 188–189 (2000).

Macer, D. & Chen Ng, M. A. Changing attitudes to biotechnology in Japan. Nature Biotechnol. 18, 945–947 (2000).

Einsiedel, E. F. Cloning and its discontents — a Canadian perspective. Nature Biotechnol. 18, 943–944 (2000).

Gaskell, G., Bauer, M. W., Durant, J. & Allum, N. C. Worlds apart? The reception of genetically modified foods in Europe and the US. Science 285, 384–387 (1999).

Mulkay, M. The Embryo Research Debate: Science and the Politics of Reproduction (Cambridge Univ. Press, Cambridge, UK, 1997).

Page, B. & Shapiro, R. Y. The Rational Public: Fifty Years of Trends in Americans' Policy Preferences (Univ. of Chicago Press, Chicago, Illinois, 1992).

Frankel, M. S. Genetic privacy, discrimination, and the US Congress. Publ. Underst. Sci. 8, 215–222 (1999).

Garland, M. J. Experts and the public: a needed partnership for genetic policy. Publ. Underst. Sci. 8, 241–254 (1999).

Kerr, A., Cunningham-Burley, S. & Amos, A. 'Drawing the line': an analysis of lay people's discussions about the new genetics. Publ. Underst. Sci. 7, 113–133 (1998).

Barns, I., Shibeci, R., Davison, A. & Shaw, R. 'What do you think about genetic medicine?' Facilitating sociable public discourse on developments in the new genetics. Sci. Tech. Hum. Values 25, 283–308 (2000).

Tessaro, I., Borstelmann, N., Regan, K., Rimer, B. K. & Winer, E. Genetic testing for susceptibility to breast cancer: findings from women's focus groups. J. Womens Hlth 6, 317–327 (1997).

Condit, C. M. How the public understands genetics: non-deterministic and non-discriminatory interpretations of the 'blueprint' metaphor. Publ. Underst. Sci. 8, 169–180 (1999).

Condit, C. M. et al. An exploratory study of the impact of news headlines on genetic determinism. Sci. Commun. 22, 379–395 (2001).

Ramsey, E. M., Achter, P. & Condit, C. M. Genetics, race, and crime: an audience study exploring the effects of The Bell Curve and book reviews. Crit. Stud. Mass. Commun. 18, 1–22 (2001).

Rapp, R. Chromosomes and communication: the discourse of genetic counseling. Med. Anthropol. Quart. 2, 143–157 (1988).

Cohen, L., Fine, B. A. & Pergament, E. An assessment of ethnocultural beliefs regarding the causes of birth defects and genetic disorders. J. Genet. Counsel. 7, 15–30 (1998).

Mogilner, A., Otten, M., Cunningham, J. D. & Brower, S. T. Awareness and attitudes concerning BRCA gene testing. Ann. Surg. Oncol. 5, 607–612 (1998).

Jackson, F. African-American response to the human genome project. Publ. Underst. Sci. 8, 181–192 (1999).

Simons, W., Mechling, E. W. & Schreier, H. N. in Handbook of Rhetorical and Communication Theory (eds Arnold, C. C. & Bowers, J. W.) 792–867 (Allyn and Bacon, Boston, Massachusetts, 1984).

Kay, L. E. The Molecular Vision of Life (Oxford Univ. Press, New York and Oxford, 1993).

Hogan, J. M. The Nuclear Freeze Campaign: Rhetoric and Foreign Policy in the Telepolitical Age (Univ. of Michigan Press, Lansing, Michigan, 1994).

Vatz, R. & Weinberg, L. Media and polling: measuring and creating the salience of George Bush as 'wimp'. Mass Commun. Rev. 14, 23–27 (1987).

Condit, C. M. The rhetorical limits of polysemy. Crit. Stud. Mass Commun. 6, 103–122 (1989).

Conrad, P. Genetic optimism: framing genes and mental illness in the news. Cult. Med. Psychiatry 25, 225–247 (2001).

Conrad, P. & Weinberg, D. Has the gene for alcoholism been discovered three times since 1980? Persp. Soc. Problems 8, 3–25 (1996).

Henderson, L. H. & Kitzinger, J. The human drama of genetics: 'hard' and 'soft' media representations of inherited breast cancer. Soc. Hlth Illness 21, 560–578 (1999).

Dijck, J. V. Imagenation: Popular Images of Genetics (New York Univ. Press, New York, 1998).

George, S. A. Not exactly 'of woman born': procreation and recreation in recent science fiction films. J. Pop. Film Tele. 28, 176–183 (2001).

Petersen, A. The portrayal of research into genetic-based differences of sex and sexual orientation: a study of 'popular' science journals, 1980 to 1997. J. Commun. Inq. 23,163–182 (1999).

Condit, C. M. The Meanings of the Gene (Univ. of Wisconsin Press, Madison, Wisconsin, 1999).

Condit, C. M., Ofulue, N. & Sheedy, K. Determinism and mass media portrayals of genetics. Am. J. Hum. Genet. 62, 979–984 (1998).

Sheedy, K. M. Transcending tragedy: a 'comic' critique of public discourse about breast cancer genetics, 1987–1997. Dissertation, Univ. Georgia (2000).

Craign, D. Ethical language and themes in news coverage of genetic testing. Journalism Mass Commun. Quart. 77, 16–174 (2000).

Jallinoja, P. & Aro, A. Does knowledge make a difference? The association between knowledge about genes and attitudes toward gene tests. J. Hlth Commun. 5, 29–39 (2000).
Related links
Related links
DATABASES
FURTHER INFORMATION
About this article
Cite this article
Condit, C. What is 'public opinion' about genetics?. Nat Rev Genet 2, 811–815 (2001). https://doi.org/10.1038/35093580
Issue Date:

DOI: https://doi.org/10.1038/35093580