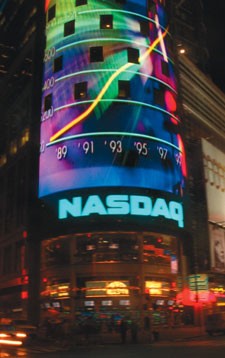 A prominent Japanese materials scientist is suing his former employer for ¥2 billion (US$16.5 million) over the level of compensation he received for inventing the technology behind blue light-emitting diodes (LEDs).
The claim — filed by Shuji Nakamura, now at the University of California, Santa Barbara, against Nichia Corporation of Shikoku — has sent shock waves through Japanese industrial research.
LEDs are semiconductor-based devices that convert electrical current into light. Nakamura is suing Nichia in Tokyo's district court over a patent, filed in 1991, covering a processing method for making the light-producing layer of gallium nitride-based semiconductors. Nichia, where Nakamura worked from 1979 to 1999, used this technology to produce blue and green LEDs as well as blue lasers.
Nakamura is basing his case on Japan's ambiguous patent law, under which researchers should get "fair compensation" for their patented research. Researchers do not usually have contracts with detailed reward provisions. "We need this kind of case to force employers to make clear reward conditions for inventors," says Nakamura.
Nakamura is claiming ownership, in part or in full, of the patent, and wants the technology to be licensed to outside manufacturers. "Nichia will not license it to others," he says.
About this article
Cite this article
Cyranoski, D. LED pioneer seeks reward in court. Nature 412, 844 (2001). https://doi.org/10.1038/35091202
Issue Date:

DOI: https://doi.org/10.1038/35091202