Abstract
Mollusc shells are a vital but sometimes scarce resource for hermit crabs, protecting them from mechanical damage and desiccation, but they require continual replacement as the crab grows. I have discovered that Coenobita rugosus, a large, tropical, semi-terrestrial hermit crab, will resort to using fossil shells when no other suitable casing is available. These unlikely mobile homes fall out of coastal limestone as it is eroded by the sea in southwestern Madagascar, placing the occupants alongside Homo sapiens as resourceful exploiters of prehistoric animal remains.
Your institute does not have access to this article
Access options
Subscribe to Journal
Get full journal access for 1 year
$199.00
only $3.90 per issue
All prices are NET prices.
VAT will be added later in the checkout.
Tax calculation will be finalised during checkout.
Buy article
Get time limited or full article access on ReadCube.
$32.00
All prices are NET prices.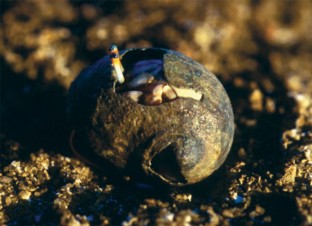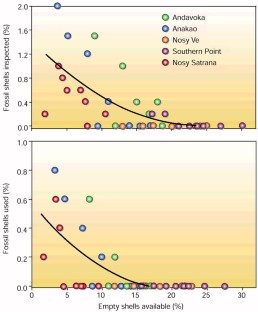 References
Reese, E. S. Anim. Behav . 10, 347–360 (1962).

Hazlett, B. A. Behav. Ecol. Sociobiol. 6, 177–184 (1980).

Rutherford, J. D. Veliger 19, 438–439 (1977).

Bertness, M. D. J. Exp. Mar. Biol. Ecol. 64, 159–187 (1982).

Burggren, W. W. & McMahon, B. R. Biology of the Land Crabs (Cambridge Univ. Press, Cambridge, 1988).

Fotheringham, N. Ecology 57, 570–578 (1976).

Kellogg, C. W. J. Exp. Mar. Biol. Ecol. 22, 101–111 (1976).

Barnes, D. K. A., Corrie, A., Whittington, M., Carvelho, M. A. & Gell, F. J. Shellfish Res. 17, 51–58 (1998).

Barnes, D. K. A., Rawlinson, K., Zucco, C., Lawford, L. & Purnell, L. in Ecology and Biodiversity of Madagascar, a Contribution from Ireland (eds Barnes, D. K. A. & Sleeman, D. P.) (Irish Biogeogr. Soc., in the press).
About this article
Cite this article
Barnes, D. Ancient homes for hard-up hermit crabs. Nature 412, 785–786 (2001). https://doi.org/10.1038/35090632
Issue Date:

DOI: https://doi.org/10.1038/35090632
Comments
By submitting a comment you agree to abide by our Terms and Community Guidelines. If you find something abusive or that does not comply with our terms or guidelines please flag it as inappropriate.