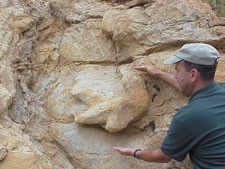 A planned golf course outside Denver, Colorado, could swallow up a valuable dinosaur track site that includes the world's only known tracks of a species from 65 million years ago, palaeontologists say.
According to the plans, some of the tracks are to be covered with dirt, and some cut out of their stone and removed for display elsewhere. Others would be preserved in situ amid the fairways and greens of the proposed municipal course in the small town of Golden in the Rocky Mountains.
But the plans have met with fierce opposition from geologists and palaeontologists. William Caneer, a retired geologist from the Colorado School of Mines, says: "Palaeontologists spend half their lives digging specimens up; now the city wants to cover tracks with dirt. It makes smoke come out of my ears."
Colorado's state archaeologist, Susan Collins, has requested a survey of the palaeontology specimens at the site known as the Parfet clay pits, a former clay mine on the eastern edge of the Rocky Mountains.
Collins says her agency will determine what can be done with the track site after the survey is complete. But she has not ruled out accepting the plan for the golf course.
Once a waste dump for coal-plant ash, and broken bottles from the nearby Coors Brewery, the privately owned clay pits — recently donated to the city of Golden — were for years the domain of amateur rock hunters, who cut out tracks with high-powered rock saws.
Around 1985, Martin Lockley, a geologist at the University of Colorado at Denver, and colleagues found in the pits the first ever identified tracks of a ceratopsian, along with the only known US track of the crocodile-like champsosaur. Golden has contracted Lockley to assist in preserving the tracks during construction of the golf course.
Lockley, who curates the world's largest dinosaur-track collection at his university, says the course could incorporate the history of the site by including appropriate displays of the tracks.
About this article
Cite this article
Dalton, R. Golf course threatens to leave hole in fossil records. Nature 412, 572 (2001). https://doi.org/10.1038/35088189
Issue Date:

DOI: https://doi.org/10.1038/35088189