Abstract
To maintain cell identity during development and differentiation, mechanisms of cellular memory have evolved that preserve transcription patterns in an epigenetic manner. The proteins of the Polycomb group (PcG) are part of such a mechanism, maintaining gene silencing. They act as repressive multiprotein complexes that may render target genes inaccessible to the transcriptional machinery1,2, inhibit chromatin remodelling3,4, influence chromosome domain topology5 and recruit histone deacetylases (HDACs)6. PcG proteins have also been found to bind to core promoter regions7, but the mechanism by which they regulate transcription remains unknown. To address this, we used formaldehyde-crosslinked chromatin immunoprecipitation (X-ChIP) to map TATA-binding protein (TBP), transcription initiation factor IIB (TFIIB) and IIF (TFIIF), and dHDAC1 (RPD3) across several Drosophila promoter regions. Here we show that binding of PcG proteins to repressed promoters does not exclude general transcription factors (GTFs) and that depletion of PcG proteins by double-stranded RNA interference leads to de-repression of developmentally regulated genes. We further show that PcG proteins interact in vitro with GTFs. We suggest that PcG complexes maintain silencing by inhibiting GTF-mediated activation of transcription.
Relevant articles
Open Access articles citing this article.
Victoria Cunha Alves

,

Joana Figueiro-Silva

…

Eva Carro

Cellular and Molecular Life Sciences Open Access 05 July 2023

Haining Zhou

,

Chad B. Stein

…

Danesh Moazed

Nature Open Access 30 March 2022

Peggy Prickaerts

,

Michiel E. Adriaens

…

Jan Willem Voncken

Epigenetics & Chromatin Open Access 26 October 2016
Access options
Subscribe to this journal
Receive 51 print issues and online access
$199.00 per year
only $3.90 per issue
Rent or buy this article
Prices vary by article type
from$1.95
to$39.95
Prices may be subject to local taxes which are calculated during checkout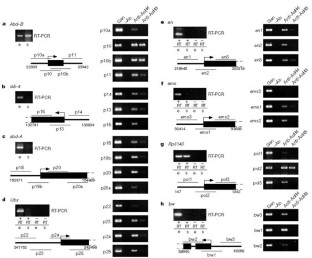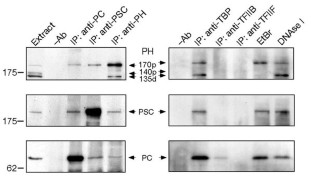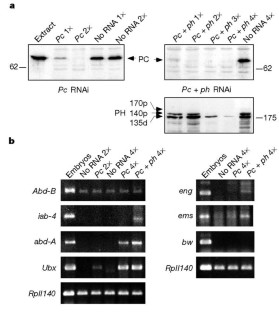 References
Pirrotta, V. PcG complexes and chromatin silencing. Curr. Opin. Genet. Dev. 7, 249–258 (1997).

Paro, R. & Harte, P. J. in Epigenetic Mechanisms of Gene Regulation (eds Russo, V. E. A., Martienssen, R. A. & Riggs, A. R.) 507–528 (Cold Spring Harbor Laboratory Press, Cold Spring Harbor, 1996).

Breiling, A., Bonte, E., Ferrari, S., Becker, P. B. & Paro, R. The Drosophila Polycomb protein interacts with nucleosomal core particles in vitro via its repression domain. Mol. Cell. Biol. 19, 8451–8460 (1999).

Shao, Z. et al. Stabilization of chromatin structure by PRC1, a Polycomb complex. Cell 98, 37–46 (1999).

Lupo, R., Breiling, A., Bianchi, M. E. & Orlando, V. Drosophila chromosome condensation proteins Topoisomerase II and Barren colocalize with Polycomb and maintain Fab-7 PRE silencing. Mol. Cell 7, 127–136 (2001).

van der Vlag, J. & Otte, A. P. Transcriptional repression mediated by the human polycomb-group protein EED involves histone deacetylation. Nature Genet. 23, 474–478 (1999).

Orlando, V., Jane, E. P., Chinwalla, V., Harte, P. J. & Paro, R. Binding of trithorax and Polycomb proteins to the bithorax complex: dynamic changes during early Drosophila embryogenesis. EMBO J. 17, 5141–5150 (1998).

Strutt, H., Cavalli, G. & Paro, R. Co-localization of Polycomb protein and GAGA factor on regulatory elements responsible for the maintenance of homeotic gene expression. EMBO J. 16, 3621–3632 (1997).

Strutt, H. & Paro, R. The Polycomb Group protein complex of Drosophila melanogaster has different compositions at different target genes. Mol. Cell. Biol. 17, 6773–6783 (1997).

Paro, R. & Zink, B. The Polycomb gene is differentially regulated during oogenesis and embryogenesis of Drosophila melanogaster. Mech. Dev. 40, 37–46 (1992).

White, D. A., Belyaev, N. D. & Turner, B. M. Preparation of site-specific antibodies to acetylated histones. Methods 19, 417–424 (1999).

Gregory, R. I. et al. DNA methylation is linked to deacetylation of histone H3, but not H4, on the imprinted genes Snrpn and U2af1-rs1. Mol. Cell. Biol. (in the press).

Cavalli, G. & Paro, R. Epigenetic inheritance of active chromatin after removal of the main transactivator. Science 286, 955–958 (1999).

Chinwalla, V., Jane, E. P. & Harte, P. J. The Drosophila trithorax protein binds to specific chromosomal sites and is co-localized with Polycomb at many sites. EMBO J. 14, 2056–2065 (1995).

Barlow, A. L. et al. dSIR2 and HDAC6; two novel, inhibitor-resistant deacetylases in Drosophila melanogaster. Exp. Cell Res. 265, 90–103 (2001).

Imhof, A. et al. Acetylation of general transcription factors by histone acetyltransferases. Curr. Biol. 7, 689–692 (1997).

Waltzer, L. & Bienz, M. Drosophila CBP represses the transcription factor TCF to antagonize Wingless signalling. Nature 395, 521–525 (1998).

Tsai, S. C. et al. Histone deacetylase interacts directly with DNA topoisomerase II. Nature Genet. 26, 349–353 (2000).

Johnson, C. A., Padget, K., Austin, C. A. & Turner, B. M. Deacetylase activity associates with topoisomerase II and is necessary for etoposide-induced apoptosis. J. Biol. Chem. 276, 4539–4542 (2001).

Ptashne, M. & Gann, A. Transcriptional activation by recruitment. Nature 386, 569–577 (1997).

Kuras, L. & Struhl, K. Binding of TBP to promoters in vivo is stimulated by activators and requires Pol II holoenzyme. Nature 399, 609–613 (1999).

Hansen, S. K., Takada, S., Jacobson, R. H., Lis, J. T. & Tjian, R. Transcription properties of a cell type-specific TATA-binding protein, TRF. Cell 91, 71–83 (1997).

Weeks, J. R., Hardin, S. E., Shen, J., Lee, J. M. & Greenleaf, A. L. Locus-specific variation in phosphorylation state of RNA polymerase II in vivo: correlations with gene activity and transcript processing. Genes Dev. 7, 2329–2344 (1993).

Rougvie, A. E. & Lis, J. T. The RNA polymerase II molecule at 5′ end of the uninduced hsp70 gene of D. melanogaster is transcriptionally engaged. Cell 54, 795–804 (1988).

Kyba, M. & Brock, H. W. The Drosophila Polycomb Group protein Psc contacts Ph and Pc through specific conserved domains. Mol. Cell. Biol. 18, 2712–2720 (1998).

Hammond, S. M., Caudy, A. A. & Hannon, G. J. Post-transcriptional gene silencing by double-stranded RNA. Nature Rev. Genet. 2, 110–119 (2001).

Wei, Q., Marchler, G., Edington, K., Karsch-Mizrachi, I. & Paterson, B. M. RNA interference demonstrates a role for nautilus in the myogenic conversion of Schneider cells by daughterless. Dev. Biol. 228, 239–255 (2000).

Beuchle, D., Struhl, G. & Muller, J. Polycomb group proteins and heritable silencing of Drosophila Hox genes. Development 128, 993–1004 (2001).
Acknowledgements
We thank B. M. Paterson for advice concerning the RNAi experiments and J. Kadonaga for discussions and comments on the manuscript. We are indebted to J. Butler, J. Kadonaga, A. Barlow and R. Paro for providing (respectively) dTBP, dTFIIB, dTFIIF, dHDAC1 and PC antibodies. We thank N. Collu for technical assistance. This work was supported by a postdoctoral fellowship to A.B. by EU-TMR, and by research grants from A.I.R.C. and TELETHON to V.O., from the Wellcome Trust and the Human Frontier Science Program to B.M.T. and from MURST to M.E.B.
About this article
Cite this article
Breiling, A., Turner, B., Bianchi, M. et al. General transcription factors bind promoters repressed by Polycomb group proteins. Nature 412, 651–655 (2001). https://doi.org/10.1038/35088090
Received:

Accepted:

Issue Date:

DOI: https://doi.org/10.1038/35088090
Comments
By submitting a comment you agree to abide by our Terms and Community Guidelines. If you find something abusive or that does not comply with our terms or guidelines please flag it as inappropriate.