Promiscuous individuals are the vulnerable nodes to target in safe-sex campaigns.
Access options
Subscribe to Journal
Get full journal access for 1 year
$199.00
only $3.90 per issue
All prices are NET prices.
VAT will be added later in the checkout.
Tax calculation will be finalised during checkout.
Rent or Buy article
Get time limited or full article access on ReadCube.
from$8.99
All prices are NET prices.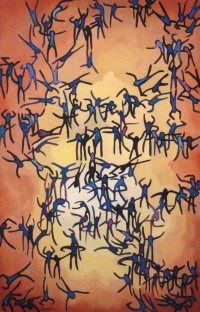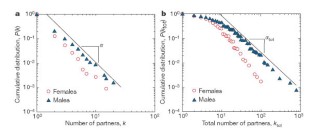 References
1

Strogatz, S. H. Nature 410, 268–276 (2001).

2

Kochen, M. (ed.) The Small World (Ablex, Norwood, New Jersey, 1989).

3

Wasserman, S. & Faust, K. Social Network Analysis (Cambridge Univ. Press, Cambridge, 1994).

4

Lewin, B. (ed.) Sex i Sverige. Om Sexuallivet i Sverige 1996 [Sex in Sweden. On the Sexual Life in Sweden 1996] (Natl Inst. Pub. Health, Stockholm, 1998).

5

Milgram, S. Psychol. Today 2, 60–67 (1967).

6

Watts, D. J. & Strogatz, S. H. Nature 393, 440–442 (1998).

7

Barthelemy, M. & Amaral, L. A. N. Phys. Rev. Lett. 82, 3180–3183 (1999).

8

Amaral, L. A. N., Scala, A., Barthélémy, M. & Stanley, H. E. Proc. Natl Acad. Sci. USA 97, 11149–11152 (2000).

9

Simon, H. A. Biometrika 42, 425–440 (1955).

10

Barabási, A.-L & Albert, R. Science 286, 509–512 (1999).

11

Laumann, E. O., Gagnon, J. H., Michael, R. T. & Michaels, S. The Social Organization of Sexuality (Univ. Chicago Press, Chicago, 1994).

12

Hethcote, H. W. & Yorke, J. A. Gonorrhea Transmission Dynamics and Control (Springer, Berlin, 1984).

13

Pastor-Satorras, R. & Vespignani, A. Phys. Rev. Lett. 86, 3200–3203 (2001).

14

Albert, R., Jeong, H. & Barabási, A.-L Nature 406, 378–382 (2000).
About this article
Cite this article
Liljeros, F., Edling, C., Amaral, L. et al. The web of human sexual contacts. Nature 411, 907–908 (2001). https://doi.org/10.1038/35082140
Comments
By submitting a comment you agree to abide by our Terms and Community Guidelines. If you find something abusive or that does not comply with our terms or guidelines please flag it as inappropriate.