Abstract
Interest in the study of apoptosis grew with the recognition that it is a highly regulated process. Such a change in attitude allowed the intellectual and technical breakthroughs that led to the explosive development of this subject.
Relevant articles
Open Access articles citing this article.
Zhen Yu

,

Victor S. M. C. Correa

…

Demetrios G. Vavvas

Cell Death Discovery Open Access 12 December 2022

Guangzhi Zhang

,

Jinyong Wang

…

Jiabo Ding

Cell Death & Disease Open Access 22 July 2022

Zhen Luo

,

Mingfu Tian

…

Jianguo Wu

Signal Transduction and Targeted Therapy Open Access 07 July 2022
Access options
Subscribe to this journal
Receive 12 print issues and online access
$209.00 per year
only $17.42 per issue
Rent or buy this article
Get just this article for as long as you need it
$39.95
Prices may be subject to local taxes which are calculated during checkout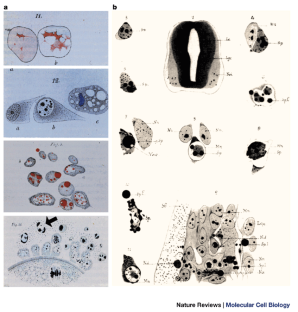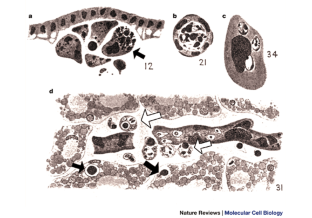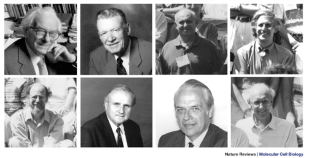 References
Clarke, P. G. H. & Clarke, S. Nineteenth century research on naturally occurring cell death and related phenomena. Anat. Embryol. 193, 81–99 (1996).

Häcker, G. & Vaux, D. L. A chronology of cell death. Apoptosis 2, 247–256 (1997).

Flemming, W. Über die bildung von richtungsfiguren in säugethiereiern beim untergang graaf'scher follikel. Arch. Anat. Physiol. 221–244 (1885).

Paweletz, N. Walther Flemming: pioneer of mitosis research. Nature Rev. Mol. Cell Biol. 2, 72–75 (2001).

Murray, F. V. & Tiegs, O. W. The metamorphosis of Calandra oryzae. Q. J. Microsc. Sci. 77, 405–495 (1935).

Feytaud, J. Contribution á l'étude dur termite lucifuge (anatomie, fondation de colonies nouvelles). Arch. Anat. Microsc. 13, 481–607 (1912).

Terre, L. Contribution á l'étude de l'histolyse et de l'histogénèse du tissu musculaire chez l'abeille. C.R. Soc. Biol. (IIe Série) 51, 896–898 (1889).

Hulst, F. A. The histolysis of the musculature of Culex pungens during metamorphosis. Biol. Bull. 11, 277–304 (1906).

Janet, C. Anatomie du Corselet et Histolyse des Muscles Vibrateurs après le Vol Nuptial, Chez la Reine de la Fourmi (Lasius Niger) (DuCourtieux et Gout, Limoges, 1907).

Pérez, C. Recherches histologiques sur la métamorphose des muscides (Calliphora erythrocephala Mg). Arch. Zool. Expér. Gén. 5e. Série 4, 1–274 (1910).

Glücksmann, A. Cell deaths in normal vertebrate ontogeny. Biol. Rev. Camb. Phil. Soc. 26, 59–86 (1951).

Glücksmann, A. Cell death in normal development. Arch. Biol. (Liege) 76, 419–437 (1965).

De Duve, C. The lysosomes, a new group of cytoplasmic granules. J. Physiol. (Paris) 49, 113–115 (1957).

Saunders, J. W. Jr Death in embryonic systems. Science 154, 604–612 (1966).

Lockshin, R. A. & Williams, C. M. Programmed cell death. II. Endocrine potentiation of the breakdown of the intersegmental muscles of silkmoths. J. Insect Physiol. 10, 643–649 (1964).

Fell, H. B. & Canti, R. G. Experiments on the development in vitro of the avian knee-joint. Proc. R. Soc. Lond. B 116, 316–351 (1934).

Hamburger, V. & Levi-Montalcini, R. Proliferation, differentiation and degeneration in the spinal ganglia of the chick embryo under normal and experimental conditions. J. Exp. Zool. 111, 457–502 (1949).

Lockshin, R. A. & Beaulaton, J. Cytological studies of dying muscle fibers of known physiological parameters. Tissue Cell 11, 803–819 (1979).

Weber, R. in Biology and Pathology Vol. I (eds Dingle, J. T. & Fell, H. B.) 437–461 (Elsevier North Holland, Amsterdam, 1969).

Helminen, H. J., Ericsson, J. L. & Orrenius, S. Studies on mammary gland involution. IV. Histochemical and biochemical observations on alterations in lysosomes and lysosomal enzymes. J. Ultrastruct. Res. 25, 240–252 (1968).

Lockshin, R. A. & Beaulaton, J. Cell death: questions for histochemists concerning the causes of the various cytological changes. Histochem. J. 13, 659–666 (1981).

Trump, B. F. & Berezesky, I. K. Calcium-mediated cell injury and cell death. FASEB J. 9, 219–228 (1995).

Kerr, J. F. R., Wyllie, A. H. & Currie, A. R. Apoptosis: a basic biological phenomenon with wide-ranging implications in tissue kinetics. Br. J. Cancer 26, 239–257 (1972).

Arends, M. J., Morris, R. G. & Wyllie, A. H. Apoptosis: The role of the endonuclease. Am. J. Pathol. 136, 593–608 (1990).

Zakeri, Z. F., Quaglino, D., Latham, T. & Lockshin, R. A. Delayed internucleosomal DNA fragmentation in programmed cell death. FASEB J. 7, 470–478 (1993).

Tata, J. R. Requirement for RNA and protein synthesis for induced regression of tadpole tail in organ culture. Dev. Biol. 13, 77–94 (1966).

Lockshin, R. A. Programmed cell death. Activation of lysis by a mechanism involving the synthesis of protein. J. Insect Physiol. 15, 1505–1516 (1969).

Makman, M. H., Dvorkin, B. & White, A. Evidence for induction by cortisol in vitro of a protein inhibitor of transport and phosphorylation processes in rat thymocytes. Proc. Natl Acad. Sci. USA 68, 1269–1273 (1971).

Hinchliffe, J. R. in Cell Death in Biology and Pathology (eds Bowen, I. D. & Lockshin, R. A.) 35–78 (Chapman and Hall, London, 1981).

Sulston, J. & Horvitz, H. R. Postembryonic cell lineages of the nematode Caenorhabditis elegans. Dev. Biol. 56, 110–156 (1977).

Horvitz, H. R., Sternberg, P. W., Greenwald, I. S., Fixsen, W. & Ellis, H. M. Mutations that affect neural cell lineages and cell fates during the development of the nematode Caenorhabditis elegans. Cold Spring Harb. Symp. Quant. Biol. 48, part 2, 453–463 (1983).

Vaux, D. L., Cory, S. & Adams, J. M. Bcl-2 gene promotes haemopoietic cell survival and cooperates with c-myc to immortalize pre-B cells. Nature 335, 440–442 (1988).

Yonish-Rouach, E. et al. Wild-type p53 induces apoptosis of myeloid leukaemic cells that is inhibited by interleukin-6. Nature 352, 345–347 (1991).

Lowe, S. W., Schmitt, E. M., Smith, S. W., Osborne, B. A. & Jacks, T. p53 is required for radiation-induced apoptosis in mouse thymocytes. Nature 362, 847–849 (1993).

Buttyan, R., Zakeri, Z., Lockshin, R. A. & Wolgemuth, D. Cascade induction of c-fos, c-myc, and heat shock 70 k transcripts during regression of the rat ventral prostate gland. Mol. Endocrinol. 2, 650–657 (1988).

Evan, G. I. et al. Induction of apoptosis in fibroblasts by c-myc protein. Cell 69, 119–128 (1992).

Umansky, S. R. The genetic program of cell death. Hypothesis and some applications: transformation, carcinogenesis, ageing. J. Theor. Biol. 97, 591–602 (1982).

Wyllie, A. H. Apoptosis (The 1992 Frank Rose Memorial Lecture). Br. J. Cancer 67, 205–208 (1993).

Trauth, B. C. et al. Monoclonal antibody-mediated tumor regression by induction of apoptosis. Science 245, 301–305 (1989).

Yonehara, S., Ishii, A. & Yonehara, M. A cell-killing monoclonal antibody (anti-Fas) to a cell surface antigen co-downregulated with the receptor of tumor necrosis factor. J. Exp. Med. 169, 1747–1756 (1989).

Ameisen, J. C. & Capron, A. Cell dysfunction and depletion in AIDS: The programmed cell death hypothesis. Immunol. Today 12, 102–105 (1991).

Raff, M. C. Social controls on cell survival and cell death. Nature 356, 397–400 (1992).

Yuan, J., Shaham, S., Ledoux, S., Ellis, H. M. & Horvitz, H. R. The C. elegans cell death gene ced-3 encodes a protein similar to mammalian interleukin-1β-converting enzyme. Cell 75, 641–652 (1993).

Vaux, D., Weissman, I. L. & Kim, S. K. Prevention of programmed cell death in Caenorhabditis elegans by human bcl-2. Science 258, 1955–1957 (1992).

Nicholson, D. W. From bench to clinic with apoptosis-based therapeutic agents. Nature 407, 810–816 (2000).

Levi-Montalcini, R. The nerve growth factor 35 years later. Science 237, 1154–1162 (1987).

Cryns, V. L. & Yuan, J. Y. in When Cells Die: A Comprehensive Evaluation of Apoptosis and Programmed Cell Death (eds Lockshin, R. A., Zakeri, Z. & Tilly, J. L.) 117–210 (Wiley–Liss, New York, 1998).

Hengartner, M. O. & Horvitz, H. R. Programmed cell death in Caenorhabditis elegans. Curr. Opin. Genet. Dev. 4, 581–586 (1994).

Hengartner, M. O. The biochemistry of apoptosis. Nature 407, 770–776 (2000).

Meier, P., Finch, A. & Evan, G. Apoptosis in development. Nature 407, 796–801 (2000).

Noetzel, W. Die Rückbildung der Gewebe im Schwanz der Froschlarve. Arch. Mikrosk. Anat. 45, 475–512 (1895).

Collin, R. Recherches cytologiques dur le développement de la cellule nerveuse. Névraxe 8, 181–309 (1906).
Acknowledgements
We thank D. Vaux for his generous sharing of his observations and material in preparation, and D. Tomei, J. Saunders, and J. Kerr for their helpful comments and photographs. The thoughts expressed here were generated under the auspices of an NIH grant to R.A.L. and one to St John's University.
Related links
Related links
DATABASE LINKS
FURTHER INFORMATION
About this article
Cite this article
Lockshin, R., Zakeri, Z. Programmed cell death and apoptosis: origins of the theory. Nat Rev Mol Cell Biol 2, 545–550 (2001). https://doi.org/10.1038/35080097
Issue Date:

DOI: https://doi.org/10.1038/35080097