Abstract
To understand conscious vision, scientists must elucidate how the brain selects specific visual signals for awareness. When different monocular patterns are presented to the two eyes, they rival for conscious expression such that only one monocular image is perceived at a time1,2. Controversy surrounds whether this binocular rivalry reflects neural competition among pattern representations or monocular channels3,4. Here we show that rivalry arises from interocular competition, using functional magnetic resonance imaging of activity in a monocular region of primary visual cortex corresponding to the blind spot. This cortical region greatly prefers stimulation of the ipsilateral eye to that of the blind-spot eye. Subjects reported their dominant percept while viewing rivalrous orthogonal gratings in the visual location corresponding to the blind spot and its surround. As predicted by interocular rivalry, the monocular blind-spot representation was activated when the ipsilateral grating became perceptually dominant and suppressed when the blind-spot grating became dominant. These responses were as large as those observed during actual alternations between the gratings, indicating that rivalry may be fully resolved in monocular visual cortex. Our findings provide the first physiological evidence, to our knowledge, that interocular competition mediates binocular rivalry, and indicate that V1 may be important in the selection and expression of conscious visual information.
Access options
Subscribe to Journal
Get full journal access for 1 year
$199.00
only $3.90 per issue
All prices are NET prices.
VAT will be added later in the checkout.
Rent or Buy article
Get time limited or full article access on ReadCube.
from$8.99
All prices are NET prices.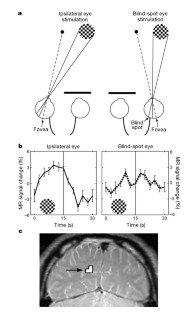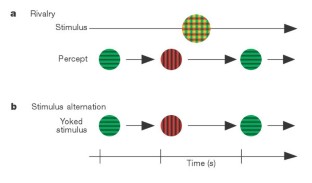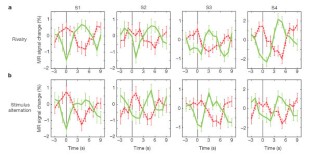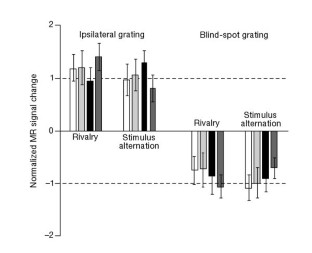 References
1

Helmholtz, H. v. Helmholtz's Treatise on Physiological Optics (The Optical Society of America, Rochester, New York, 1924).

2

Levelt, W. J. M. On Binocular Rivalry (Royal VanGorcum, Assen, The Netherlands, 1965).

3

Blake, R. A neural theory of binocular rivalry. Psychol. Rev. 96, 145–167 (1989).

4

Leopold, D. A. & Logothetis, N. K. Activity changes in early visual cortex reflect monkeys' percepts during binocular rivalry. Nature 379, 549–553 (1996).

5

Logothetis, N. K. & Schall, J. D. Neural correlates of subjective visual perception. Science 245, 761–763 (1989).

6

Sheinberg, D. L. & Logothetis, N. K. The role of temporal cortical areas in perceptual organization. Proc. Natl Acad. Sci. USA 94, 3408–3413 (1997).

7

Tootell, R. B. H. et al. Functional analysis of primary visual cortex (V1) in humans. Proc. Natl Acad. Sci. USA 95, 811–817 (1998).

8

Tong, F., Nakayama, K., Vaughan, J. T. & Kanwisher, N. Binocular rivalry and visual awareness in human extrastriate cortex. Neuron 21, 753–759 (1998).

9

Walls, G. L. The filling in process. Am. J. Optom. Arch. Am. Acad. Optom. 31, 329–341 (1954).

10

Stensaas, S. S., Eddington, D. K. & Dobelle, W. H. The topography and variability of the primary visual cortex in man. J. Neurosurg. 40, 747–755 (1974).

11

Fox, R. & Rasche, F. Binocular rivalry and reciprocal inhibition. Percept. Psychophys. 5, 215–217 (1969).

12

Lehky, S. R. An astable multivibrator model of binocular rivalry. Perception 17, 215–228 (1988).

13

Polonsky, A., Blake, R., Braun, J. & Heeger, D. J. Neuronal activity in human primary visual cortex correlates with perception during binocular rivalry. Nature Neurosci. 3, 1153–1159 (2000).

14

Lansing, R. W. Electroencephalographic correlates of binocular rivalry in man. Science 146, 1325–1327 (1964).

15

Cobb, W. A., Morton, H. B. & Ettlinger, G. Cerebral potential evoked by pattern reversal and their suppression in visual rivalry. Nature 216, 1123–1125 (1967).

16

Brown, R. J. & Norcia, A. M. A method for investigating binocular rivalry in real-time with the steady-state VEP. Vision Res. 37, 2401–2408 (1997).

17

Tononi, G., Srinivasan, R., Russell, D. P. & Edelman, G. M. Investigating neural correlates of conscious perception by frequency-tagged neuromagnetic responses. Proc. Natl Acad. Sci. USA 95, 3198–3203 (1998).

18

Lumer, E. D., Friston, K. J. & Rees, G. Neural correlates of perceptual rivalry in the human brain. Science 280, 1930–1934 (1998).

19

Wade, N. J. Monocular and binocular rivalry between contours. Perception 4, 85–95 (1975).

20

Logothetis, N. K., Leopold, D. A. & Sheinberg, D. L. What is rivalling during binocular rivalry? Nature 380, 621–624 (1996).

21

Lee, S. H. & Blake, R. Rival ideas about binocular rivalry. Vision Res. 39, 1447–1454 (1999).

22

Andrews, T. J. & Purves, D. Similarities in normal and binocularly rivalrous viewing. Proc. Natl Acad. Sci. USA 94, 9905–9908 (1997).

23

Crick, F. & Koch, C. Are we aware of neural activity in primary visual cortex? Nature 375, 121–123 (1995).

24

Friston, K. J. et al. Statistical parametric maps in functional imaging: A general linear approach. Hum. Brain Mapp. 2, 189–210 (1994).
Acknowledgements
We thank A. Seiffert and K. Nakayama for comments on this manuscript; D. Tran for research assistance; and J. Mazziotta, M. Cohen, the UCLA Brain Mapping Medical Organization, the Ahmanson Foundation, the Pierson-Lovelace Foundation, the Tamkin Foundation, and the Jennifer Jones-Simon Foundation for support. This research was funded by a McDonnell-Pew Grant in Cognitive Neuroscience and by the National Institutes of Health.
Comments
By submitting a comment you agree to abide by our Terms and Community Guidelines. If you find something abusive or that does not comply with our terms or guidelines please flag it as inappropriate.