What becomes of research students who study the fundamental forces of the Universe? According to a survey of students who pass through CERN, the European Laboratory for Particle Physics, esotericism proves no bar to lucrative employment.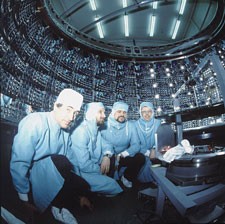 Glowing future: it may be esoteric, but particle physics provides stong career opportunities.
Credit: CERN
Half of the 700 students surveyed landed well-paid jobs in high-tech industries, and the other half stayed employed in academic research. None were left looking for work.
The survey confirms other indications that physicists are in demand in the private sector, says Alex Bradshaw, vice-president of the German Physical Society. The society has been warning for several years that there will soon be a shortage of physics graduates. Fear of unemployment is believed to be one of the reasons fewer students have enrolled in the physical sciences in Europe during the past decade.
The CERN survey tracked students from 19 countries who worked on Delphi, one of four major particle detectors on CERN's Large Electron–Positron collider. Whereas, in 1996, 4.8% of students were without a job immediately after graduation, zero unemployment was recorded in 2000. The percentage of those employed in the private sector increased from 43% to about 50% during these five years.
"High-tech industries want to acquire the practical skills that students learn at CERN," says Tiziano Camporesi, spokesman for the Delphi experiment.
The survey also showed that the number of female students on the experiment increased over the years to 20%, and that they followed the same early career paths, with the same levels of responsibility, as the male students.
Bradshaw hopes that the experience of students at CERN will encourage more interest in physics among school-leavers. An upturn appears to have already started, he says, with a significantly increased enrolment in university physics programmes in Germany this year.
Rights and permissions
To obtain permission to re-use content from this article visit RightsLink.
Comments
By submitting a comment you agree to abide by our Terms and Community Guidelines. If you find something abusive or that does not comply with our terms or guidelines please flag it as inappropriate.