Abstract
Here we report fossil ants, including a new genus of Ponerinae, about 50 million years (Myr) older than the previous oldest specimens. These discoveries in amber from the Turonian stage (92 Myr ago) of New Jersey in the United States have important implications for estimates dating the origin of ants, and extend the age of an extant ant subfamily back about 50 Myr.
Access options
Access options
Subscribe to Journal
Get full journal access for 1 year
$199.00
only $3.90 per issue
All prices are NET prices.
VAT will be added later in the checkout.
Rent or Buy article
Get time limited or full article access on ReadCube.
from$8.99
All prices are NET prices.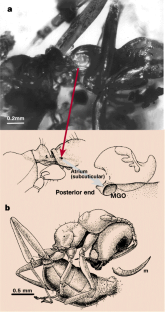 References
1

Wilson, E. O., Carpenter, F. M. & Brown, W. L. Jr Psyche 74, 1–19 (1967).

2

Beattie, A. J., Turnbull, C. L., Hough, T. & Knox, R. B. Ann. Entomol. Soc. Am. 79, 448-450.

3

Fittkau, E. J. & Klinge, H. Biotropica 5, 2–14 (1973).

4

Baroni Urbani, C., Bolton, B. & Ward, P. S. Syst. Entomol. 17, 301–329 (1992).

5

Dlussky, G. M. Paleont. J. 1983 (3), 65-78 (1983).

6

Grimaldi, D. et al. J.M. Am. Mus. Novit. (in the press).

7

Dlussky, G. M. Paleont. J. 1988 (1), 50-61 (1988).

8

Wheeler, W. M. Schr. Phys.-Ökon. Ges. Königsb. 55, 1–142 (1915).

9

Brothers, D. J. & Carpenter, J. M. J. Hymenopt. Res. 2, 227–304 (1993).

10

Carpenter, J. M. & Rasnitsyn, A. P. Psyche 97, 1–20 (1990).

11

Crozier, R., Jermiin, L. S. & Chiotis, M. Naturwissenschaften 84, 22–23 (1997).

12

Hölldobler, B. & Wilson, E. O. The Ants (Harvard Univ. Press, Boston, 1990).
Comments
By submitting a comment you agree to abide by our Terms and Community Guidelines. If you find something abusive or that does not comply with our terms or guidelines please flag it as inappropriate.