The French government has announced plans to triple the funding of research on prions, which are thought to cause bovine spongiform encephalopathy (BSE) in cattle, from 2001.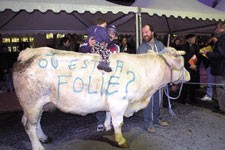 Prime Minister Lionel Jospin announced the increase, from FFr70 million to FFr210 million (US$27 million), as part of his government's seven-point plan for dealing with mounting public concern in France about BSE.
The extra money is for research on prion-related diseases, tests to detect the diseases in animals, methods of destroying meat and bone-meal, epidemiological research and the development of therapeutic methods for controlling variant Creutzfeldt–Jakob disease (vCJD), the human form of the disease. The use of meat and bone-meal in animal feed is also being suspended.
The plan will create several new laboratories, and jobs for 120 researchers and technicians. The many agencies involved in BSE research in France are also to be more closely coordinated.
In the week before Jospin's statement, President Jacques Chirac had made a public statement demanding the immediate banning of meat and bone-meal in animal feed and the systematic testing of all French cattle for BSE. Jospin had preferred to wait for recommendations from government food-safety experts, expected in three or four months, but Chirac's statement forced his hand.
Jospin, quoting the French food safety agency, said at a press conference that there was "no scientific evidence to show that eating meat and milk from cattle represents a health risk".
The French BSE crisis, with 183 cases in cattle and three cases of vCJD, is smaller than that in the United Kingdom. But with the contaminated blood scandal, in which three former government ministers were taken to court for involuntary homicide (see Nature 397, 548; 1999), fresh in the public mind and following the Phillips report on the British BSE crisis, both Chirac and Jospin felt obliged to act.
Two of the families of French victims of vCJD are filing lawsuits against "persons unknown" for poisoning and involuntary manslaughter, targeting British, French and European authorities.
Comments
By submitting a comment you agree to abide by our Terms and Community Guidelines. If you find something abusive or that does not comply with our terms or guidelines please flag it as inappropriate.