Fusion research received a tentative boost last week when the member states of the European Union (EU) reaffirmed their commitment to build the International Thermonuclear Experimental Reactor (ITER), the experiment regarded as a vital next step towards realizing fusion energy.
Last week, the European Council of Research Ministers gave an official mandate to the European Commission to start negotiations with Russia and Japan over the details of ITER's construction and operation. The negotiations will cover the legalities of ITER operation, the structure of its management, recruitment of staff, their terms of employment and the search for an appropriate site for the reactor.
But the research ministers also asked the commission for a full report on the current state and likely future direction of fusion research, to help them decide whether to proceed with ITER's construction.
The commission must also specify the likely cost of the project, its environmental impact, the timetable for its completion and its place in the EU's Framework research programme.
The design and cost of ITER have changed significantly since the project was first conceived. Under its initial configuration, it would have cost 6.7 billion euros (US$5.8 billion) and achieved ignition — the point at which fusion becomes self-sustaining.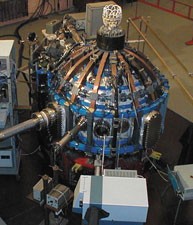 But after the withdrawal of the United States from the project, which took effect in 1999, it was trimmed down to a version known as ITER-FEAT (for Fusion Energy Advanced Tokamak). This machine will not attain ignition and will cost an estimated 3.6 billion euros.
Annual European fusion research costs are around 500 million euros, 40% of which come from the EU's research budget, with the rest coming from the member states. The EU share of construction costs for ITER-FEAT must be earmarked in the next Framework programme of research, which starts in 2003.
Fusion scientists hope that the decision will keep Europe on course for participating in ITER's construction. "Last week's agreements are an important step for the European fusion programme, and will take fusion research forward," says Alexander Bradshaw, scientific director of the Max Planck Institute for Plasma Physics in Garching, near Munich, the main base of the European ITER project team.
Despite continuing uncertainty about whether fusion energy is feasible, all EU member states have approved the agreement. But some still have doubts.
For example, Wolf-Michael Catenhusen, the German secretary for research, admits that it was premature for the council to give the go-ahead to negotiate details of the project before the member states had come to a decision about the value of fusion energy in principle.
Comments
By submitting a comment you agree to abide by our Terms and Community Guidelines. If you find something abusive or that does not comply with our terms or guidelines please flag it as inappropriate.