Abstract
The geometry of carbon cages (fullerenes) is governed by the isolated-pentagon rule (IPR)1,2, which states that the most stable fullerenes are those in which all pentagons are surrounded by five hexagons. Although this rule has been verified experimentally3,4,5, it is impossible for fullerenes in the range C60 to C70 to obey it. Here we describe the production and characterization of an IPR-violating metallofullerene, Sc2@C66, a C66 fullerene encaging a scandium dimer. Our results indicate that encapsulation of the metal dimer significantly stabilizes this otherwise extremely unstable C66 fullerene.
Access options
Access options
Subscribe to Journal
Get full journal access for 1 year
$199.00
only $3.90 per issue
All prices are NET prices.
VAT will be added later in the checkout.
Rent or Buy article
Get time limited or full article access on ReadCube.
from$8.99
All prices are NET prices.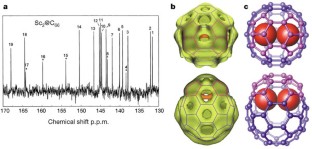 References
1

Kroto, H. Nature 329, 529–531 ( 1987).

2

Schmalz, T. G., Seitz, W. A., Klein, D. J. & Hite, G. E. J. Am. Chem. Soc. 110, 1113–1127 (1988).

3

Shinohara, H. et al. Nature 357, 52–54 (1992).

4

Yannoni, C. S. et al. Mjtl>Science 256, 1191– 1192 (1992).

5

Takata, M. et al. Nature 377, 46–49 (1995).

6

Shinohara, H. et al. J. Phys. Chem. 97, 4259– 4261 (1993).

7

Fowler, P. W. & Manolopoulos, D. E. An Atlas of Fullerenes 27–42 (Clarendon, Oxford, 1995).

8

Takata, M. et al. Phys. Rev. Lett. 83, 2214– 2217 (1999).

9

Kobayashi, K., Nagase, S., Yoshida, M. & Osawa, E. J. Am. Chem. Soc. 119, 12693–12694 ( 1997).

10

Dorn, H. C. et al. in Fullerenes: Recent Advances in the Chemistry and Physics of Fullerenes and Related Materials (eds Kadish, K. M. & Ruoff, R. S.) 990–1002 (Electrochemical Society, Pennington, 1998).
Supplementary information
Comments
By submitting a comment you agree to abide by our Terms and Community Guidelines. If you find something abusive or that does not comply with our terms or guidelines please flag it as inappropriate.