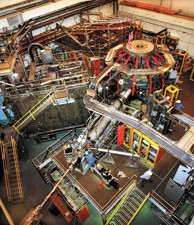 The quality of fusion research in the United States is on a par with other areas of the physical sciences, according to an assessment by the National Academy of Sciences. But the fusion community is isolated from other scientists, struggles to attract young talent, and tends to put the pursuit of fusion energy ahead of the pursuit of good science, the academy warns.
The assessment, undertaken by a panel chaired by Charles Kennel, director of the Scripps Institution of Oceanography in La Jolla, California, recommends that fusion scientists make "a systematic effort to reduce [their] scientific isolation".
It also calls on the National Science Foundation to increase its involvement in fusion research — most US magnetic-fusion work is supported by a $250-million-a-year programme at the Department of Energy (DoE).
DoE officials welcomed the report's endorsement of the quality of science in their programme. But fusion scientists — many of them gathered in Québec City in Canada last week for the American Physical Society's plasma-physics meeting — were taken aback by the harshness of the panel's judgement on the discipline, which it branded as "intellectually isolated from the rest of science".
"Most scientists funded by the program do not, in general, actively participate in the wider scientific culture," says the executive summary of the panel's report. "As a result, the flow of scientific information both out of and into the field has stagnated."
But in its main finding, the panel said that the general quality of science funded by the DoE magnetic-fusion programme was "easily on a par with other leading areas of contemporary physical science".
Four years ago the fusion programme lost one-third of its budget and the DoE changed its main goal from developing fusion-based energy sources to improving the scientific understanding of fusion. But according to Kennel, programme resources are still allocated largely to approaches that demonstrate progress towards fusion power.
Some fusion scientists argue that their experiments need to be relevant to fusion power. Magnetic fusion "is a mission-orientated science", says David Baldwin, senior vice-president of the fusion group at General Atomics in San Diego, California.
But others welcomed the report's call for more emphasis on scientific questions. Bill Dorland, a theorist at the University of Maryland's Institute for Plasma Research, says time on large fusion facilities tends to go to experiments that promise to raise technical performance, rather than understand why performance is restricted.
Comments
By submitting a comment you agree to abide by our Terms and Community Guidelines. If you find something abusive or that does not comply with our terms or guidelines please flag it as inappropriate.