Abstract
Telomere length has frequently been used as a means to predict the future life of cells. But by itself it can be a poor indicator of ageing or cell viability. What, then, is the important property of a telomere? Here recent findings are integrated into a new, probabilistic view of the telomere to explain how and when it can signal not only its own fate but also that of a cell.
Access options
Access options
Subscribe to Journal
Get full journal access for 1 year
$199.00
only $3.90 per issue
All prices are NET prices.
VAT will be added later in the checkout.
Rent or Buy article
Get time limited or full article access on ReadCube.
from$8.99
All prices are NET prices.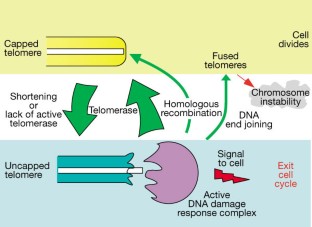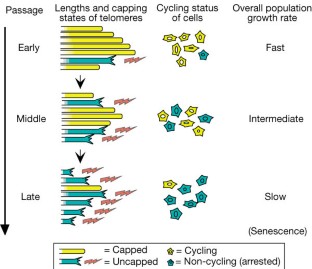 References
1

Yu, G. L., Bradley, J. D., Attardi, L. D. & Blackburn, E. H. In vivo alteration of telomere sequences and senescence caused by mutated Tetrahymena telomerase RNAs. Nature 344, 126–132 (1990).

2

Nugent, C. I. & Lundblad, V. The telomerase reverse transcriptase: components and regulation. Genes Dev. 12, 1073–1085 (1998).

3

Bodnar, A. G. et al. Extension of life-span by introduction of telomerase into normal human cells. Science 279, 349– 352 (1998).

4

Counter, C. M. et al. Dissociation among in vitro telomerase activity, telomere maintenance, and cellular immortalization. Proc. Natl Acad. Sci. USA 95, 14723–14728 ( 1998).

5

Harley, C. B., Futcher, A. B. & Greider, C. W. Telomeres shorten during ageing of human fibroblasts. Nature 345, 458–460 (1990).

6

Counter, C. M. et al. Telomere shortening associated with chromosome instability is arrested in immortal cells which express telomerase activity. EMBO J. 11, 1921–1929 ( 1992).

7

Blasco, M. A. et al. Telomere shortening and tumor formation by mouse cells lacking telomerase RNA. Cell 91, 25– 34 (1997).

8

Rudolph, K. L. et al. Longevity, stress response, and cancer in aging telomerase-deficient mice. Cell 96, 701–712 (1999).

9

Prowse, K. R. & Greider, C. W. Developmental and tissue specific regulation of mouse telomerase and telomere length. Proc. Natl Acad. Sci. USA 92, 4818–4822 (1995).

10

Harley, C. B. Human ageing and telomeres. Ciba Foundation Symp. 211 , 129–139 (1997).

11

Cristofalo, V. J., Allen, R. G., Pignolo, R. J., Martin, B. G. & Beck, J. C. Relationship between donor age and the replicative lifespan of human cells in culture: a reevaluation. Proc. Natl Acad. Sci. USA 95, 10614– 10619 (1998).

12

Frenck, R. W. Jr, Blackburn, E. H. & Shannon, K. M. The rate of telomere sequence loss in human leukocytes varies with age. Proc. Natl Acad. Sci. USA 95, 5607–5610 (1998).

13

Weng, N. P., Hathcock, K. S. & Hodes, R. J. Regulation of telomere length and telomerase in T and B cells: a mechanism for maintaining replicative potential. Immunity 9, 151–157 ( 1998).

14

Bassham, S., Beam, A. & Shampay, J. Telomere variation in Xenopus laevis. Mol. Cell. Biol. 18, 269–275 (1998).

15

Allsopp, R. C. et al. Telomere length predicts replicative capacity of human fibroblasts. Proc. Natl Acad. Sci. USA 89, 10114– 10118 (1992).

16

Prescott, J. & Blackburn, E. H. Telomerase RNA mutations in Saccharomyces cerevisiae alter telomerase action and reveal nonprocessivity in vivo and in vitro. Genes Dev. 11, 528–540 (1997).

17

Roy, J., Fulton, T. B. & Blackburn, E. H. Specific telomerase RNA residues distant from the template are essential for telomerase function. Genes Dev. 12, 3286–3300 (1998).

18

Blackburn, E. H. et al. in Cold Spring Harbor Symposia on Quantitative Biology: Biological Responses to DNA Damage (Cold Spring Harbor Laboratory Press, Cold Spring Harbor, in the press).

19

Zhu, J., Wang, H., Bishop, J. M. & Blackburn, E. H. Telomerase extends the lifespan of virus-transformed human cells without net telomere lengthening. Proc. Natl Acad. Sci. USA 96, 3723–3728 (1999).

20

Yang, J. et al. Human endothelial cell life extension by telomerase expression. J. Biol. Chem. 274, 26141– 26148 (1999).

21

Ducray, C., Pommier, J. P., Martins, L., Boussin, F. D. & Sabatier, L. Telomere dynamics, end-to-end fusions and telomerase activation during the human fibroblast immortalization process. Oncogene 18, 4211–4223 (1999).

22

McEachern, M. J. & Blackburn, E. H. Cap-prevented recombination between terminal telomeric repeat arrays (telomere CPR) maintains telomeres in Kluyveromyces lactis lacking telomerase. Genes Dev. 10, 1822–1834 ( 1996).

23

Gravel, S., Larrivée, M., Labrecque, P. & Wellinger, R. J. Yeast Ku as a regulator of chromosomal DNA end structure. Science 280, 741–744 ( 1998).

24

Hsu, H. L., Gilley, D., Blackburn, E. H. & Chen, D. J. Ku is associated with the telomere in mammals. Proc. Natl Acad. Sci. USA 96, 12454–12458 (1999).

25

Bertuch, A. & Lundblad, V. Telomeres and double-strand breaks: trying to make ends meet. Trends Cell Biol. 8, 339–342 (1998).

26

Le, S., Moore, J. K., Haber, J. E. & Greider, C. W. RAD50 and RAD51 define two pathways that collaborate to maintain telomeres in the absence of telomerase. Genetics 152, 143–152 (1999).

27

Ritchie, K. B., Mallory, J. C. & Petes, T. D. Interactions of TLC1 (which encodes the RNA subunit of telomerase), TEL1, and MEC1 in regulating telomere length in the yeast Saccharomyces cerevisiae. Mol. Cell. Biol. 19, 6065–6075 (1999).

28

Ahmed, S. & Hodgkin, J. MRT-2 checkpoint protein is required for germline immortality and telomere replication in C. elegans. Nature 403, 159–164 ( 2000).

29

Sprung, C. N., Bryan, T. M., Reddel, R. R. & Murnane, J. P. Normal telomere maintenance in immortal ataxia telangiectasia cell lines. Mutat. Res. 379, 177–184 (1997).

30

d'Adda di Fagagna, F. et al. Functions of poly(ADP-ribose) polymerase in controlling telomere length and chromosomal stability. Nature Genet. 23, 76–80 (1999).

31

Evans, S. K. & Lundblad, V. Est1 and Cdc13 as comediators of telomerase access. Science 286, 117– 120 (1999).

32

McEachern, M. J. & Blackburn, E. H. Runaway telomere elongation caused by telomerase RNA gene mutations. Nature 376, 403–409 (1995).

33

Marcand, S., Gilson, E. & Shore, D. A protein-counting mechanism for telomere length regulation in yeast. Science 275, 986– 990 (1997).

34

van Steensel, B., Smogorzewska, A. & de Lange, T. TRF2 protects human telomeres from end-to-end fusions. Cell 92, 401–413 (1998).

35

Krauskopf, A. & Blackburn, E. H. Rap1 protein regulates telomere turnover in yeast. Proc. Natl Acad. Sci. USA 95, 12486–12491 (1998).

36

Smith, C. D. & Blackburn, E. H. Uncapping and deregulation of telomeres lead to detrimental cellular consequences in yeast. J. Cell Biol. 145, 203–214 (1999).

37

Jones, R. B., Whitney, R. G. & Smith, J. R. Intramitotic variation in proliferative potential: stochastic events in cellular aging. Mech. Age. Dev. 29, 143–149 (1985).

38

Pontaen, J., Stein, W. D. & Shall, S. A quantitative analysis of the aging of human glial cells in culture. J. Cell. Phys. 117, 342–352 (1983).

39

Holliday, R. Endless quest. BioEssays 18, 3– 5 (1983).

40

Karatza, C., Stein, W. D. & Shall, S. Kinetics of in vitro ageing of mouse embryo fibroblasts. J. Cell Sci. 65, 163–175 (1984).

41

Herrera, E., Samper, E. & Blasco, M. A. Telomere shortening in mTR-/- embryos is associated with failure to close the neural tube. EMBO J. 18, 1172–1181 (1999).

42

Lee, H. W. et al. Essential role of mouse telomerase in highly proliferative organs. Nature 392, 569– 574 (1998).

43

Kirschner, M., Gerhart, J. & Mitchison, T. Molecular "Vitalism". Cell 100, 79–88 (2000).

44

Li, B., Oestreich, S. & de Lange, T. Identification of human Rap1: Implications for telomere evolution. Cell 101, 471– 483 (2000).

45

Blackburn, E. H. The telomere and telomerase: how do they interact? Mt Sinai J. Med. 66, 292–300 ( 1999).

46

Krauskopf, A. & Blackburn, E. H. Control of telomere growth by interactions of RAP1 with the most distal telomeric repeats. Nature 383, 354–357 ( 1996).

47

Karlseder, J., Broccoli, D., Dai, Y., Hardy, S. & de Lange, T. p53- and ATM-dependent apoptosis induced by telomeres lacking TRF2. Science 283, 1321– 1325 (1999).

48

Kondo, S. et al. Antisense telomerase treatment: induction of two distinct pathways, apoptosis and differentiation. FASEB J. 12, 801–811 (1998).
Acknowledgements
I thank C. Gross, I. Herskowitz, B. Panning and C. Smith for discussions and comments on the manuscript.
Comments
By submitting a comment you agree to abide by our Terms and Community Guidelines. If you find something abusive or that does not comply with our terms or guidelines please flag it as inappropriate.