The United Kingdom has seen a large increase in new cases of multidrug-resistant HIV over the past five years, according to a researcher at the Public Health Laboratory Service (PHLS) who is calling for wider testing for resistance.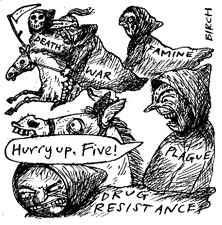 Multidrug-resistant HIV is resistant to one or more members of all three classes of anti-HIV drug. It develops in patients who are receiving therapy, and is transmitted by normal HIV infection routes. This is the first time such an increase has been seen.
Deenan Pillay, of the PHLS's Antiviral Susceptibility Reference Unit at the University of Birmingham, presented the figures at last week's British Association science festival at Imperial College in London. The data are from a register of patients who had recently contracted HIV, all testing HIV-negative in the preceding 18 months or showing recent seroconversion at the time.
Pillay found that five out of 24 patients who had been infected up to May 2000 had key resistance mutations. In the previous five years, only one in 40 was similarly infected.
The news will disappoint many scientists and clinicians. High-level resistance mutations are less prevalent in studies in other countries, leading some to hope they would remain rare. Robert Shafer, an assistant professor of medicine at the University of Stanford, California, is cautious about interpreting unpublished figures.
But he says that "if correct, they are important and distressing," because they suggest that it is not just those unaware of their infection who are spreading HIV, but also people who know of their condition and have access to treatment.
Resistance often develops because patients cannot maintain the harsh drug-taking regime. But even those with full compliance have a 20% failure rate in the United Kingdom, possibly because the treatment is unable to halt viral replication entirely.
Pillay told the meeting that "the emergence of drug resistance is virtually inevitable" and warned that the spread of resistant strains in the United Kingdom threatened "the success we have seen in antiviral therapy to date". New classes of drug could offer hope to patients with multidrug-resistant HIV.
There are currently 14 anti-HIV drugs in three classes: nucleoside analogue reverse-transcriptase inhibitors, non-nucleoside reverse-transcriptase inhibitors, and protease inhibitors. Despite rising numbers of HIV cases, the number of deaths from AIDS in England and Wales has halved since 1995 — partly owing to the introduction of protease inhibitors in 1996 as part of combination therapies that suppress viral replication.
Once a virus develops resistance this often confers high- or low-level resistance to other drugs in the same class. But occasionally a mutation can make the virus particularly sensitive to another drug in the same class.
Shafer has created a database linking data on the sequences of HIV-1 reverse transcriptase and protease, drug treatment histories and drug susceptibility, which he hopes will help in the design of treatment regimes. Genetic tests can show why patients are failing therapy and could help doctors design the best long-term drug treatment regime.
Pillay, whose unit conducts such tests, says this "is now recommended in order to guide the most effective therapies". But each test costs about £300 (US$426), and some National Health Service trusts are refusing to pay for them. Shafer says that preliminary data suggest that the cost of testing are offset by a decreased use of ineffective drugs.
About this article
Cite this article
Loder, N. Drug-resistant HIV shows a worrying increase in the UK. Nature 407, 120 (2000) doi:10.1038/35025260
Comments
By submitting a comment you agree to abide by our Terms and Community Guidelines. If you find something abusive or that does not comply with our terms or guidelines please flag it as inappropriate.