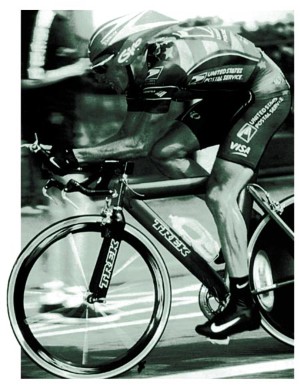 Two years after having brain surgery and chemotherapy for stage-four testicular cancer, US cyclist Lance Armstrong won the 1999 Tour de France. His autobiography, It's Not About the Bike: My Journey Back to Life, written with Sally Jenkins (Yellow Jersey Press/Putnam; £17/$24.95), races through his childhood in Texas, the chivalric code of the peloton, his existence during chemotherapy and his emergence as both a strategist and a sprinter fit to conquer time trials and mountain routes alike in the 1999 Tour. He was left for dead in a cancer ward by his then sponsors, Cofidis, only to be tipped by Miguel Indurain, winner of five consecutive Tours, to win the 1999 Tour. He met his wife while setting up the Lance Armstrong Foundation for cancer patients and survivors. The book is a raw and gripping read written in pure testoterone — quite an achievement for a woman ghost writer.
About this article
Cite this article
From one extreme to another. Nature 407, 132 (2000) doi:10.1038/35025127
Comments
By submitting a comment you agree to abide by our Terms and Community Guidelines. If you find something abusive or that does not comply with our terms or guidelines please flag it as inappropriate.