Abstract
Nicastrin, a transmembrane glycoprotein, forms high molecular weight complexes with presenilin 1 and presenilin 2. Suppression of nicastrin expression in Caenorhabditis elegans embryos induces a subset of notch/glp-1 phenotypes similar to those induced by simultaneous null mutations in both presenilin homologues of C. elegans (sel-12 and hop-1). Nicastrin also binds carboxy-terminal derivatives of β-amyloid precursor protein (βAPP), and modulates the production of the amyloid β-peptide (Aβ) from these derivatives. Missense mutations in a conserved hydrophilic domain of nicastrin increase Aβ42 and Aβ40 peptide secretion. Deletions in this domain inhibit Aβ production. Nicastrin and presenilins are therefore likely to be functional components of a multimeric complex necessary for the intramembranous proteolysis of proteins such as Notch/GLP-1 and βAPP.
Your institute does not have access to this article
Relevant articles
Open Access articles citing this article.
Experimental & Molecular Medicine Open Access 08 April 2022

Dieter Petit

,

Sara Gutiérrez Fernández

…

Lucía Chávez-Gutiérrez

Molecular Psychiatry Open Access 01 April 2022

Naomi Nihonmatsu-Kikuchi

,

Xiu-Jun Yu

…

Yoshitaka Tatebayashi

Communications Biology Open Access 15 July 2021
Access options
Subscribe to Journal
Get full journal access for 1 year
$199.00
only $3.90 per issue
All prices are NET prices.
VAT will be added later in the checkout.
Tax calculation will be finalised during checkout.
Buy article
Get time limited or full article access on ReadCube.
$32.00
All prices are NET prices.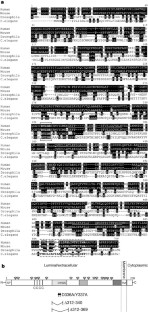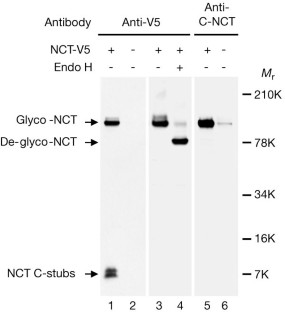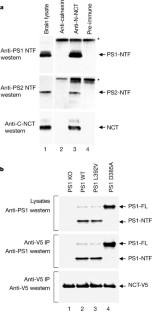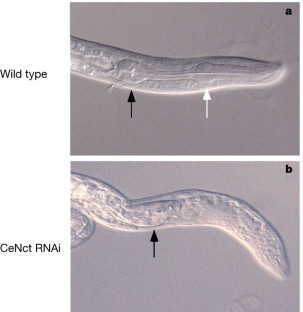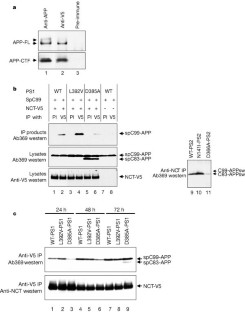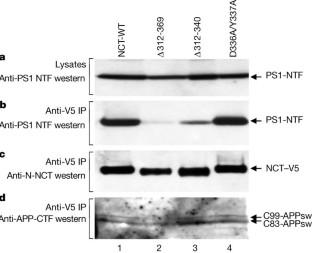 References
Sherrington, R. et al. Cloning of a gene bearing missense mutations in early onset familial Alzheimer's disease. Nature 375, 754–760 (1995).

Rogaev, E. I. et al. Familial Alzheimer's disease in kindreds with missense mutations in a novel gene on chromosome 1 related to the Alzheimer's disease type 3 gene. Nature 376, 775–778 (1995).

Yu, G. et al. The presenilin 1 protein is a component of a high molecular weight intracellular complex that contains β-catenin. J. Biol. Chem. 273, 16470–16475 ( 1998).

Nishimura, M. et al. Presenilin mutations dominantly modulate β-catenin trafficking. Nature Med. 5, 164–169 (1999).

De Strooper, B. et al. Post-translational modification, subcellular localization and membrane orientation of the Alzheimer's Disease associated Presenilins. J. Biol. Chem 272, 3590– 3598 (1997).

De Strooper, B. et al. Deficiency of presenilin 1 inhibits the normal cleavage of amyloid precursor protein. Nature 391, 387 –390 (1998).

Ye, Y., Lukinova, N. & Fortini, M. E. Neurogenic phenotypes and altered Notch processing in Drosophila presenilin mutants. Nature 398 , 525–529 (1999).

Struhl, G. & Greenwald, I. Presenilin is required for activity and nuclear access of Notch in Drosophila. Nature 398, 522–525 (1999).

De Strooper, B. et al. A presenilin dependent gamma-secretase-like protease mediates release of Notch intracellular domain. Nature 398, 518–522 (1999).

Song, W. et al. Proteolytic release and nuclear translocation of Notch-1 are induced by presenilin-1 and impaired by pathogenic presenilin-1 mutations. Proc. Natl Acad. Sci. USA 96, 6959– 6963 (1999).

Katayama, T. et al. Presenilin-1 mutations downregulate the signalling pathway of the unfolded-protein response. Nature Cell Biol. 1, 479–485 (1999).

Niwa, M., Sidrauski, C., Kaufman, R. J. & Walter, P. A role for presenilin-1 in nuclear accumulation of Ire1 fragments amd induction of the mammalian Unfolded Protein Response. Cell 99 , 691–702 (1999).

Scheuner, D. et al. Secreted amyloid-β protein similar to that in the senile plaques of Alzheimer Disease is increased in vivo by presenilin 1 and 2 and APP mutations linked to FAD. Nature Med. 2, 864–870 (1996).

Citron, M. et al. Mutant presenilins of Alzheimer's Disease increase production of 42 residue amyloid β-protein in both transfected cells and transgenic mice. Nature Med. 3, 67– 72 (1997).

Wolfe, M. S. et al. Two transmembrane aspartates in presenilin 1 required for presenilin endoproteolysis and gamma-secretase activity. Nature 398, 513–517 ( 1999).

Li, Y. M. et al. Photoactivated gamma-secretase inhibitors directed to the active site covalently label presenilin 1. Nature 405, 689–694 (2000).

Thinakaran, G. et al. Evidence that levels of presenilins (PS1 and PS2) are coordinately regulated by competition for limiting cellular factors. J. Biol. Chem. 272, 28415–28422 ( 1997).

Li, Y.-M. et al. Presenilin 1 is linked with gamma-secretase activity in the detergent solubilized state. Proc. Natl Acad. Sci. USA 97, 6138–6143 (2000).

Yu, G. Mutation of conserved aspartates affect maturation of both aspartate-mutant and endogenous presenilin 1 and presenilin 2 Complexes. J. Biol. Chem. (in the press).

Feldman, R. G., Chandler, K. A., Levy, L. L. & Glaser, G. H. Familial Alzheimer's Disease. Neurology 13, 811–824 (1963).

Foncin, J.-F. et al. Démence présénile d'Alzheimer transmise dans une famille étendue. Rev. Neurol. (Paris) 141, 194–202 (1985).

Figeys, D., Ducret, A., Yates, J. R. & Aebersold, R. Protein identification by solid phase micro-extraction-capillary zone electrophoresis-microelectrospray-tandem mass spectroscopy. Nature Biotech. 14, 1579 –1583 (1996).

Zhou, J. et al. Presenilin 1 interacts with a novel member of the armadillo family. NeuroReport 8, 2085–2090 (1997).

Levesque, G. et al. Presenilins interact with armadillo proteins including neural specific plakophilin related protein and beta-catenin. J. Neurochem. 72, 999–1008 ( 1999).

Kehoe, P. et al. A full genome scan for late onset Alzheimer's Disease. Hum. Mol. Genet. 8, 237–245 (1999).

Zubenko, G. S., Hughes, H. B., Stiffler, J. S., Hurtt, M. R. & Kaplan, B. B. A genome survey for novel Alzheimer disease risk loci: results at 10 cM resolution. Genomics 50, 121–128 (1998).

Preiss, J. R., Schnabel, H. & Schnabel, R. The glp-1 locus and cellular interactions in early C. elegans embryos. Cell 51, 601– 611 (1987).

Li, X. & Greenwald, I. HOP-1, A Caenorhabditis elegans presenilin, appears to be functionally redundant with SEL12 presenilin and to facilitate LIN-12 and GLP-1 signalling. Proc. Natl Acad. Sci. USA 94, 12204–12209 (1998).

Westlund, B., Barry, D., Clover, R., Basson, M. & Johnson, C. D. Reverse genetic analysis of C. elegans presenilins reveals redundant but unequal roles for sel-12 and hop-1 in Notch-pathway signaling. Proc. Natl Acad. Sci. USA 96, 2497–2502 (1999).

Goutte, C., Hepler, W., Mickey, K. M. & Priess, J. R. aph-2 encodes a novel extracellular protein required for GLP-1-mediated signaling. Development 127, 2481– 2492 (2000).

Hussain, I. et al. Identification of a novel aspartic protease (Asp 2) as beta-secretase. Mol. Cell Neurosci. 14, 419– 427 (1999).

Sinha, S. et al. Purification and cloning of amyloid precursor protein beta-secretase from human brain. Nature 402, 537– 540 (1999).

Vassar, R. et al. Beta-secretase cleavage of Alzheimer's Amyloid precursor protein by the transmembrane aspartic protease BACE. Science 286, 735–741 (1999).

Yan, R. et al. Membrane-anchored aspartyl protease with Alzheimer's Disease beta-secretase activity. Nature 402, 533– 537 (1999).

Selkoe, D. J. Normal and abnormal biology of β-Amyloid Precursor Protein. Ann. Rev. Neurosci. 17, 489–517 (1994).

Xia, W., Zhang, J., Perez, R., Koo, E. H. & Selkoe, D. J. Interaction between amyloid precursor protein and presenilins in mammalian cells: implications for the pathogenesis of Alzheimer Disease. Proc. Natl Acad. Sci. USA 94, 8208 –8213 (1997).

Ray, W. J. et al. Evidence for a physical interaction between presenilin and Notch. Proc. Natl Acad. Sci. USA 96, 3263 –3268 (1999).

Thinakaran, G. et al. Stable association of the presenilin derivatives and absence of presenilin interactions with APP. Neurobiol. Disease 4, 438–453 (1998).

Capell, A. et al. The proteolytic fragments of the Alzheimer's Disease associated presenilin-1 form heterodimers and occur as a 100–150 kDa molecular mass complex. J. Biol. Chem. 273, 3205– 3211 (1998).

Hay, J. C., Chao, D. S., Kuo, C. S. & Scheller, R. H. Protein interaction regulating vesicle transport between the endoplasmic reticulum and Golgi apparatus in mammalian cells. Cell 89, 149– 158 (1997).

Citron, M. et al. Additive effects of PS1 and APP mutations on secretion of the 42-residue amyloid beta-protein. Neurobiol. Dis. 5, 107–116 (1998).

Chen, F. Proteolytic derivative of Amyloid Precursor Protein accumulate in restricted and unpredicted intracellular compartments in the absence of functional presenilin 1 expression. J. Biol. Chem. (in the press).

Zhang, L., Song, L. & Parker, E. M. Calpain inhibitor 1 increases beta-Amyloid peptide production by inhibiting the degradation of the substrate of gamma-secretase. J. Biol. Chem. 274, 8966–8972 (1999).

Howell, D. C. Statistical Methods for Psychology (Duxbury Press, California, 1992).
Acknowledgements
This work was supported by grants from the Medical Research Council of Canada, Alzheimer Association of Ontario, Howard Hughes Medical Research Foundation, Scottish Rite Charitable Foundation, Helen B. Hunter Fellowship (G.Y.), Peterborough Burgess Fellowship (E.A.R.), NIH (R.A. and L.F.); the National Institute of Aging Alzheimer Disease Center Grant (L.F.), University of Toronto Department of Medicine Postgraduate Fellowship (M.N.) and Japan Society for the Promotion of Science (T.K.). The PS2 D366A construct was from C. Haass. We thank R. Feldman and J.-F. Foncin for their work on the Nicastro pedigrees, and C. Goutte and J. R. Preiss for sharing pre-publication data.
Supplementary information
About this article
Cite this article
Yu, G., Nishimura, M., Arawaka, S. et al. Nicastrin modulates presenilin-mediated notch/glp-1 signal transduction and βAPP processing. Nature 407, 48–54 (2000). https://doi.org/10.1038/35024009
Received:

Accepted:

Issue Date:

DOI: https://doi.org/10.1038/35024009
Comments
By submitting a comment you agree to abide by our Terms and Community Guidelines. If you find something abusive or that does not comply with our terms or guidelines please flag it as inappropriate.