Abstract
As most coral reef organisms with a pelagic larval phase are presumed to be readily dispersed between distant populations, sea-surface current patterns should be crucial for predicting ecological and genetic connections among threatened reef populations1. Here we investigate this idea by examining variations in the genetic structuring of populations of the mantis shrimp Haptosquilla pulchella taken from 11 reef systems in Indonesia, in which a series of 36 protected areas2 are presumed to be connected by strong ocean currents. Our results reveal instead that there is a strong regional genetic differentiation that mirrors the separation of ocean basins during the Pleistocene low-sea-level stands, indicating that ecological connections are rare across distances as short as 300–400 km and that biogeographic history also influences contemporary connectivity between reef ecosystems.
Access options
Subscribe to Journal
Get full journal access for 1 year
$199.00
only $3.90 per issue
All prices are NET prices.
VAT will be added later in the checkout.
Tax calculation will be finalised during checkout.
Rent or Buy article
Get time limited or full article access on ReadCube.
from$8.99
All prices are NET prices.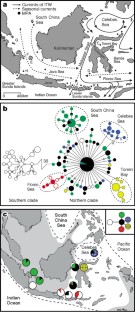 References
1

Roberts, C. M. Science 278, 1454–1457 ( 1997).

2

Llewellyn, G., Jepson, P., Schweithelm, J. & Kirtchener, D. Conservation Assessment of Wallacea Bioregion (Wallacea Program Report, 1999).

3

Wyrtki, K. NAGA Report,Volume 2: Physical Oceanography of the South East Asian Waters (Scripps Institute of Oceanography, San Diego, 1961 ).

4

Lukas, R. et al. J. Geophys. Res. 96, 7089– 7104 (1991).

5

Swearer, S. E., Caselle, J. E., Lea, D. W. & Warner, R. R. Nature 402, 799–802 ( 1999).

6

Jones, G. P., Milicich, M. J., Emslie, M. J. & Lunow, C. Nature 402, 802–804 ( 1999).

7

Knowlton, N. & Keller, B. D. Bull. Mar. Sci. 39 , 213–223 (1986).

8

Excoffier, L., Smouse, P. E. & Quattro, J. M. Genetics 4, 479– 491 (1992).

9

Porter, S. C. Quat. Res. 32, 245–261 ( 1989).

10

McManus, J. W. Proc. 5th Int. Coral Reef Symp. 4, 133– 138 (1985).

11

Randall, J. E. Zool. Stud. 37, 227–268 (1998).

12

Palumbi, S. R. Coral Reefs 16 (suppl.), 47– 52 (1997).

13

Palumbi, S. R. in Marine Community Ecology (eds Berness, M., Gaines, S. & Hay, M.) (Sinauer, Sunderland, MA, in the press).

14

Barber, P. H. & Erdmann, M. V. J. Crust. Biol. 20 , 20–36 (2000).
About this article
Cite this article
Barber, P., Palumbi, S., Erdmann, M. et al. A marine Wallace's line?. Nature 406, 692–693 (2000). https://doi.org/10.1038/35021135
Comments
By submitting a comment you agree to abide by our Terms and Community Guidelines. If you find something abusive or that does not comply with our terms or guidelines please flag it as inappropriate.