A parasitic wasp forces its host to weave a special web for its own ends.
Abstract
On the evening that it will kill its orb-weaving spider host, the larva of the ichneumonid wasp Hymenoepimecis sp. induces the spider to build an otherwise unique 'cocoon web' to serve as a durable support for the wasp larva's cocoon. The construction of this cocoon web is highly stereotyped, consisting of many repetitions that are almost identical to the early stages of one subroutine of normal orb weaving, the other components of which are repressed. Here I investigate this activity and show that the mechanism employed by the larva to manipulate the spider's behaviour is fast-acting, apparently chemical, and has long-term effects.
Access options
Subscribe to Journal
Get full journal access for 1 year
$199.00
only $3.90 per issue
All prices are NET prices.
VAT will be added later in the checkout.
Rent or Buy article
Get time limited or full article access on ReadCube.
from$8.99
All prices are NET prices.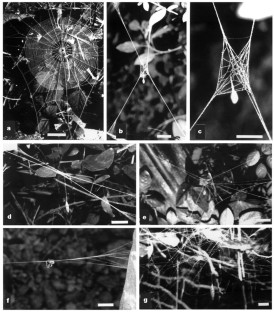 References
1

Eberhard, W. G. J. Hymen. Res. (in the press).

2

Eberhard, W. G. J. Arachnol. 18, 205–234 (1990).

3

Tilquin, A. La Toile Géometrique des Araignées (Presses Univ. France, Paris, 1942).

4

Eberhard, W. G. Evolution 36, 1067–1095 (1982).

5

Coddington, J. A. in Spiders: Webs, Behavior and Evolution (ed. Shear, W.) 319–363 (Stanford Univ. Press, Palo Alto, CA, 1986).

6

Witt, P. N., Reed, C. & Peakall, D. B. A Spider's Web (Springer, New York, 1968).

7

Fincke, O., Higgins, L. & Rojas, E. J. Arachnol. 18, 321– 329 (1990).

8

Griswold, C. E., Coddington, J. A., Hormiga, G. & Scharff, N. Zool. J. Linn. Soc. 123, 1–99 (1998).

9

Wenzel, J. W. Annu. Rev. Ecol. Syst. 23, 361–381 (1992).

10

Holmes, J. C. & Bethel, W. M. in Behavioural Aspects of Parasite Transmission (eds Channing, E. U. & Wright, C. A.) 123– 149 (Academic, London, 1972).

11

Barnard, C. J. & Behnke, J. M. Parasitism and Host Behaviour (Taylor & Francis, London, 1990).

12

Toft, C. A., Aeschlimann, A. & Bolis, L. Parasite–Host Associations (Oxford Univ. Press, New York, 1991).

13

Godfray, H. C. J. Parasitoids: Behavioral and Evolutionary Ecology (Princeton Univ. Press, Princeton, NJ, 1994).

14

Jenni, L., Molyneux, D. H., Livesey, J. L. & Galun, R. Nature 283, 383–385 ( 1980).

15

Wickler, W. Z. Tierpsychologie 42, 200–214 (1976).
About this article
Cite this article
Eberhard, W. Spider manipulation by a wasp larva. Nature 406, 255–256 (2000). https://doi.org/10.1038/35018636
Comments
By submitting a comment you agree to abide by our Terms and Community Guidelines. If you find something abusive or that does not comply with our terms or guidelines please flag it as inappropriate.