Giant deer on the Isle of Man around 9,000 years ago may have been the last of the line.
Abstract
The giant deer Megaloceros giganteus was a celebrated victim of the Late Pleistocene megafaunal extinction, the timing and causes of which are hotly debated1. Until now, it was believed that the giant deer's demise occurred during the Late Glacial (about 10,600 years ago), before the Pleistocene–Holocene boundary. Here we report new radiocarbon dates from two specimens in stratified contexts, which indicate that a giant deer population still existed around the northern Irish Sea Basin in the early Holocene — 1,400 years after their supposed extinction.
This is a preview of subscription content
Access options
Subscribe to Journal
Get full journal access for 1 year
$199.00
only $3.90 per issue
All prices are NET prices.
VAT will be added later in the checkout.
Tax calculation will be finalised during checkout.
Buy article
Get time limited or full article access on ReadCube.
$32.00
All prices are NET prices.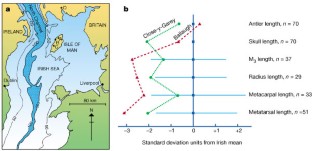 References
Stuart, A. J. Biol. Rev. 66, 453–562 ( 1991).

Mitchell, G. F. & Parkes, H. M. Proc. R. Ir. Acad. 52B, 291–314 ( 1949).

Dickson, C. A., Dickson, J. H. P. & Mitchell, G. F. Phil. Trans. R. Soc. Lond. B 258, 31–79 (1970).

Lister, A. M. Zool. J. Linn. Soc. 112, 65–100 (1994).

Hibbert, S. Edinb. J. Sci. 3, 15–28 (1825).

Oswald, H. R. Edinb. J. Sci. 3, 28–31 (1825).

Kermode, P. M. C. Geol. Mag. n.s. decade IV, 5, 116– 119 (1898).

Reeves, G. M. Proc. IOM Nat. Hist. Antiq. Soc. n.s. VIII (no. 4, 1978–80), 416–422 (1982).

Lister, A. M. Geol. Soc. Spec. Publ. 96, 151–172 (1995).

Lambeck, K. J. Geol. Soc. Lond. 11, 437–448 (1995).

Gould, S. J. Evolution 28, 191–220 ( 1974).

Guthrie, R. D. in Quaternary Extinctions: A Prehistoric Revolution (eds Martin, P. S. & Klein, R. G.) 259–298 (Univ. Arizona Press, Tucson, 1984).

Moen, R. A., Pastor, J. & Cohen, Y. Evol. Ecol. Res. 1, 235– 249 (1999).

Woodman, P. C. Br. Archaeol. Rep. no. 58 (1978).

Vartanyan, S. L., Garutt, V. E. & Sher, A. V. Nature 362, 337– 340 (1993).
About this article
Cite this article
Gonzalez, S., Kitchener, A. & Lister, A. Survival of the Irish elk into the Holocene. Nature 405, 753–754 (2000). https://doi.org/10.1038/35015668
Issue Date:

DOI: https://doi.org/10.1038/35015668
Further reading
A. J. Stuart
P. A. Kosintsev
A. M. Lister

Nature (2004)
Comments
By submitting a comment you agree to abide by our Terms and Community Guidelines. If you find something abusive or that does not comply with our terms or guidelines please flag it as inappropriate.