Abstract
Exposure limits set for microwave radiation assume that any biological effects result from tissue heating1: non-thermal effects have been reported but remain controversial. We show here that prolonged exposure to low-intensity microwave fields can induce heat-shock responses in the soil nematode Caenorhabditis elegans. This effect appears to be non-thermal, suggesting that current exposure limits set for microwave equipment may need to be reconsidered.
Access options
Subscribe to Journal
Get full journal access for 1 year
$199.00
only $3.90 per issue
All prices are NET prices.
VAT will be added later in the checkout.
Tax calculation will be finalised during checkout.
Rent or Buy article
Get time limited or full article access on ReadCube.
from$8.99
All prices are NET prices.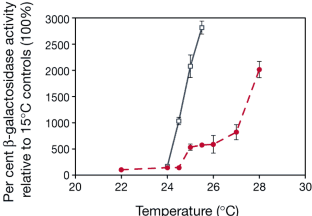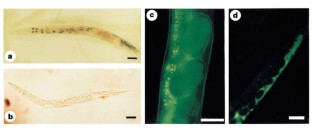 References
1

ANSI/IEEE C95.1-1992 American National Standard-Safety Levels with Respect to Exposure to Radio Frequency Electromagnetic Fields, 3 kHz to 300 GHz (IEEE, New York, 1992).

2

Parsell, D. & Lindquist, S. Annu. Rev. Genet. 27, 437–496 (1993).

3

Dennis, J., Mutawakil, M., Lowe, K. & de Pomerai, D. Aquatic Toxicol. 40, 37–50 ( 1997).

4

Candido, E. & Jones, D. Trends Biotechnol. 40, 125–129 (1996).

5

Daniells, C. et al. Mutat. Res. 399, 55– 64 (1998).

6

Snutch, T. & Baillie, D. Can. J. Biochem. Cell Biol. 61, 480–487 (1983).

7

Gandhi, O., Lazzi, G. & Furse, C. IEEE Trans. Microwave Theor. Tech. 44, 1884–1897 (1996).

8

Nishizawa, J. et al. Circulation 99, 934– 941 (1999).

9

Williams, P. & Dusenbery, D. Environ. Toxicol. Chem. 9, 1285–1290 (1990).

10

Jewitt, N., Anthony, P., Lowe, K. & de Pomerai, D. Enzyme Microb. Technol. 25, 349–356 ( 1999).
About this article
Cite this article
de Pomerai, D., Daniells, C., David, H. et al. Non-thermal heat-shock response to microwaves . Nature 405, 417–418 (2000). https://doi.org/10.1038/35013144
Comments
By submitting a comment you agree to abide by our Terms and Community Guidelines. If you find something abusive or that does not comply with our terms or guidelines please flag it as inappropriate.