Abstract
Rapid progress in science on nanoscopic scales has promoted increasing interest in techniques of ultrahigh-resolution optical microscopy. The diffraction limit can be surpassed by illuminating an object in the near field through a sub-wavelength aperture at the end of a sharp metallic probe1,2. Proposed modifications3,4 of this technique involve replacing the physical aperture by a nanoscopic active light source. Advances in the spatial5 and spectral6 detection of individual fluorescent molecules, using near-field and far-field methods7, suggest the possibility of using a single molecule8,9 as the illumination source. Here we present optical images taken with a single molecule as a point-like source of illumination, by combining fluorescence excitation spectroscopy10 with shear-force microscopy11. Our single-molecule probe has potential for achieving molecular resolution in optical microscopy; it should also facilitate controlled studies of nanometre-scale phenomena (such as resonant energy transfer) with improved lateral and axial spatial resolution.
Access options
Subscribe to Journal
Get full journal access for 1 year
$199.00
only $3.90 per issue
All prices are NET prices.
VAT will be added later in the checkout.
Tax calculation will be finalised during checkout.
Rent or Buy article
Get time limited or full article access on ReadCube.
from$8.99
All prices are NET prices.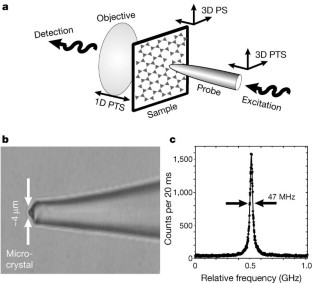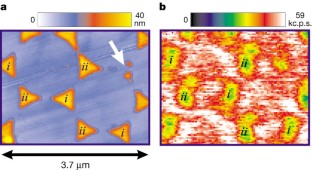 References
1

Lewis, A., Isaacson, M., Muray, A. & Harootunian, A. Scanning optical microscopy with 500 Å spatial resolution. Biophys. J. 41, 405 (abstr.) (1983).

2

Pohl, D. W., Denk, W. & Lanz, M. Optical stethoscopy: image recording with resolution λ/20. Appl. Phys. Lett. 44, 651–653 (1984).

3

Liebermann, K., Harush, S., Lewis, A. & Kopelman, R. A light source smaller than the optical wavelength. Science 247, 59–61 (1990).

4

Lewis, A. & Liebermann, K. Near-field optical imaging with a non-evanescently excited high-brightness light source of sub-wavelength dimensions. Nature 354, 214– 216 (1991).

5

Betzig, E. & Chichester, R. J. Single molecules observed by near-field scanning optical microscopy. Science 262, 1422–1425 (1993).

6

Moerner, W. E. & Kador, L. Optical detection and spectroscopy of single molecules in a solid. Phys. Rev. Lett. 62 , 2535–2538 (1989).

7

Basché, T., Moerner, W. E., Orrit, M. & Wild, U. P. Single Molecule Optical Detection, Imaging and Spectroscopy (VCH, Weinheim, Germany, 1997).

8

Kopelman, R. & Tan, W. Near-field optics: imaging single moelcules. Science 262, 1382–1384 (1993).

9

Sekatskii, S. K. & Letokhov, V. S. Single fluorescence centers on the tips of crystal needles: first observation and prospects for application in scanning one-atom fluorescence microscopy. Appl. Phys. B 63, 525–530 ( 1996).

10

Orrit, M. & Bernard, J. Single pentacene molecules detected by fluorescence excitation in a p-therphenyl crystal. Phys. Rev. Let. 65, 2716–2719 (1990).

11

Betzig, E., Finn, P. L. & Weiner, J. S. Combined shear force and near-field scanning optical microscope. Appl. Phys. Lett. 60, 2484– 2486 (1992).

12

Gross Levi, B. Progress made in near-field imaging with light from a sharp tip. Phys. Today 52, 18–20 ( 1999).

13

Michaelis, J. et al. A single molecule as a probe of the optical intensity distribution. Opt. Lett. 24, 581–583 (1999).

14

Bingelli, M. et al. Novel design for a compact fiber optic scanning force microscope. Rev. Sci. Instrum. 64, 2888– 2891 (1993).

15

Karrai, K. & Grober, R. D. Piezoelectric tip-sample distance control for near-field optical microscopes. Appl. Phys. Lett. 66, 1842–1844 (1995).

16

Fleury, L., Sick, B., Zumhofen, G., Hecht, B. & Wild, U. P. High photo-stability of single molecules in an organic crystal at room temperature observed by scanning confocal microscopy. Mol. Phys. 95, 1333–1338 (1998).

17

Kulzer, F., Koberling, F., Christ, T., Mews, A. & Basché, T. Terrylene in p-terphenyl: single molecule experiments at room temperature. Chem. Phys. 247, 23–34 (1999).

18

Kummer, S., Basché, T. & Bräuchle, C. Terrylene in p-terphenyl: a novel single crystalline system for single molecule spectroscopy at low temperatures. Chem. Phys. Lett. 229, 309–316 (1994).

19

Fischer, U. & Zingsheim, H. P. Submicroscopic pattern replication with visible light. J. Vac. Sci. Technol. 19, 881–885 (1981).

20

Ambrose, P., Basché, T. & Moerner, W. E. Detection and spectroscopy of single pentacene molecules in a p-terphenyl crystal by means of fluorescence excitation. J. Chem. Phys. 95, 7150–7163 (1991).

21

Betzig, E., Trautman, J. K., Weiner, J. S., Harris, T. D. & Wolfe, R. Polarization contrast in near-field scanning optical microscopy. Appl. Opt. 31, 4563–4568 (1992).

22

Huser, T., Novotny, L., Lacoste, T., Eckert, R. & Heinzelmann, H. Observation and analysis of near-field optical diffraction. J. Opt. Soc. Am. A 16, 141– 148 (1999).

23

Martin, O. J. F., Girard, C. & Dereux, A. Generalized field propagator for electromagnetic scattering and light confinement. Phys. Rev. Lett. 74, 526–529 (1995).

24

Martin, O. J. F. 3D simulations of the experimental signal measured in near-field optical microscopy. J. Microscopy 194, 235– 239 (1999).

25

Novotny, L. Single molecule fluorescence in inhomogeneous environments. Appl. Phys. Lett. 69, 3806–3808 (1996).

26

Henkel, C. & Sandoghdar, V. Single molecule spectroscopy near structured dielectrics. Opt. Comm. 158, 250–258 (1998).

27

Harootunian, A., Betzig, E., Issacson, M. & Lewis, A. Super-resolution fluorescence near-field scanning optical microscopy. Appl. Phys. Lett. 49, 674–676 ( 1986).

28

Barchiesi, D., Pagnot, T., Pieralli, C. & Van Labeke, D. Fluorescence scanning near-field microscopy (FSNOM) by measuring the decay-time of a fluorescent particle. Proc. SPIE 2384, 90– 100 (1995).

29

Kulzer, F., Kummer, S., Matzke, R., Bräuchle, C. & Basché, T. Single molecule optical switching in terrylene in p-terphenyl. Nature 387, 688– 691 (1997).
Acknowledgements
We are grateful to O. Martin and C. Henkel for many fruitful discussions. We thank B. Eiermann for contribution to the initial phase of the experiment, T. Kalkbrenner for the fabrication of the sample, and H. M. Ludwig for the AFM image in Fig. 2. We also thank P. Leiderer and his co-workers, and colleagues at Omicron Vakuum GmbH for help and advice regarding the construction of the piezo-driven translation stages. J. M. acknowledges a fellowship from the Carl-Zeiss-Schott Förderstiftung. This work was supported by the Deutsche Forschungsgemeinschaft and the Bundesministerium für Bildung und Forschung.
About this article
Cite this article
Michaelis, J., Hettich, C., Mlynek, J. et al. Optical microscopy using a single-molecule light source. Nature 405, 325–328 (2000). https://doi.org/10.1038/35012545
Received:

Accepted:

Issue Date:
Comments
By submitting a comment you agree to abide by our Terms and Community Guidelines. If you find something abusive or that does not comply with our terms or guidelines please flag it as inappropriate.