Abstract
Since the work of William Gilbert in 1600 (ref. 1), it has been widely believed that the Earth's magnetic field, when suitably time-averaged, is that of a magnetic dipole positioned at the Earth's centre and aligned with the rotational axis. This 'geocentric axial dipole' (GAD) hypothesis has been the central model for the study of the Earth's magnetic field—it underpins almost all interpretations of palaeomagnetic data, whether for studies of palaeomagnetic secular variation, for plate tectonic reconstructions, or for studies of palaeoclimate2. Although the GAD hypothesis appears to provide a good description of the Earth's magnetic field over at least the past 100 Myr (ref. 2), it is difficult to test the hypothesis for earlier periods, and there is some evidence that a more complicated model is required for the period before 250 Myr ago3. Kent and Smethurst3 suggested that this additional complexity might be because the inner core would have been smaller at that time. Here I use a numerical geodynamo model and find that reducing the size of the inner core does not significantly change the character of the magnetic field. I also consider an alternative process that could lead to the breakdown of the GAD hypothesis on this timescale, the evolution of heat-flux variations at the core–mantle boundary, induced by mantle convection. I find that a simple pattern of heat-flux variations at the core–mantle boundary, which is plausible for times before the Mesozoic era, results in a strong octupolar contribution to the field, consistent with previous findings3.
Relevant articles
Open Access articles citing this article.
Wieland Dietrich

,

Johannes Wicht

&

Kumiko Hori

Progress in Earth and Planetary Science Open Access 04 November 2015

Earth, Planets and Space Open Access 20 July 2007
Access options
Subscribe to Journal
Get full journal access for 1 year
$199.00
only $3.90 per issue
All prices are NET prices.
VAT will be added later in the checkout.
Tax calculation will be finalised during checkout.
Buy article
Get time limited or full article access on ReadCube.
$32.00
All prices are NET prices.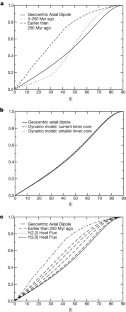 References
Gilbert,W. De Magnete (London, 1600). Translation: Chiswick Press, London, 1900–1901).

McElhinny,M. & McFadden,P. Paleomagnetism (Academic, San Diego, 2000).

Kent,D. & Smethurst,M. Shallow bias of paleomagnetic inclinations in the Paleozoic and Precambrian. Earth Planet. Sci. Lett. 160, 391–402 (1998).

Irving,E. Paleomagnetic and paleoclimatological aspects of polar wandering. Geofisica Pura e Applicata 33, 23– 41 (1956).

Evans,M. Test of the dipolar nature of the geomagnetic field throughout Phanerozoic time. Nature 262, 676–677 (1976).

McElhinny,M. & Lock,J. IAGA paleomagnetic databases with Access. Surv. Geophys. 17, 557– 591 (1996).

Kuang,W. & Bloxham,J. An Earth-like numerical dynamo model. Nature 389, 371–374 (1997).

Buffett,B., Huppert,H., Lister,J. & Woods,A. On the thermal evolution of the Earth's core. J. Geophys. Res. 101, 7989–8006 (1996).

Cox,A. & Doell,R. Long period variations of the geomagnetic field. Bull. Seismol. Soc. Am. 54, 2243– 2270 (1964).

Hide,R. Motions of the Earth's core and mantle, and variations of the main geomagnetic field. Science 157, 3784–3785 (1967).

Cox,A. The frequency of geomagnetic reversals and the symmetry of the nondipole field. Rev. Geophys. 13, 35–51 (1975).

Bloxham,J. & Gubbins,D. The secular variation of the Earth's magnetic field. Nature 317, 777– 781 (1985).

Gubbins,D. & Bloxham,J. Morphology of the geomagnetic field and implications for the geodynamo. Nature 325, 509–511 (1987).

Bloxham,J. & Gubbins,D. Thermal core–mantle interactions. Nature 325, 511–513 (1987).

Zhang,K. & Gubbins,D. On convection in the Earth's core driven by lateral temperature variations in the lower mantle. Geophys. J. Int. 108, 247–255 (1992).

Zhang,K. & Gubbins,D. Convection in a rotating spherical fluid shell with an inhomogeneous temperature boundary condition at infinite prandtl number. J. Fluid Mech. 250, 209– 232 (1993).

Sarson,G. R., Jones,C. A. & Longbottom, A. W. The influence of boundary region heterogeneities on the geodynamo. Phys. Earth Planet. Inter. 101, 13–32 (1997).

Bloxham,J. The effect of thermal core-mantle interactions on the paleomagnetic secular variation. Phil. Trans. R. Soc. Lond. A 358, 1171–1179 (2000).

Glatzmaier,G., Coe,R., Hongre,L. & Roberts,P. The role of the Earth's mantle in controlling the frequency of geomagnetic reversals. Nature 401, 885–890 ( 1999).

Giardini,D., Li,X.-D. & Woodhouse, J. Three-dimensional structure of the Earth from splitting in free-oscillation spectra. Nature 325, 405–411 (1987).

Gubbins,D. & Zhang,K. Symmetry properties of the dynamo equations for palaeomagnetism and geomagnetism. Phys. Earth Planet. Inter. 75, 225–241 ( 1993).
Acknowledgements
I thank P. Hoffman, K. Katari, D. Kent, A. Maloof, R. O'Connell, D. Schrag and L. Tauxe for useful conversations during this work. This work was supported by the NSF.
About this article
Cite this article
Bloxham, J. Sensitivity of the geomagnetic axial dipole to thermal core–mantle interactions. Nature 405, 63–65 (2000). https://doi.org/10.1038/35011045
Received:

Accepted:

Issue Date:

DOI: https://doi.org/10.1038/35011045
Comments
By submitting a comment you agree to abide by our Terms and Community Guidelines. If you find something abusive or that does not comply with our terms or guidelines please flag it as inappropriate.