Abstract
The ability of solid oxides to conduct oxide ions has been known for more than a century, and fast oxide-ion conductors (or oxide electrolytes) are now being used for applications ranging from oxide fuel cells to oxygen pumping devices1,2. To be technologically viable, these oxide electrolytes must exhibit high oxide-ion mobility at low operating temperatures. Because of the size and interaction of oxygen ions with the cationic network, high mobility can only be achieved with classes of materials with suitable structural features. So far, high mobility has been observed in only a small number of structural families, such as fluorite3,4,5, perovskites6,7, intergrowth perovskite/Bi2O2 layers8,9 and pyrochlores10,11. Here we report a family of solid oxides based on the parent compound12 La2Mo2O9 (with a different crystal structure from all known oxide electrolytes) which exhibits fast oxide-ion conducting properties. Like other ionic conductors2,13, this material undergoes a structural transition around 580 °C resulting in an increase of conduction by almost two orders of magnitude. Its conductivity is about 6 × 10-2 S cm-1 at 800 °C, which is comparable to that of stabilized zirconia, the most widely used oxide electrolyte. The structural similarity of La2Mo2O9 with β-SnWO4 (ref. 14) suggests a structural model for the origin of the oxide-ion conduction. More generally, substitution of a cation that has a lone pair of electrons by a different cation that does not have a lone pair—and which has a higher oxidation state—could be used as an original way to design other oxide-ion conductors.
Relevant articles
Open Access articles citing this article.
Masatomo Yashima

,

Takafumi Tsujiguchi

…

Stephen J. Skinner

Nature Communications Open Access 25 January 2021

Wenrui Zhang

,

Kotaro Fujii

…

Masatomo Yashima

Nature Communications Open Access 06 March 2020

Masato Matsubara

,

Akitoshi Suzumura

…

Ryoji Asahi

Communications Materials Open Access 04 February 2020
Access options
Subscribe to Journal
Get full journal access for 1 year
$199.00
only $3.90 per issue
All prices are NET prices.
VAT will be added later in the checkout.
Tax calculation will be finalised during checkout.
Buy article
Get time limited or full article access on ReadCube.
$32.00
All prices are NET prices.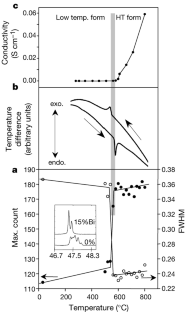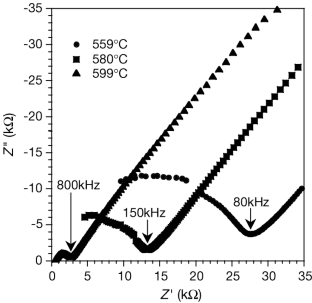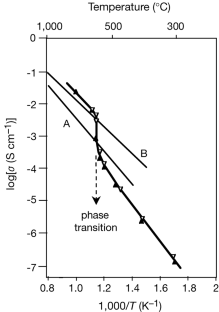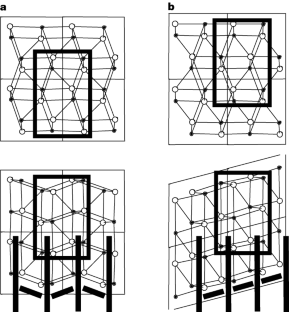 References
Steele,B. C. H. in High Conductivity Solid Ionic Conductors, Recent Trends and Applications (ed. Takahashi, T.) 402–446 (World Scientific, Singapore, 1989).

Boivin,J. C. & Mairesse,G. Recent material developments in fast oxide ion conductors. Chem. Mater. 10, 2870–2888 (1998).

Subbarao,E. C. in Advances in Ceramics (eds Heuer, A. H. & Hobbs, L. W.) Vol. 3, Science and Technology of Zirconia I 1– 24 (American Ceramic Society, Columbus, Ohio, 1981).

Takahashi,T. & Iwara,H. High oxide ion conduction in sintered oxides of the system bismuth oxide-tungsten oxide. J. Appl. Electrochem. 3, 65–72 (1973 ).

Harwig,H. A. & Gerards,A. G. Electrical properties of the α, β, γ and δ phases of bismuth sesquioxide. J. Solid State Chem. 26, 265–274 ( 1978).

Ishihara,T., Matsuda,H. & Takita,Y. Doped LaGaO3 perovskite type oxide as a new oxide ionic conductor. J. Am. Chem. Soc. 116, 3801–3803 (1994).

Feng,M. & Goodenough,J. B. A superior oxide-ion electrolyte. Eur. J. Solid State Inorg. Chem. 31, 663 –672 (1994).

Abraham,F., Debreuille-Gresse,M. F., Mairesse, G. & Nowogrocki,G. Phase transition and ionic conductivity in bismuth vanadate (Bi4V 2O11), an oxide with a layered structure. Solid State Ionics 28–30, 529–532 (1988).

Abraham,F., Boivin,J. C., Mairesse,G. & Nowogrocki,G. The BIMEVOX series: a new family of high performances oxide ion conductors. Solid State Ionics 40–41, 934– 937 (1990).

Tuller,H. L. Semiconduction and mixed ionic-electronic conduction in nonstoichiometric oxides: impact and control. Solid State Ionics 94, 63–74 (1997).

Kramer,S. A. & Tuller,H. L. A novel titanate-based oxygen ion conductor: Gd2Ti2O7. Solid State Ionics 82, 15–23 ( 1995).

Fournier,J. P., Fournier,J. & Kohlmuller, R. Etude des systèmes La2O3-MoO 3, Y2O3-MoO3 et des phases Ln 6MoO12. Bull. Soc. Chim. Fr. 4277–4283 (1970).

Kendall,K. R., Navas,C., Thomas,J. K. & zur Loye,H. -C. Recent developments in perovskite-based ion conductors. Solid State Ionics 82, 215–223 (1995).

Jeitschko,W. & Sleight,A. W. Synthesis, properties and crystal structure of β-SnWO4. Acta Crystallogr. B 28, 3174–3178 (1972).

Lacorre,P. & Retoux,R. First direct synthesis by high energy ball milling of a new lanthanum molybdate. J. Solid State Chem. 132, 443–446 ( 1997).

Kuang,W., Fan,Y., Qiu,J. & Chen,Y. Ultrafine La-Mo and Ce-Mo complex oxide particle catalysts for selective oxidation of toluene. J. Mater. Chem. 8, 19– 20 (1998).

Goutenoire,F., Isnard,O., Retoux,R. & Lacorre,P. On the crystal structure of La2Mo2O9, a new fast oxide-ion conductor. Chem. Mater. (submitted).

Wagner,J. B. & Wagner,C. Electrical conductivity measurements on cuprous halides. J. Chem. Phys. 26, 1597 –1601 (1957).

Sheldrick,G. M. Phase annealing in SHELX-90: direct methods for larger structures. Acta Crystallogr. A 46, 467–473 (1990).

Wells,A. F. Structural Inorganic Chemistry 5th edn, 1187 (Oxford Univ. Press, New York, 1987).
About this article
Cite this article
Lacorre, P., Goutenoire, F., Bohnke, O. et al. Designing fast oxide-ion conductors based on La2Mo2O9. Nature 404, 856–858 (2000). https://doi.org/10.1038/35009069
Received:

Accepted:

Issue Date:

DOI: https://doi.org/10.1038/35009069
Comments
By submitting a comment you agree to abide by our Terms and Community Guidelines. If you find something abusive or that does not comply with our terms or guidelines please flag it as inappropriate.