Abstract
Animal communication is typically non-syntactic, which means that signals refer to whole situations1,2,3,4,5,6,7. Human language is syntactic, and signals consist of discrete components that have their own meaning8. Syntax is a prerequisite for taking advantage of combinatorics, that is, "making infinite use of finite means"9,10,11. The vast expressive power of human language would be impossible without syntax, and the transition from non-syntactic to syntactic communication was an essential step in the evolution of human language12,13,14,15,16. We aim to understand the evolutionary dynamics of this transition and to analyse how natural selection can guide it. Here we present a model for the population dynamics of language evolution, define the basic reproductive ratio of words and calculate the maximum size of a lexicon. Syntax allows larger repertoires and the possibility to formulate messages that have not been learned beforehand. Nevertheless, according to our model natural selection can only favour the emergence of syntax if the number of required signals exceeds a threshold value. This result might explain why only humans evolved syntactic communication and hence complex language.
Access options
Subscribe to Journal
Get full journal access for 1 year
$199.00
only $3.90 per issue
All prices are NET prices.
VAT will be added later in the checkout.
Tax calculation will be finalised during checkout.
Rent or Buy article
Get time limited or full article access on ReadCube.
from$8.99
All prices are NET prices.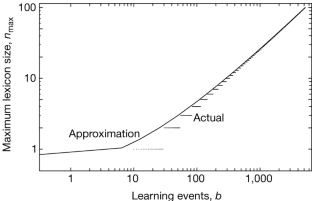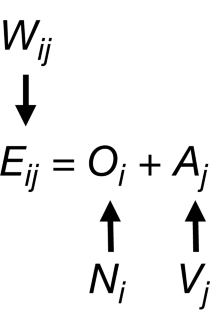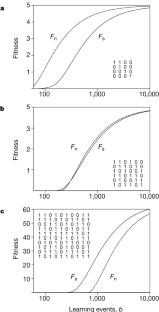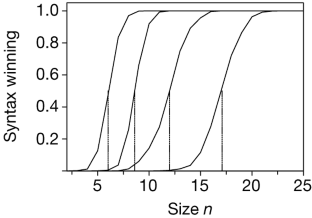 References
1

Von Frisch, K. The Dance Language and Orientation of Bees (Harvard Univ. Press, Cambridge, Massachusetts, 1967).

2

Marler, P. Birdsong and speech development: could there be parallels? Am. Sci. 58, 669–673 (1970).

3

Wilson, E. O. Animal communication. Sci. Am. 227, 52– 60 (1972).

4

Gould, J. L. & Marler, P. Learning by instinct. Sci. Am. 256, 74–85 ( 1987).

5

Burling, R. Primate calls, human language, and nonverbal communication. Curr. Anthropol. 34, 25–53 ( 1989).

6

Cheney, D. L. & Seyfarth, R. M. How Monkeys See the World: Inside the Mind of Another Species (Chicago Univ. Press, 1990 ).

7

Hauser, M. The Evolution of Communication (MIT Press, Cambridge, Massachusetts, 1996).

8

Bickerton, D. Species and Language (Chicago Univ. Press, Chicago, 1990).

9

von Humboldt, W. Linguistic Variability and Intellectual Development (Pennsylvania Univ. Press, Philadelphia, 1972).

10

Chomsky, N. Aspects of the Theory of Syntax (MIT Press, Cambridge, Massachusetts, 1965).

11

Jackendoff, R. The Architecture of the Language Faculty (MIT Press, Cambridge, Massachusetts, 1997).

12

Pinker, S. & Bloom, P. Natural language and natural selection. Behav. Brain Sci. 13, 707– 784 (1990).

13

Pinker, S. The Language Instinct. (Harper Collins, New York, 1994 ).

14

Maynard Smith, J. & Szathmary, E. The Major Transitions in Evolution (Freeman, Oxford, 1995).

15

Hurford, J. R., Studdert-Kennedy, M. & Knight, C. Approaches to the Evolution of Language (Cambridge Univ. Press, Cambridge, UK, 1998).

16

Nowak, M. A. & Krakauer, D. C. The evolution of language. Proc. Natl Acad. Sci. USA 96, 8028– 8033 (1999).

17

Chomsky, N. Language and Mind (Harcourt Brace Jovanovich, New York, 1972).

18

Chomsky, N. Language and Problems of Knowledge: The Managua Lectures (MIT Press, Cambridge, Masachusetts, 1988).

19

Premack, D. Gavagai! or the future history of the animal language controversy. Cognition 19, 207–296 ( 1985).

20

Lieberman, P. The Biology and Evolution of Language (Harvard Univ. Press, Cambridge, Massachusetts, 1984).

21

Bates, E., Thal, D. & Marchman, V. in Biological and Behavioural Determinants of Language Development (eds Krasnegor et al.) (Erlbaum, Mahwah, NJ, 1991).

22

Zipf, G. K. The Psychobiology of Language (Houghton-Mifflin, Boston, 1935).

23

Miller, G. A. & Chomsky, N. Handbook of Mathematical Psychology . Vol. 2 (eds Luce, R. D., Bush, R. & Galauter, E.) 419–491 (Wiley, New York, 1963).

24

Dunbar, R. Grooming, Gossip and the Evolution of Language (Harvard Univ. Press, Cambridge, Massachusetts, 1996).
Acknowledgements
This work was supported by the Leon Levy and Shelby White Initiatives Fund, the Florence Gould Foundation, the J. Seward Johnson Sr Charitable Trusts, the Ambrose Monell Foundation, the National Science Foundation, the Wellcome Trust and the Alfred P. Sloan Foundation.
About this article
Cite this article
Nowak, M., Plotkin, J. & Jansen, V. The evolution of syntactic communication. Nature 404, 495–498 (2000). https://doi.org/10.1038/35006635
Received:

Accepted:

Issue Date:
Comments
By submitting a comment you agree to abide by our Terms and Community Guidelines. If you find something abusive or that does not comply with our terms or guidelines please flag it as inappropriate.