Abstract
Coral reefs are under threat from the effects of bleaching, in which symbiotic algae or their photosynthetic pigments are destroyed by increased sea temperatures and solar radiation1,2. Here we show that the bleaching susceptibility of Goniastrea aspera, a shallow-water Indo-Pacific coral, can be predicted from its history of exposure to solar radiation, demonstrating how experience can shape coral bleaching patterns.
Access options
Subscribe to Journal
Get full journal access for 1 year
$199.00
only $3.90 per issue
All prices are NET prices.
VAT will be added later in the checkout.
Tax calculation will be finalised during checkout.
Rent or Buy article
Get time limited or full article access on ReadCube.
from$8.99
All prices are NET prices.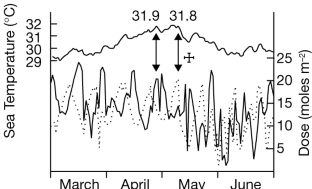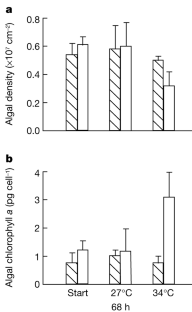 References
1

Glynn, P. W. Coral Reefs 12, 1–17 ( 1993).

2

Brown, B. E. Coral Reefs 16, 129–138 (1997).

3

Brown, B. E., Dunne, R. P. & Chansang, H. Coral Reefs 15, 151– 152 (1996).

4

Brown, B. E., Dunne, R. P., Scoffin, T. P. & Le Tissier, M. D. A. Mar. Ecol. Prog. Ser. 105, 219–230 (1994).

5

Brown, B. E. et al. Mar. Ecol. Prog. Ser. (in the press).

6

Rowan, R., Knowlton, N., Baker, A. & Jara, A. Nature 388, 265–269 (1997).

7

Hillis, D. M. & Dixon, M. T. Q. Rev. Biol. 66, 411–453 (1991).

8

Adachi, M., Sako, Y. & Ishida, Y. J. Phycol. 30, 857– 863 (1994).

9

Fitt, W. K., Spero, H. J., Halas, J., White, M. W. & Porter, J. W. Coral Reefs 12, 57– 64 (1993).

10

Jones, R. J. Mar. Ecol. Prog. Ser. 158, 51–59 (1997).

11

Hughes, T. P. & Jackson, J. B. C. Ecol. Monogr. 55, 141–166 (1985).
About this article
Cite this article
Brown, B., Dunne, R., Goodson, M. et al. Bleaching patterns in reef corals. Nature 404, 142–143 (2000). https://doi.org/10.1038/35004657
Comments
By submitting a comment you agree to abide by our Terms and Community Guidelines. If you find something abusive or that does not comply with our terms or guidelines please flag it as inappropriate.