The South African government announced last week that it has rejected two reports commissioned from its Medicines Control Council (MCC) on the safety of the anti-retroviral drug AZT (zidovudine) after public statements by political leaders on its potential hazards.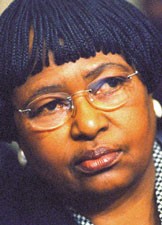 Both reports are believed to endorse the use of AZT. But health minister Manto Tshabalala-Msimang told a press briefing held after last week's opening of parliament that the government is not currently prepared to release their contents. She also refused to reveal the findings of a third report compiled by the council, which she said she had only received on 31 January.
The reports were commissioned last October after president Thabo Mbeki had defended the government's decision not to make AZT freely available in the public health system (see Nature 402, 3; 1999). His argument that there was a large volume of scientific literature indicating that the drug's toxicity is a danger to health led to an outcry from AIDS activists and researchers in both South Africa and abroad.
Helen Rees, director of the reproductive health research unit at Johannesburg's Baragwanath Hospital and chair of the MCC, said in December that the first report — which she described at the time as "fairly superficial" — found that the benefits of AZT outweighed its risks, and that use of the drug was justified. Rees has not been available for comment this week.
But Tshabalala-Msimang said that the first two reports "were not to our satisfaction". In particular, she said they had not addressed the risk–benefit assessments of using anti-retroviral drugs in the way requested by her department. She has now asked the MCC "to make available to us information that would assist in determining the risk–benefit assessments".
The health minister added that she had read only the first few pages of the third report, and was therefore "not quite ready" to comment on it.
But she hoped that this report had addressed the risk–benefit issues in the way that the others had not. Asked if she would make the report public, she replied that legislation made provision for such documents to be made public "when we are finished working on them, if they are required to be published".
Tshabalala-Msimang is also believed to have received two further reports, one commissioned by the government from the Medicines Research Council, and one from the World Health Organization. Both are understood to recommend the use of AZT in reducing mother-to-child transmission of HIV/AIDS — a procedure that the government has so far refused to sanction.
The health minister said that the National AIDS Council, which met for the first time last week, has agreed to set up five technical task teams whose briefs would match the priorities of the national AIDS strategic plan adopted in January: prevention; care, treatment and support; research; human rights and legal issues; and social mobilization.
In a later speech to parliament, Tshabalala-Msimang said she and provincial health ministers had accepted guidelines for treatment, throughout the public health system, of "opportunistic" infections that affect HIV/AIDS patients.
But the government's efforts remain under heavy fire from AIDS activists. Mark Heywood, a member of the executive of the AIDS consortium, the country's largest coalition of non-governmental AIDS organizations, criticized both the health minister and the president for failing to meet their legal and moral responsibilities to improve access to health care in South Africa.
"They are wilfully ignoring the best scientific advice, internationally and locally, on the safety and benefits of providing AZT through the public health sector," he says. "The immediate cost of this impasse is measured in thousands of unnecessary infant HIV infections for which they now carry a very direct responsibility."
About this article
Cite this article
Cherry, M. South African government rejects AZT advice. Nature 403, 692 (2000). https://doi.org/10.1038/35001733
Further reading
Studies in History and Philosophy of Science Part A (2007)

The Lancet (2000)
Comments
By submitting a comment you agree to abide by our Terms and Community Guidelines. If you find something abusive or that does not comply with our terms or guidelines please flag it as inappropriate.