A radiation-driven ecosystem on Jupiter's moon is not beyond the bounds of possibility.
Abstract
The planet Jupiter's moon Europa may harbour a subsurface water ocean1,2,3, but estimates of the available free energy have not been encouraging for supporting life1,4,5. Here I show that disequilibrium chemistry in the ocean's ice cover, driven by charged particles accelerated in Jupiter's magnetosphere, should produce enough organic and oxidant molecules to fuel a substantial Europan biosphere. Microbial life could exist in concentrations detectable by surface landers able to filter meltwater from Europa's ice.
Access options
Subscribe to Journal
Get full journal access for 1 year
$199.00
only $3.90 per issue
All prices are NET prices.
VAT will be added later in the checkout.
Tax calculation will be finalised during checkout.
Rent or Buy article
Get time limited or full article access on ReadCube.
from$8.99
All prices are NET prices.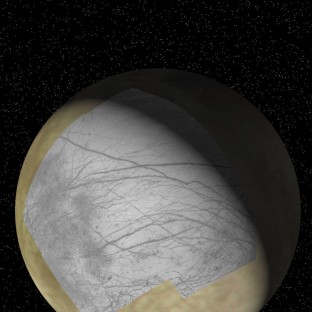 References
1

Reynolds, R. T., Squyres, S. W., Colburn, D. S. & McKay, C. P. Icarus 56, 246–254 ( 1983).

2

Pappalardo, R. T. et al. J. Geophys. Res. 104, 24015– 24055 (1999).

3

Greenberg, R. et al. Icarus 141, 263–286 (1999).

4

Jakosky, B. M. & Shock, E. L. J. Geophys. Res. 103 , 19359–19364 (1998).

5

Gaidos, E. J. et al. Science 284, 1631– 1633 (1999).

6

McCord, T. B. et al. J. Geophys. Res. 103, 8603– 8626 (1998).

7

Delitsky, M. L. & Lane, A. L. J. Geophys. Res. 102, 16385–16390 ( 1997).

8

Delitsky, M. L. & Lane, A. L. J. Geophys. Res. 103, 31391–31403 ( 1998).

9

Johnson, R. E. in Solar System Ices (eds Schmitt, B. et al.) 303– 334 (Kluwer, Dordrecht, 1998).

10

Carlson, R. W. et al. Science 283, 2062– 2064 (1999).

11

Zahnle, K., Dones, L. & Levison, H. F. Icarus 136, 202– 222 (1998).

12

Varnes, E. S. & Jakosky, B. M. in Lunar Planet. Sci. abstr. 1082 (Lunar and Planetary Institute, Houston, 1999) (CD-ROM).

13

Brucato, J. R., Palumbo, M. E. & Strazzulla, G. Icarus 125, 135– 144 (1997).

14

Madigan, M. T. et al. Brock Biology of Microorganisms (Prentice Hall, Upper Saddle River, New Jersey, 1997).

15

Whitman, W. B., Coleman, D. C. & Wiebe, W. J. Proc. Natl Acad. Sci. USA 95, 6578–6583 (1998).
About this article
Cite this article
Chyba, C. Energy for microbial life on Europa. Nature 403, 381–382 (2000). https://doi.org/10.1038/35000281
Comments
By submitting a comment you agree to abide by our Terms and Community Guidelines. If you find something abusive or that does not comply with our terms or guidelines please flag it as inappropriate.