Abstract
Our knowledge of the conservation techniques used in the Old Kingdom of ancient Egypt is limited. Examinations of a clavicle fragment of the mummy of Idu II, secretary general of the pine wood trade office (2150 ± 50 BC), revealed saturation with a wealth of sodium and wood tar compounds, many of which were highly antiseptic as no microbial contamination was noticed. This pretreatment had ensured the preservation of bone alkaline phosphatase in an enzymically and immunologically active form. This extends the use of embalming to one thousand years earlier than previously thought.
Access options
Subscribe to Journal
Get full journal access for 1 year
$199.00
only $3.90 per issue
All prices are NET prices.
VAT will be added later in the checkout.
Rent or Buy article
Get time limited or full article access on ReadCube.
from$8.99
All prices are NET prices.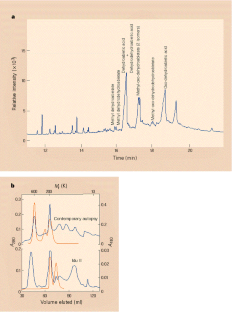 References
1

Schmitz, B. Hildesheimer Ägyptologische Beiträge 38 (1996).

2

Proefke, M. L., Rinehart, K. L., Raheel, M., Ambrose, S. H. & Wisseman, S. U. Anal. Chem. 64, 105A-111A (1992).

3

Sandermann, W. Fette Seifen 49, 578–585 (1942).

4

Sandermann, W. Analyse Fette Fettprodukte 1, 1049–1104 (1958).

5

Beck, C. W. & Borromeo, L. MASCA Res. Pap. Sci. Archaeol. 7, 551–558 (1990).

6

Evershed, R. P., Jermann, K. & Eglinton, G. Nature 314, 528–530 (1985).

7

Kaup, Y.et al. Z. Naturforsch. C 49, 489–500 (1994).

8

Weiss, M. J.et al. Proc. Natl Acad. Sci. USA 83, 7182–7186 (1986).

9

Lin, C. W. & Fishman, W. H. J. Biol. Chem. 247, 3082–3087 (1972).

10

Etspüler, H., Kaup, Y., Bailyes, E. M., Luzio, J. P. & Weser, U. Immunol. Lett. 48, 187–191 (1995).
Comments
By submitting a comment you agree to abide by our Terms and Community Guidelines. If you find something abusive or that does not comply with our terms or guidelines please flag it as inappropriate.