Abstract
The stratification of poured granular mixtures into layers according to particle size has long been identified as an important mechanism by which such materials segregate1,2. The implications of this effect for the process industries have also been discussed3,4. Makse et al.5 suggestthat stratification takes place only when there is a marked difference in the shape of large and small grains; specifically, when the angle of repose of the coarse phase is much greater than that of the fines. Our experiments show that stratification can occur in the absence of such heterogeneity of particle shapes within the mixture.
Access options
Access options
Subscribe to Journal
Get full journal access for 1 year
$199.00
only $3.90 per issue
All prices are NET prices.
VAT will be added later in the checkout.
Rent or Buy article
Get time limited or full article access on ReadCube.
from$8.99
All prices are NET prices.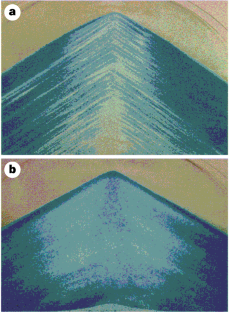 References
1

Williams, J. C. Univ. Sheffield Fuel Soc. J. 14, 29–34 (1963).

2

Williams, J. C. Powder Technol. 2, 13–20 (1968).

3

Carson, J. W., Royal, T. A. & Goodwill, D. J. Bulk Solids Handling 6, 139–144 (1986).

4

Carson, J. W., Royal, T. A. & Goodwill, D. J. Chem. Eng. Prog. 92(11), 72-80 (1996).

5

Makse, H. A., Havlin, S., King, P. R. & Stanley, H. E. Nature 386, 379–382 (1997).

6

Tüzün, U. & Arteaga, P. Chem. Eng. Sci. 47, 1619–1634 (1992).

7

Drahun, J. A. & Bridgwater, J. Powder Technol. 36, 39–53 (1983).

8

Standish, N., Yu, A. B. & He, Q. L. Powder Technol. 68, 187–193 (1991).
Comments
By submitting a comment you agree to abide by our Terms and Community Guidelines. If you find something abusive or that does not comply with our terms or guidelines please flag it as inappropriate.