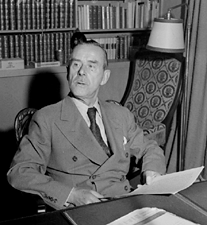 A university from the east has for the first time joined moves by some of Germany's older universities to address a murky aspect of their Nazi pasts. Rostock University on the remote Baltic coast is to search its archives for people whose academic qualifications were removed on racial or political grounds.
The university is planning to rehabilitate those who suffered in this way, even if in most cases this will have to be done posthumously. The first steps were discussed at the university last month.
The problem originated in 1933, when the Nazi government issued a law that stripped those who had decided to leave Germany because of persecution not only of German citizenship but also of academic qualifications, mostly doctorates.
Soon after, the law was extended to any German resident exhibiting 'antisocial behaviour' — a move targeted at Jewish, communist and dissident academics.
Each university was ordered by the ministry of education to alter its rules to facilitate the derecognition of doctorates. Although the 31 universities then in Germany differed in the extent to which they applied the law, by 1945 an estimated 1,000 academics had lost their titles in this way.
After the war, partly in a bid to forestall intervention by the occupying Allied forces, universities in the new West Germany were quick to annul all decisions based on fascist ideology made in the Nazi era, including the derecognition of academic qualifications.
The 24 universities in the new West Germany each decided to restore academic qualifications to those from whom they had been stripped. But this was done only at the request of individuals whose cases would then be examined.
In contrast, the socialist regime in East Germany chose to build completely afresh, rather than reversing fascist laws and decisions. East German universities therefore did not feel it necessary to address the issue of derecognized qualifications.
Even in the West, however, movement was initially slow. In 1947, half of all West German professors were former members of the Nazi party. Indeed, a former chairman of a Nazi military court was even appointed rector at Marburg University. As a result universities were reluctant to look critically at their activities during the Third Reich.
Recently, however, this has changed. "The postwar generation started taking over the top positions in universities in the 1980s and 1990s," says Eckart Krause, a researcher in the faculty of history at Hamburg University. "This meant that universities gradually adopted more open-minded attitudes to their pasts."
In 1991 Hamburg became the first university in Germany to publish a report on its role in Nazi times. This included an official apology for the stripping of academic qualifications, and a statement declaring that the university now "derecognizes the derecognition" of qualifications.
Other universities, including Munich, Freiburg, Kiel and Frankfurt, have now also started going through their files to check for derecognition of doctorates and injustice in general in Nazi times.
Each university is proceeding in a different way, but all are checking every case individually. "We cannot and we do not grant a general rehabilitation," says Christian Winter, the vice-president of Frankfurt University.
"It is most important to discriminate between those who lost their titles on racial or political grounds and those who lost their titles on genuine criminal grounds."
Universities have found that it is not always easy to discriminate between the possibilities. Some cases are clear. For example, if the grounds for divestment of title were given simply as homosexuality or disloyalty to the Nazi regime, no longer crimes today, then rehabilitation would be automatic.
But if an academic was stripped of his or her title because of a financial offence, then the exact nature of the offence becomes important. Genuine criminal grounds were not unusual. Of 59 persons stripped of doctorates by Hamburg University, for example, eight were involved in genuine crime, including murder.
In the eastern part of Germany, some universities remain unaware of the issue — Rostock learned of its involvement only after being contacted by Nature. Other universities say they lack the resources to carry out time-consuming investigations.
For most of those affected, the efforts come far too late. Many have died, and it is difficult to track down those who are still alive. Aware of this, Munich University, in its 1996 statement reversing its own derecognition of 135 academic titles, described it as "first of all a gesture for the bereaved" with which the university "faces its responsibilities arising from its history".
Comments
By submitting a comment you agree to abide by our Terms and Community Guidelines. If you find something abusive or that does not comply with our terms or guidelines please flag it as inappropriate.