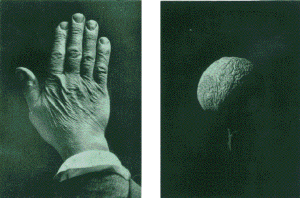 One of the challenges of early photography was capturing the vast and intangible nature of astronomical objects.
A novel approach was taken in a fascinating 1874 publication entitled The Moon, Considered as a Planet, A World, and a Satellite by the Scottish engineer James Nasmyth and the astronomer James Carpenter. Seeking to "educate the eye" about the "marvellous details" of the Moon, the authors based their book on drawings, astro-photographs and photographs of plaster models. They made visual propositions about surface formations analogous to those of the Moon, using, for example, the pictures shown here of a wrinkled hand and apple.
This is but one of the many intriguing stories about the use of photography in science that are told in the richly illustrated Beauty of Another Order by Ann Thomas, with additional essays by M. Braun, M. Cazort, M. Kemp, J. P. McElhone and L. J. Schaaf (Yale University Press, $50, £40).
Comments
By submitting a comment you agree to abide by our Terms and Community Guidelines. If you find something abusive or that does not comply with our terms or guidelines please flag it as inappropriate.