Abstract
Crick et al.1 showed that the laying dates for many British birds have become earlier during 1971-95, which they ascribe to warmer springs resulting from global warming. We provide partial support for this view from a great tit population in Oxfordshire.
Access options
Access options
Subscribe to Journal
Get full journal access for 1 year
$199.00
only $3.90 per issue
All prices are NET prices.
VAT will be added later in the checkout.
Rent or Buy article
Get time limited or full article access on ReadCube.
from$8.99
All prices are NET prices.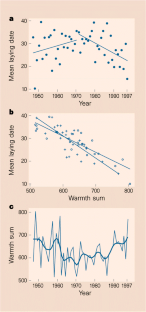 References
1

Crick, H. Q. P., Dudley, C., Glue, D. E. & Thomson, D. L. Nature 388, 526 526 (1997).

2

Perrins, C. M. & McCleery, R. H. Wilson Bull. 101, 236–253 (1989).

3

Perrins, C. M. Ibis 112, 242–255 (1970).

4

Perrins, C. M. in Proc. XXI Int. Ornithol. Congr., Vienna, August 1994, 1-14 (1996).

5

Nager, R. G., Rüegger, C. & van Noorwijk, A. J. An. Ecol. 66, 495–507 (1997).

6

Brömssen, A. von & Jansson, C. Ornis Scandinavica 11, 173-178.

7

Velleman, P.F. & Hoaglin, D. C. Applications, Basics, and Computing of Exploratory Data Analysis (Duxbury, Boston, MA, 1981).
Comments
By submitting a comment you agree to abide by our Terms and Community Guidelines. If you find something abusive or that does not comply with our terms or guidelines please flag it as inappropriate.