Abstract
An unusual coral disease appeared on the Florida Reef Tract in June 1995. It was distinct in its microbiology, its pattern of tissue degradation, the species susceptible to it, and its regional distribution. Symptoms included a sharp line between healthy and diseased tissue, as occurs with other coral diseases, but the pathogen responsible for the new outbreak seemed more virulent, affected a wider variety of species, and destroyed tissue much more rapidly than these other 'line' or 'band' diseases. We have identified the pathogen responsible for this new disease as a new species of Sphingomonas.
Access options
Subscribe to Journal
Get full journal access for 1 year
$199.00
only $3.90 per issue
All prices are NET prices.
VAT will be added later in the checkout.
Rent or Buy article
Get time limited or full article access on ReadCube.
from$8.99
All prices are NET prices.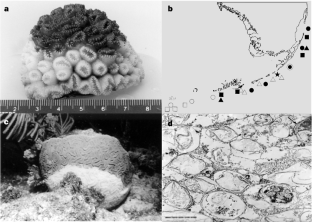 References
1

Richardson, L. L., Goldberg, W. M., Carlton, R. G. & Halas, J. C. Rev. Biol. Trop. (in the press).

2

Peters, E. C. in Pathobiology of Marine and Estuarine Organisms (eds Couch, J. A. & Fournie, J. W.) 388-444 (CRC, Boca Raton, 1993).

3

Kuta, K. G. & Richardson, L. L. Coral Reefs 15, 219–223 (1996).

4

Morisita, M. Res. Popul. Ecol. 4, 1 (1962).

5

Ritchie, K. B. & Smith, G. W. J. Mar. Biotechnol. 3, 105–107 (1995).

6

Yabuuchi, E. I.et al. Microbiol. Immunol. 32, 99–119 (1990).

7

Lessios, H. A. Annu. Rev. Ecol. Syst. 19, 371–393 (1988)

8

Aronson, R. B. & Precht, W. F. Paleobiology 23, 326–346 (1997).

9

Smith, G. W., Ives, L. D., Nagelkerken, I. A. & Ritchie, K. B. Nature 383, 487 (1996).

10

Goldberg, W. M. & Taylor, G. T. Mar. Biol. 125, 655–662 (1996).
About this article
Cite this article
Richardson, L., Goldberg, W., Kuta, K. et al. Florida's mystery coral-killer identified. Nature 392, 557–558 (1998). https://doi.org/10.1038/33302
Comments
By submitting a comment you agree to abide by our Terms and Community Guidelines. If you find something abusive or that does not comply with our terms or guidelines please flag it as inappropriate.