Abstract
We examined the efficacy and host response to the adenovirus (Ad)-mediated delivery of human apolipoprotein A-I (APOA1) gene to the liver of APOA1−/− mice. Administration of a first-generation vector (FGAd-AI) resulted in a transient appearance of APOA1 in plasma and induced an anti-APOA1 antibody titer, whereas treatment with a helper-dependent vector (HDAd-AI) resulted in sustained APOA1 expression without inducing an antibody titer. With these results, we studied the effects of FGAd vectors on APOAI expression by HDAd-AI vector. Co-treatment with an FGAd vector inhibited HDAd-AI- mediated APOA1 expression independent of transgene cassettes, but only FGAd-AI induced a humoral response. Furthermore, APOA1 mRNA levels in mice co-treated with FGAd vectors were much lower than those expected from the vector copy number, suggesting that DNA of FGAd vectors interferes with the HDAd-AI vector's APOA1 promoter. A single treatment with an HDAd-AI vector produced a supraphysiological plasma APOA1 level that gradually declined to about half the normal human level over the course of 2 years, associated with a plasma cholesterol level that is persistently higher than that in controls. This investigation provides the proof of principle that liver-directed HDAd gene delivery is effective for the long-term phenotypic correction of monogenic hypoalphalipoproteinemia.
Access options
Subscribe to this journal
Receive 12 print issues and online access
$259.00 per year
only $21.58 per issue
Rent or buy this article
Get just this article for as long as you need it
$39.95
Prices may be subject to local taxes which are calculated during checkout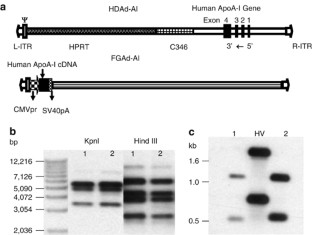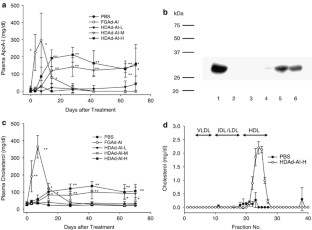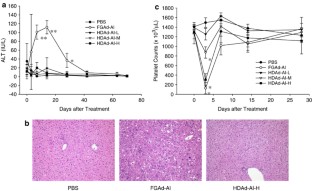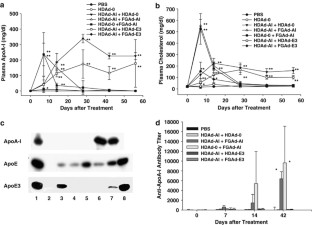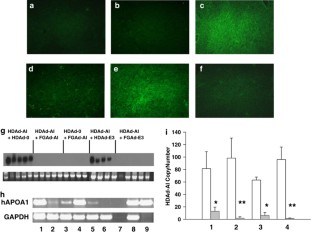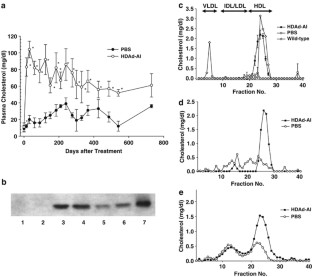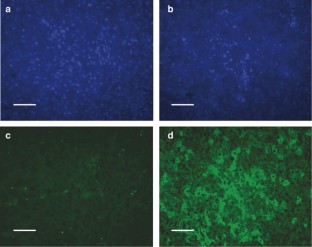 References
Schaefer EJ, Lamon-Fava S, Ordovas JM, Cohn SD, Schaefer MM, Castelli WP et al. Factors associated with low and elevated plasma high density lipoprotein cholesterol and apolipoprotein A-I levels in the Framingham Offspring Study. J Lipid Res 1994; 35: 871–882.

Kannel WB . Range of serum cholesterol values in the population developing coronary artery disease. Am J Cardiol 1995; 76: 69C–77C.

Gordon DJ, Rifkind BM . High-density lipoprotein – the clinical implications of recent studies. N Engl J Med 1989; 321: 1311–1316.

Maciejko JJ, Holmes DR, Kottke BA, Zinsmeister AR, Dinh DM, Mao SJ . Apolipoprotein A-I as a marker of angiographically assessed coronary-artery disease. N Engl J Med 1983; 309: 385–389.

Schaefer EJ, Heaton WH, Wetzel MG, Brewer Jr HB . Plasma apolipoprotein A-1 absence associated with a marked reduction of high density lipoproteins and premature coronary artery disease. Arteriosclerosis 1982; 2: 16–26.

Forte TM, Nichols AV, Krauss RM, Norum RA . Familial apolipoprotein AI and apolipoprotein CIII deficiency. Subclass distribution, composition, and morphology of lipoproteins in a disorder associated with premature atherosclerosis. J Clin Invest 1984; 74: 1601–1613.

Yamakawa-Kobayashi K, Yanagi H, Fukayama H, Hirano C, Shimakura Y, Yamamoto N et al. Frequent occurrence of hypoalphalipoproteinemia due to mutant apolipoprotein A-I gene in the population: a population-based survey. Hum Mol Genet 1999; 8: 331–336.

Schiedner G, Morral N, Parks RJ, Wu Y, Koopmans SC, Langston C et al. Genomic DNA transfer with a high-capacity adenovirus vector results in improved in vivo gene expression and decreased toxicity. Nat Genet 1998; 18: 180–183.

Morral N, O'Neal W, Rice K, Leland M, Kaplan J, Piedra PA et al. Administration of helper-dependent adenoviral vectors and sequential delivery of different vector serotype for long-term liver-directed gene transfer in baboons. Proc Natl Acad Sci USA 1999; 96: 12816–12821.

Oka K, Pastore L, Kim IH, Merched A, Nomura S, Lee HJ et al. Long-term stable correction of low-density lipoprotein receptor-deficient mice with a helper-dependent adenoviral vector expressing the very low-density lipoprotein receptor. Circulation 2001; 103: 1274–1281.

Kim IH, Jozkowicz A, Piedra PA, Oka K, Chan L . Lifetime correction of genetic deficiency in mice with a single injection of helper-dependent adenoviral vector. Proc Natl Acad Sci USA 2001; 98: 13282–13287.

Belalcazar LM, Merched A, Carr B, Oka K, Chen KH, Pastore L et al. Long-term stable expression of human apolipoprotein A-I mediated by helper-dependent adenovirus gene transfer inhibits atherosclerosis progression and remodels atherosclerotic plaques in a mouse model of familial hypercholesterolemia. Circulation 2003; 107: 2726–2732.

Brunetti-Pierri N, Nichols TC, McCorquodale S, Merricks E, Palmer DJ, Beaudet AL et al. Sustained phenotypic correction of canine hemophilia B after systemic administration of helper-dependent adenoviral vector. Hum Gene Ther 2005; 16: 811–820.

Toietta G, Mane VP, Norona WS, Finegold MJ, Ng P, McDonagh AF et al. Lifelong elimination of hyperbilirubinemia in the Gunn rat with a single injection of helper-dependent adenoviral vector. Proc Natl Acad Sci USA 2005; 102: 3930–3935.

Nomura S, Merched A, Nour E, Dieker C, Oka K, Chan L . Low-density lipoprotein receptor gene therapy using helper-dependent adenovirus produces long-term protection against atherosclerosis in a mouse model of familial hypercholesterolemia. Gene Therapy 2004; 11: 1540–1548.

De Geest B, Zhao Z, Collen D, Holvoet P . Effects of adenovirus-mediated human apo A-I gene transfer on neointima formation after endothelial denudation in apo E-deficient mice. Circulation 1997; 96: 4349–4356.

Raper SE, Yudkoff M, Chirmule N, Gao GP, Nunes F, Haskal ZJ et al. A pilot study of in vivo liver-directed gene transfer with an adenoviral vector in partial ornithine transcarbamylase deficiency. Hum Gene Ther 2002; 13: 163–175.

O'Neal WK, Zhou H, Morral N, Aguilar-Cordova E, Pestaner J, Langston C et al. Toxicological comparison of E2a-deleted and first-generation adenoviral vectors expressing alpha1-antitrypsin after systemic delivery. Hum Gene Ther 1998; 9: 1587–1598.

Morral N, O'Neal WK, Rice K, Leland MM, Piedra PA, Aguilar-Cordova E et al. Lethal toxicity, severe endothelial injury, and a threshold effect with high doses of an adenoviral vector in baboons. Hum Gene Ther 2002; 13: 143–154.

Brunetti-Pierri N, Palmer DJ, Beaudet AL, Carey KD, Finegold M, Ng P . Acute toxicity after high-dose systemic injection of helper-dependent adenoviral vectors into nonhuman primates. Hum Gene Ther 2004; 15: 35–46.

Yang Y, Nunes FA, Berencsi K, Furth EE, Gonczol E, Wilson JM . Cellular immunity to viral antigens limits E1-deleted adenoviruses for gene therapy. Proc Natl Acad Sci USA 1994; 91: 4407–4411.

Higginbotham JN, Seth P, Blaese RM, Ramsey WJ . The release of inflammatory cytokines from human peripheral blood mononuclear cells in vitro following exposure to adenovirus variants and capsid. Hum Gene Ther 2002; 13: 129–141.

Tatsis N, Ertl HC . Adenoviruses as vaccine vectors. Mol Ther 2004; 10: 616–629.

Kelly ME, Clay MA, Mistry MJ, Hsieh-Li HM, Harmony JA . Apolipoprotein E inhibition of proliferation of mitogen-activated T lymphocytes: production of interleukin 2 with reduced biological activity. Cell Immunol 1994; 159: 124–139.

van den Elzen P, Garg S, Leon L, Brigl M, Leadbetter EA, Gumperz JE et al. Apolipoprotein-mediated pathways of lipid antigen presentation. Nature 2005; 437: 906–910.

Kozarsky KF, Jooss K, Donahee M, Strauss 3rd JF, Wilson JM . Effective treatment of familial hypercholesterolaemia in the mouse model using adenovirus-mediated transfer of the VLDL receptor gene. Nat Genet 1996; 13: 54–62.

Plump AS, Azrolan N, Odaka H, Wu L, Jiang X, Tall A et al. ApoA-I knockout mice: characterization of HDL metabolism in homozygotes and identification of a post-RNA mechanism of apoA-I up-regulation in heterozygotes. J Lipid Res 1997; 38: 1033–1047.

Toietta G, Pastore L, Cerullo V, Finegold M, Beaudet AL, Lee B . Generation of helper-dependent adenoviral vectors by homologous recombination. Mol Ther 2002; 5: 204–210.

Wolins N, Lozier J, Eggerman TL, Jones E, Aguilar-Cordova E, Vostal JG . Intravenous administration of replication-incompetent adenovirus to rhesus monkeys induces thrombocytopenia by increasing in vivo platelet clearance. Br J Haematol 2003; 123: 903–905.

Eggerman TL, Mondoro TH, Lozier JN, Vostal JG . Adenoviral vectors do not induce, inhibit, or potentiate human platelet aggregation. Hum Gene Ther 2002; 13: 125–128.

Lozier JN, Csako G, Mondoro TH, Krizek DM, Metzger ME, Costello R et al. Toxicity of a first-generation adenoviral vector in rhesus macaques. Hum Gene Ther 2002; 13: 113–124.

Morral N, Parks RJ, Zhou H, Langston C, Schiedner G, Quinones J et al. High doses of a helper-dependent adenoviral vector yield supraphysiological levels of alpha1-antitrypsin with negligible toxicity. Hum Gene Ther 1998; 9: 2709–2716.

Bristol JA, Shirley P, Idamakanti N, Kaleko M, Connelly S . In vivo dose threshold effect of adenovirus-mediated factor VIII gene therapy in hemophiliac mice. Mol Ther 2000; 2: 223–232.

Ziegler RJ, Li C, Cherry M, Zhu Y, Hempel D, van Rooijen N et al. Correction of the nonlinear dose response improves the viability of adenoviral vectors for gene therapy of Fabry disease. Hum Gene Ther 2002; 13: 935–945.

Tao N, Gao GP, Parr M, Johnston J, Baradet T, Wilson JM et al. Sequestration of adenoviral vector by Kupffer cells leads to a nonlinear dose response of transduction in liver. Mol Ther 2001; 3: 28–35.

Zhang Y, Chirmule N, Gao GP, Qian R, Croyle M, Joshi B et al. Acute cytokine response to systemic adenoviral vectors in mice is mediated by dendritic cells and macrophages. Mol Ther 2001; 3: 697–707.

Schiedner G, Hertel S, Johnston M, Dries V, van Rooijen N, Kochanek S . Selective depletion or blockade of Kupffer cells leads to enhanced and prolonged hepatic transgene expression using high-capacity adenoviral vectors. Mol Ther 2003; 7: 35–43.

Fields PA, Armstrong E, Hagstrom JN, Arruda VR, Murphy ML, Farrell JP et al. Intravenous administration of an E1/E3-deleted adenoviral vector induces tolerance to factor IX in C57BL/6 mice. Gene Therapy 2001; 8: 354–361.

Kung SH, Hagstrom JN, Cass D, Tai SJ, Lin HF, Stafford DW et al. Human factor IX corrects the bleeding diathesis of mice with hemophilia B. Blood 1998; 91: 784–790.

Muruve DA, Cotter MJ, Zaiss AK, White LR, Liu Q, Chan T et al. Helper-dependent adenovirus vectors elicit intact innate but attenuated adaptive host immune responses in vivo. J Virol 2004; 78: 5966–5972.

De Geest BR, Van Linthout SA, Collen D . Humoral immune response in mice against a circulating antigen induced by adenoviral transfer is strictly dependent on expression in antigen-presenting cells. Blood 2003; 101: 2551–2556.

De Geest B, Van Linthout S, Lox M, Collen D, Holvoet P . Sustained expression of human apolipoprotein A-I after adenoviral gene transfer in C57BL/6 mice: role of apolipoprotein A-I promoter, apolipoprotein A-I introns, and human apolipoprotein E enhancer. Hum Gene Ther 2000; 11: 101–112.

De Geest B, Van Linthout S, Collen D . Sustained expression of human apo A-I following adenoviral gene transfer in mice. Gene Therapy 2001; 8: 121–127.

Pastore L, Morral N, Zhou H, Garcia R, Parks RJ, Kochanek S et al. Use of a liver-specific promoter reduces immune response to the transgene in adenoviral vectors. Hum Gene Ther 1999; 10: 1773–1781.

Dudley RW, Lu Y, Gilbert R, Matecki S, Nalbantoglu J, Petrof BJ et al. Sustained improvement of muscle function one year after full-length dystrophin gene transfer into mdx mice by a gutted helper-dependent adenoviral vector. Hum Gene Ther 2004; 15: 145–156.

Chen ZY, He CY, Meuse L, Kay MA . Silencing of episomal transgene expression by plasmid bacterial DNA elements in vivo. Gene Therapy 2004; 11: 856–864.

Ehrhardt A, Xu H, Huang Z, Engler JA, Kay MA . A direct comparison of two nonviral gene therapy vectors for somatic integration: in vivo evaluation of the bacteriophage integrase phiC31 and the Sleeping Beauty transposase. Mol Ther 2005; 11: 695–706.

Polansky H . Microcompetition with Foreign DNA and the Origin of Chronic Disease. The Center for the Biology and Chronic Disease: Rochester, 2003.

Wen S, Graf S, Massey PG, Dichek DA . Improved vascular gene transfer with a helper-dependent adenoviral vector. Circulation 2004; 110: 1484–1491.

Harui A, Suzuki S, Kochanek S, Mitani K . Frequency and stability of chromosomal integration of adenovirus vectors. J Virol 1999; 73: 6141–6146.

Hillgenberg M, Tonnies H, Strauss M . Chromosomal integration pattern of a helper-dependent minimal adenovirus vector with a selectable marker inserted into a 27.4-kilobase genomic stuffer. J Virol 2001; 75: 9896–9908.

Parks RJ, Chen L, Anton M, Sankar U, Rudnicki MA, Graham FL . A helper-dependent adenovirus vector system: removal of helper virus by Cre-mediated excision of the viral packaging signal. Proc Natl Acad Sci USA 1996; 93: 13565–13570.

Kobayashi K, Oka K, Forte T, Ishida B, Teng B, Ishimura-Oka K et al. Reversal of hypercholesterolemia in low density lipoprotein receptor knockout mice by adenovirus-mediated gene transfer of the very low density lipoprotein receptor. J Biol Chem 1996; 271: 6852–6860.

Sandig V, Youil R, Bett AJ, Franlin LL, Oshima M, Maione D et al. Optimization of the helper-dependent adenovirus system for production and potency in vivo. Proc Natl Acad Sci USA 2000; 97: 1002–1007.

Kreppel F, Biermann V, Kochanek S, Schiedner G . A DNA-based method to assay total and infectious particle contents and helper virus contamination in high-capacity adenoviral vector preparations. Hum Gene Ther 2002; 13: 1151–1156.
Acknowledgements
This work was supported by HL59314 and HL73144. A Paul was supported by the grant from American Heart Association (0535118N). We thank A Beaudet for valuable discussion; S Kochanek and G Shiedner for providing 293Cre66 cells; J Smith for APOE gene; F Graham for providing helper virus; Merck & Co. for providing reagents developed by F Graham.
About this article
Cite this article
Oka, K., Belalcazar, L., Dieker, C. et al. Sustained phenotypic correction in a mouse model of hypoalphalipoproteinemia with a helper-dependent adenovirus vector. Gene Ther 14, 191–202 (2007). https://doi.org/10.1038/sj.gt.3302819
Received:

Revised:

Accepted:

Published:

Issue Date:

DOI: https://doi.org/10.1038/sj.gt.3302819
Keywords
helper-dependent adenovirus

apolipoprotein A-I

hypoalphalipoproteinemia

adaptive immunity