Abstract
Vaccines based on replication-defective adenoviral vectors are being developed for infectious agents and tumor-associated antigens. Early work focused on vaccines derived from a common human serotype of adenovirus, that is, adenovirus of the serotype 5 (AdHu5). Neutralizing antibodies against AdHu5 virus, present in a large percentage of the human population, dampen the efficacy of vaccines based on this carrier. To circumvent this problem, we generated vectors derived from chimpanzee adenoviruses. Here we describe some basic parameters of vectors derived from chimpanzee adenoviruses C68 and C7, including growth characteristics, yields of infectious particles, effects of additional deletions in E3 and E4 and lengths of the inserted foreign sequence as they relate to the suitability for their eventual development as vaccine carriers for clinical use.
Relevant articles
Open Access articles citing this article.
Archives of Toxicology Open Access 06 August 2021

Abdulaziz Almuqrin

,

Andrew D. Davidson

…

David A. Matthews

Genome Medicine Open Access 15 March 2021

Giuseppe Lofano

,

Corey P. Mallett

…

Derek T. O'Hagan

npj Vaccines Open Access 18 September 2020
Access options
Subscribe to this journal
Receive 12 print issues and online access
$259.00 per year
only $21.58 per issue
Rent or buy this article
Prices vary by article type
from$1.95
to$39.95
Prices may be subject to local taxes which are calculated during checkout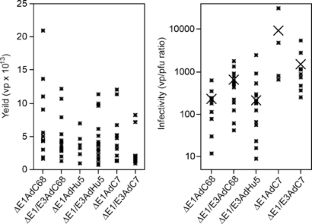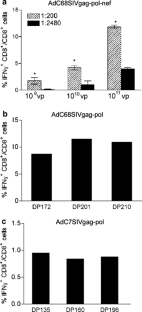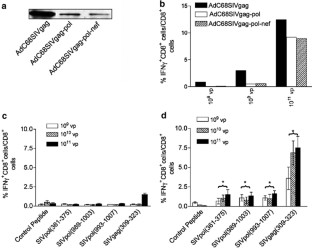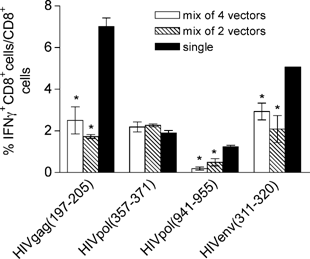 References
Wilson JM . Adenoviruses as gene-delivery vehicles. N Engl J Med 1996; 334: 1185–1187.

Shiver JW, Emini EA . Recent advances in the development of HIV-1 vaccines using replication-incompetent adenovirus vectors. Annu Rev Med 2004; 55: 355–372.

Tatsis N, Ertl HC . Adenoviruses as vaccine vectors. Mol Ther 2004; 10: 616–629.

Barouch DH, Nabel GJ . Adenovirus vector-based vaccines for human immunodeficiency virus type 1. Hum Gene Ther 2005; 16: 149–156.

Lasaro MO, Ertl HC . Human Papillomavirus-associated cervical cancer: prophyllactic and therapeutic vaccines. Gene Ther Mol Biol 2004; 8: 291–306.

Fitzgerald JC, Gao GP, Reyes-Sandoval A, Pavlakis GN, Xiang ZQ, Wlazlo AP et al. A simian replication-defective adenoviral recombinant vaccine to HIV-1 gag. J Immunol 2003; 170: 1416–1422.

Shiver JW, Fu TM, Chen L, Casimiro DR, Davies ME, Evans RK et al. Replication-incompetent adenoviral vaccine vector elicits effective anti-immunodeficiency-virus immunity. Nature 2002; 415: 331–335.

Xiang ZQ, Gao GP, Reyes-Sandoval A, Li Y, Wilson JM, Ertl HC . Oral vaccination of mice with adenoviral vectors is not impaired by preexisting immunity to the vaccine carrier. J Virol 2003; 77: 10780–10789.

Prevec L, Campbell JB, Christie BS, Belbeck L, Graham FL . A recombinant human adenovirus vaccine against rabies. J Infect Dis 1990; 161: 27–30.

Patterson LJ, Malkevitch N, Venzon D, Pinczewski J, Gomez-Roman VR, Wang L et al. Protection against mucosal simian immunodeficiency virus SIV(mac251) challenge by using replicating adenovirus-SIV multigene vaccine priming and subunit boosting. J Virol 2004; 78: 2212–2221.

Xiang ZQ, Yang Y, Wilson JM, Ertl HC . A replication-defective human adenovirus recombinant serves as a highly efficacious vaccine carrier. Virology 1996; 219: 220–227.

Tims T, Briggs DJ, Davis RD, Moore SM, Xiang Z, Ertl HC et al. Adult dogs receiving a rabies booster dose with a recombinant adenovirus expressing rabies virus glycoprotein develop high titers of neutralizing antibodies. Vaccine 2000; 18: 2804–2807.

Fischer L, Tronel JP, Pardo-David C, Tanner P, Colombet G, Minke J et al. Vaccination of puppies born to immune dams with a canine adenovirus-based vaccine protects against a canine distemper virus challenge. Vaccine 2002; 20: 3485–3497.

Shiver JW . Development of an HIV-1 Vaccine based on a replication defective adenovirus vectors. Keystone Symposium; Banff, Alberta, Canada, 2005.

Farina SF, Gao GP, Xiang ZQ, Rux JJ, Burnett RM, Alvira MR et al. Replication-defective vector based on a chimpanzee adenovirus. J Virol 2001; 75: 11603–11613.

Xiang Z, Gao G, Reyes-Sandoval A, Cohen CJ, Li Y, Bergelson JM et al. Novel, chimpanzee serotype 68-based adenoviral vaccine carrier for induction of antibodies to a transgene product. J Virol 2002; 76: 2667–2675.

Reyes-Sandoval A, Fitzgerald JC, Grant R, Roy S, Xiang ZQ, Li Y et al. Human immunodeficiency virus type 1-specific immune responses in primates upon sequential immunization with adenoviral vaccine carriers of human and simian serotypes. J Virol 2004; 78: 7392–7399.

Roy S, Gao G, Lu Y, Zhou X, Lock M, Calcedo R et al. Characterization of a family of chimpanzee adenoviruses and development of molecular clones for gene transfer vectors. Hum Gene Ther 2004; 15: 519–530.

Cohen CJ, Xiang ZQ, Gao GP, Ertl HC, Wilson JM, Bergelson JM . Chimpanzee adenovirus CV-68 adapted as a gene delivery vector interacts with the coxsackievirus and adenovirus receptor. J Gen Virol 2002; 83: 151–155.

Windheim M, Hilgendorf A, Burgert HG . Immune evasion by adenovirus E3 proteins: exploitation of intracellular trafficking pathways. Curr Top Microbiol Immunol 2004; 273: 29–85.

Yeh P, Dedieu JF, Orsini C, Vigne E, Denefle P, Perricaudet M . Efficient dual transcomplementation of adenovirus E1 and E4 regions from a 293-derived cell line expressing a minimal E4 functional unit. J Virol 1996; 70: 559–565.

Graham FL, Smiley J, Russell WC, Nairn R . Characteristics of a human cell line transformed by DNA from human adenovirus type 5. J Gen Virol 1977; 36: 59–74.

Fallaux FJ, Bout A, van der Velde I, van den Wollenberg DJ, Hehir KM, Keegan J et al. New helper cells and matched early region 1-deleted adenovirus vectors prevent generation of replication-competent adenoviruses. Hum Gene Ther 1998; 9: 1909–1917.

Schneider R, Campbell M, Nasioulas G, Felber BK, Pavlakis GN . Inactivation of the human immunodeficiency virus type 1 inhibitory elements allows Rev-independent expression of Gag and Gag/protease and particle formation. J Virol 1997; 71: 4892–4903.

Branton PE . Adenoviruses: Basic Biology to Gene Therapy. Landes Bioscience: Georgetown, 1999.

McMichael AJ, Hanke T . HIV vaccines 1983–2003. Nat Med 2003; 9: 874–880.

Burton DR . Antibodies, viruses and vaccines. Nat Rev Immunol 2002; 2: 706–713.

Lubeck MD, Natuk R, Myagkikh M, Kalyan N, Aldrich K, Sinangil F et al. Long-term protection of chimpanzees against high-dose HIV-1 challenge induced by immunization. Nat Med 1997; 3: 651–658.

Pinto AR, Fitzgerald JC, Giles-Davis W, Gao GP, Wilson JM, Ertl HC . Induction of CD8+ T cells to an HIV-1 antigen through a prime boost regimen with heterologous E1-deleted adenoviral vaccine carriers. J Immunol 2003; 171: 6774–6779.

Casimiro DR, Tang A, Chen L, Fu TM, Evans RK, Davies ME et al. Vaccine-induced immunity in baboons by using DNA and replication-incompetent adenovirus type 5 vectors expressing a human immunodeficiency virus type 1 gag gene. J Virol 2003; 77: 7663–7668.

Amara RR, Sharma S, Patel M, Smith JM, Chennareddi L, Herndon JG et al. Studies on the cross-clade and cross-species conservation of HIV-1 Gag-specific CD8 and CD4 T cell responses elicited by a clade B DNA/MVA vaccine in macaques. Virology 2005; 334: 124–133.

Xin KQ, Urabe M, Yang J, Nomiyama K, Mizukami H, Hamajima K et al. A novel recombinant adeno-associated virus vaccine induces a long-term humoral immune response to human immunodeficiency virus. Hum Gene Ther 2001; 12: 1047–1061.

Ramsburg E, Rose NF, Marx PA, Mefford M, Nixon DF, Moretto WJ et al. Highly effective control of an AIDS virus challenge in macaques by using vesicular stomatitis virus and modified vaccinia virus Ankara vaccine vectors in a single-boost protocol. J Virol 2004; 78: 3930–3940.

Ji L, Bouvet M, Price RE, Roth JA, Fang B . Reduced toxicity, attenuated immunogenicity and efficient mediation of human p53 gene expression in vivo by an adenovirus vector with deleted E1–E3 and inactivated E4 by GAL4-TATA promoter replacement. Gene Therapy 1999; 6: 393–402.

Rafii S, Dias S, Meeus S, Hattori K, Ramachandran R, Feuerback F et al. Infection of endothelium with E1(−)E4(+), but not E1(−)E4(−), adenovirus gene transfer vectors enhances leukocyte adhesion and migration by modulation of ICAM-1, VCAM-1, CD34, and chemokine expression. Circ Res 2001; 88: 903–910.

Grave L, Dreyer D, Dieterle A, Leroy P, Michou AI, Doderer C et al. Differential influence of the E4 adenoviral genes on viral and cellular promoters. J Gene Med 2000; 2: 433–443.
Acknowledgements
Support for this work was provided by funds from the NIH grant, 5P01AI052271-03. We thank the Commonwealth Universal Research Enhancement Program, Pennsylvania Department of Health and Christina Cole for manuscript preparation
About this article
Cite this article
Tatsis, N., Tesema, L., Robinson, E. et al. Chimpanzee-origin adenovirus vectors as vaccine carriers. Gene Ther 13, 421–429 (2006). https://doi.org/10.1038/sj.gt.3302675
Received:

Revised:

Accepted:

Published:

Issue Date:

DOI: https://doi.org/10.1038/sj.gt.3302675
Keywords