Abstract
Both cytotoxic T cells and helper T cells are important in immune responses against pathogens and malignant cells. In hematological malignancies which express HLA class II molecules, immunotherapy may be directed to HLA class II restricted antigens. We investigated whether it is possible to engineer HLA class II restricted T cells with both antigen-specific cytolytic activity and the capacity to produce high amounts of cytokines. CD4+ and CD8+ peripheral-blood-derived T cells were retrovirally transduced with the HLA class II restricted minor histocompatibility antigen dead box RNA helicase Y (DBY)-specific TCR. The TCR-transduced CD4+ T cells exerted DBY-specific cytolytic activity, produced Th0, Th1, or Th2 cytokines, and proliferated upon DBY-specific stimulation. TCR-transduced CD8+ T cells exerted cytolytic activity which equaled the level of cytolytic activity of the TCR-transferred CD4+ T cells. Cotransfer of CD4 enhanced the cytolytic activity of the TCR-transduced CD8+ T cells, but introduction of CD4 was not sufficient to generate DBY-specific CD8+ T cells with the capacity to produce high amounts of cytokines. In this study, we demonstrated the feasibility to engineer T cells with antigen-specific cytolytic activity, as well as the ability to produce significant amounts of cytokines, by TCR transfer to CD4+ T cells.
Relevant articles
Open Access articles citing this article.
Qinghua He

,

Xianhan Jiang

…

Jinsheng Weng

Journal of Hematology & Oncology Open Access 18 December 2019

Kirsten BJ Scholten

,

Annelies W Turksma

…

Erik Hooijberg

Journal of Translational Medicine Open Access 05 September 2011
Access options
Subscribe to this journal
Receive 12 print issues and online access
$259.00 per year
only $21.58 per issue
Rent or buy this article
Prices vary by article type
from$1.95
to$39.95
Prices may be subject to local taxes which are calculated during checkout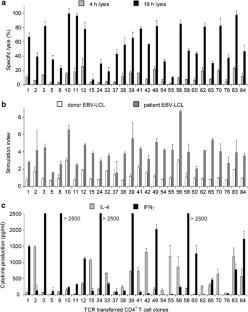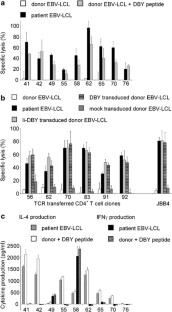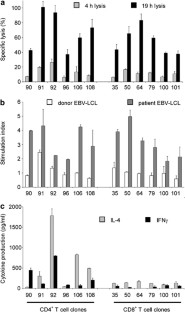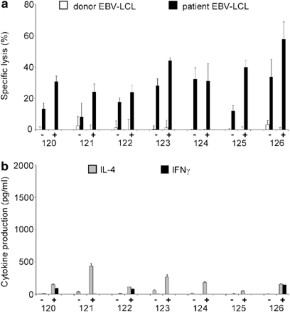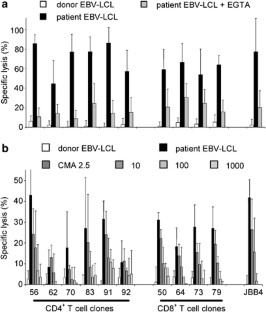 References
Kolb HJ et al. Donor leukocyte transfusions for treatment of recurrent chronic myelogenous leukemia in marrow transplant patients. Blood 1990; 76: 2462–2465.

Kolb HJ et al. Graft-versus-leukemia effect of donor lymphocyte transfusions in marrow grafted patients. European Group for Blood and Marrow Transplantation Working Party Chronic Leukemia. Blood 1995; 86: 2041–2050.

Collins Jr RH et al. Donor leukocyte infusions in 140 patients with relapsed malignancy after allogeneic bone marrow transplantation. J Clin Oncol 1997; 15: 433–444.

Porter DL et al. Treatment of relapsed leukemia after unrelated donor marrow transplantation with unrelated donor leukocyte infusions. Blood 2000; 95: 1214–1221.

Zorn E et al. Infusion of CD4+ donor lymphocytes induces the expansion of CD8+ donor T cells with cytolytic activity directed against recipient hematopoietic cells. Clin Cancer Res 2002; 8: 2052–2060.

Soiffer RJ et al. Randomized trial of CD8+ T-cell depletion in the prevention of graft-versus-host disease associated with donor lymphocyte infusion. Biol Blood Marrow Transplant 2002; 8: 625–632.

Shimoni A et al. Long-term follow-up of recipients of CD8-depleted donor lymphocyte infusions for the treatment of chronic myelogenous leukemia relapsing after allogeneic progenitor cell transplantation. Biol Blood Marrow Transplant 2001; 7: 568–575.

Alyea E et al. T-cell-depleted allogeneic bone marrow transplantation followed by donor lymphocyte infusion in patients with multiple myeloma: induction of graft-versus-myeloma effect. Blood 2001; 98: 934–939.

Alyea EP et al. Toxicity and efficacy of defined doses of CD4(+) donor lymphocytes for treatment of relapse after allogeneic bone marrow transplant. Blood 1998; 91: 3671–3680.

Giralt S et al. CD8-depleted donor lymphocyte infusion as treatment for relapsed chronic myelogenous leukemia after allogeneic bone marrow transplantation. Blood 1995; 86: 4337–4343.

Spierings E et al. Identification of HLA class II-restricted H–Y-specific T-helper epitope evoking CD4+ T-helper cells in H–Y-mismatched transplantation. Lancet 2003; 362: 610–615.

Faber LM et al. Generation of CD4+ cytotoxic T-lymphocyte clones from a patient with severe graft-versus-host disease after allogeneic bone marrow transplantation: implications for graft-versus-leukemia reactivity. Blood 1995; 86: 2821–2828.

Faber LM, Luxemburg-Heijs SA, Willemze R, Falkenburg JH . Generation of leukemia-reactive cytotoxic T lymphocyte clones from the HLA-identical bone marrow donor of a patient with leukemia. J Exp Med 1992; 176: 1283–1289.

Falkenburg JH et al. Complete remission of accelerated phase chronic myeloid leukemia by treatment with leukemia-reactive cytotoxic T lymphocytes. Blood 1999; 94: 1201–1208.

Clay TM et al. Efficient transfer of a tumor antigen-reactive TCR to human peripheral blood lymphocytes confers anti-tumor reactivity. J Immunol 1999; 163: 507–513.

Cooper LJ et al. Transfer of specificity for human immunodeficiency virus type 1 into primary human T lymphocytes by introduction of T-cell receptor genes. J Virol 2000; 74: 8207–8212.

Stanislawski T et al. Circumventing tolerance to a human MDM2-derived tumor antigen by TCR gene transfer. Nat Immunol 2001; 2: 962–970.

Heemskerk MH et al. Redirection of antileukemic reactivity of peripheral T lymphocytes using gene transfer of minor histocompatibility antigen HA-2-specific T-cell receptor complexes expressing a conserved alpha joining region. Blood 2003; 102: 3530–3540.

Heemskerk MH et al. Reprogramming of virus-specific T cells into leukemia-reactive T cells using T-cell receptor gene transfer. J Exp Med 2004; 199: 885–894.

Schumacher TN . T-cell-receptor gene therapy. Nat Rev Immunol 2002; 2: 512–519.

Heemskerk MH et al. Dual HLA class I and class II restricted recognition of alloreactive T lymphocytes mediated by a single T-cell receptor complex. Proc Natl Acad Sci USA 2001; 98: 6806–6811.

Fujio K et al. Functional reconstitution of class II MHC-restricted T cell immunity mediated by retroviral transfer of the alpha beta TCR complex. J Immunol 2000; 165: 528–532.

Chamoto K et al. Potentiation of tumor eradication by adoptive immunotherapy with T-cell receptor gene-transduced T-helper type 1 cells. Cancer Res 2004; 64: 386–390.

Sun JC, Bevan MJ . Defective CD8 T-cell memory following acute infection without CD4 T cell help. Science 2003; 300: 339–342.

Gamadia LE et al. Primary immune responses to human CMV: a critical role for IFN-gamma-producing CD4+ T cells in protection against CMV disease. Blood 2003; 101: 2686–2692.

Shedlock DJ, Shen H . Requirement for CD4 T cell help in generating functional CD8 T-cell memory. Science 2003; 300: 337–339.

Bourgeois C, Rocha B, Tanchot C . A role for CD40 expression on CD8+ T cells in the generation of CD8+ T-cell memory. Science 2002; 297: 2060–2063.

Vogt MH et al. The DBY gene codes for an HLA-DQ5-restricted human male-specific minor histocompatibility antigen involved in graft-versus-host disease. Blood 2002; 99: 3027–3032.

Arden B, Clark SP, Kabelitz D, Mak TW . Human T-cell receptor variable gene segment families. Immunogenetics 1995; 42: 455–500.

Doyle C, Strominger JL . Interaction between CD4 and class II MHC molecules mediates cell adhesion. Nature 1987; 330: 256–259.

Irvine DJ, Purbhoo MA, Krogsgaard M, Davis MM . Direct observation of ligand recognition by T cells. Nature 2002; 419: 845–849.

Kessels HW, Wolkers MC, Schumacher TN . Adoptive transfer of T-cell immunity. Trends Immunol 2002; 23: 264–269.

Becker C et al. Adoptive tumor therapy with T lymphocytes enriched through an IFN-gamma capture assay. Nat Med 2001; 7: 1159–1162.

Dunbar PR et al. A shift in the phenotype of melan-A-specific CTL identifies melanoma patients with an active tumor-specific immune response. J Immunol 2000; 165: 6644–6652.

Valmori D et al. Circulating tumor-reactive CD8(+) T cells in melanoma patients contain a CD45RA(+)CCR7(−) effector subset exerting ex vivo tumor-specific cytolytic activity. Cancer Res 2002; 62: 1743–1750.

Kloosterboer FM et al. Direct cloning of leukemia-reactive T cells from patients treated with donor lymphocyte infusion shows a relative dominance of hematopoiesis-restricted minor histocompatibility antigen HA-1 and HA-2 specific T cells. Leukemia 2004; 18: 798–808.

Fowler DH, Gress RE . Th2 and Tc2 cells in the regulation of GVHD, GVL, and graft rejection: considerations for the allogeneic transplantation therapy of leukemia and lymphoma. Leuk Lymphoma 2000; 38: 221–234.

Fowler DH, Bishop MR, Gress RE . Immunoablative reduced-intensity stem cell transplantation: potential role of donor Th2 and Tc2 cells. Semin Oncol 2004; 31: 56–67.

Fowler DH et al. Cells of Th2 cytokine phenotype prevent LPS-induced lethality during murine graft-versus-host reaction. Regulation of cytokines and CD8+ lymphoid engraftment. J Immunol 1994; 152: 1004–1013.

Orsini E et al. Expansion of tumor-specific CD8+ T-cell clones in patients with relapsed myeloma after donor lymphocyte infusion. Cancer Res 2003; 63: 2561–2568.

Montagna D et al. Ex vivo generation and expansion of anti-tumor cytotoxic T-cell lines derived from patients or their HLA-identical sibling. Int J Cancer 2004; 110: 76–86.

Falkenburg JH, van de Corput L, Marijt EW, Willemze R . Minor histocompatibility antigens in human stem cell transplantation. Exp Hematol 2003; 31: 743–751.

Falkenburg JH et al. Polymorphic and monomorphic HLA-DR determinants on human hematopoietic progenitor cells. Blood 1984; 63: 1125–1132.

Nunez G et al. Expression of HLA-DR, MB, MT and SB antigens on human mononuclear cells: identification of two phenotypically distinct monocyte populations. J Immunol 1984; 133: 1300–1306.

Brouwer RE et al. Expression and induction of costimulatory and adhesion molecules on acute myeloid leukemic cells: implications for adoptive immunotherapy. Exp Hematol 2000; 28: 161–168.

Navarrete C, Fernandez N, Alonso MC, Festenstein H . Ontogenic and functional implications of the differential expression of HLA-DQ antigens on leukemic cells. Hum Immunol 1986; 16: 52–68.

Cannistra SA, Daley JF, Larcom P, Griffin JD . Expression of Ia antigens on myeloid progenitor cells in chronic myeloid leukemia: direct analysis using partially purified colony-forming cells. Blood 1985; 65: 414–422.

Orgad S et al. Expression of HLA-DR alloantigens on acute lymphoblastic leukemia lymphoblasts. Hum Immunol 1984; 9: 67–74.

Al Katib A, Koziner B . Leu-10 (HLA-DC/DS) antigen distribution in human leukaemic disorders as detected by a monoclonal antibody: correlation with HLA-DR expression. Br J Haematol 1984; 57: 373–382.

San Miguel JF et al. Immunophenotypic heterogeneity of multiple myeloma: influence on the biology and clinical course of the disease. Castellano-Leones (Spain) Cooperative Group for the Study of Monoclonal Gammopathies. Br J Haematol 1991; 77: 185–190.

Heemskerk MH et al. Inhibition of T cell and promotion of natural killer cell development by the dominant negative helix loop helix factor Id3. J Exp Med 1997; 186: 1597–1602.

Ruggieri L et al. Cell-surface marking of CD(34+)-restricted phenotypes of human hematopoietic progenitor cells by retrovirus-mediated gene transfer. Hum Gene Ther 1997; 8: 1611–1623.

Kinsella TM, Nolan GP . Episomal vectors rapidly and stably produce high-titer recombinant retrovirus. Hum Gene Ther 1996; 7: 1405–1413.

Wu TC et al. Engineering an intracellular pathway for major histocompatibility complex class II presentation of antigens. Proc Natl Acad Sci USA 1995; 92: 11671–11675.

Hanenberg H et al. Colocalization of retrovirus and target cells on specific fibronectin fragments increases genetic transduction of mammalian cells. Nat Med 1996; 2: 876–882.
Acknowledgements
We thank Reinier van der Linden and Maarten van de Keur for expert technical assistance. Renate Hagedoorn is acknowledged for her help with PCR primer design and PCR optimalization. This study was supported by grant 2001-2490 from the Dutch Cancer Society.
About this article
Cite this article
van der Veken, L., Hoogeboom, M., de Paus, R. et al. HLA class II restricted T-cell receptor gene transfer generates CD4+ T cells with helper activity as well as cytotoxic capacity. Gene Ther 12, 1686–1695 (2005). https://doi.org/10.1038/sj.gt.3302586
Received:

Accepted:

Published:

Issue Date:

DOI: https://doi.org/10.1038/sj.gt.3302586
Keywords
cytotoxic T cells

Th1/Th2 cells

T-cell receptors

human
This article is cited by
Qinghua He
Xianhan Jiang
Jinsheng Weng

Journal of Hematology & Oncology (2019)

Kirsten BJ Scholten
Annelies W Turksma
Erik Hooijberg

Journal of Translational Medicine (2011)

H Torikai
Y Akatsuka
T Takahashi

Bone Marrow Transplantation (2007)