Abstract
DNA vaccination against HER-2/neu is an effective way to induce an immune response able to oppose the spontaneous development of mammary tumours occurring in HER-2/neu transgenic mice. In this study, we have evaluated the potential of Imiquimod and the analogue S-27609 as adjuvants of DNA vaccination against HER-2/neu in transgenic mice. The association of a DNA vaccine encoding a portion of rat HER2/neu with either Imiquimod or S-27609 was found to delay the development of spontaneous mammary tumours and to reduce their incidence, in comparison with DNA vaccination alone. Almost 80 or 40% of tumour-free mice were found at the end of measurement time in mice vaccinated and supplemented with Imiquimod or S-27609, respectively. The antitumour preventive effect was associated with increased antibody and cell-mediated immune responsiveness against HER-2/neu. In mice vaccinated and supplemented with Imiquimod, a small but significant increase of rat p185neu-specific cytotoxicity and of IFN-γ and IL-2-producing CD8T cells, together with a reduction of IL-4-producing CD4T cells, and a switch from an IgG1 towards a IgG2a phenotype of anti-p185neu antibodies, suggested a TH1 polarization of the immune response. The immunoregulatory efficacy of S-27609 was lower than that observed for Imiquimod. These data highlight the potential of Imiquimod, and, to a lower extent, of S-27609, as immunological adjuvants of therapeutic DNA vaccines.
Access options
Subscribe to this journal
Receive 12 print issues and online access
$259.00 per year
only $21.58 per issue
Rent or buy this article
Prices vary by article type
from$1.95
to$39.95
Prices may be subject to local taxes which are calculated during checkout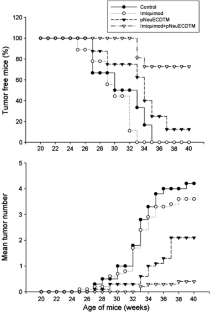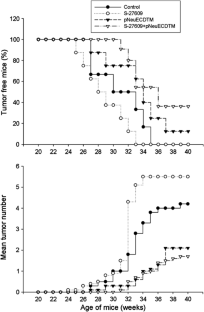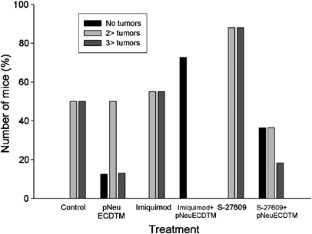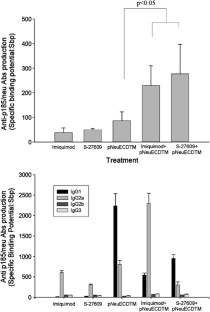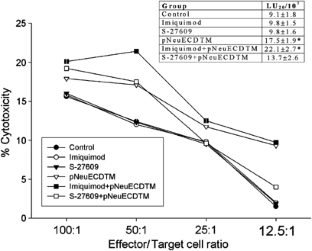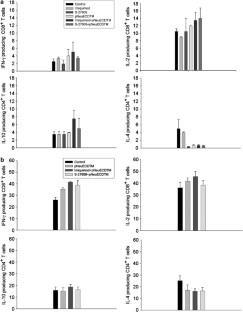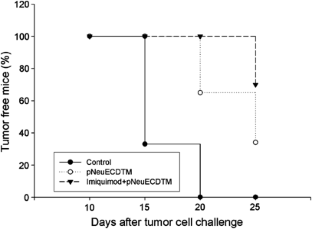 References
Hynes NE, Stern D . The biology of erbB2/neu/HER2 and its role in cancer. Biochim Biophys Acta 1994; 1198: 165–184.

Berchuck A et al. Overexpression of HER-2/neu is associated with poor survival in advanced epithelial ovarian cancer. Cancer Res 1990; 50: 4087–4091.

Disis ML, Cheever M . HER-2/neu oncogenic protein: issues in vaccine development. Crit Rev Immunol 1998; 18: 37–45.

Bernhard H et al. Vaccination against the HER-2/neu oncogenic protein. Endocr-Relat Cancer 2002; 9: 33–44.

Chen Y et al. DNA vaccines encoding full-length or truncated neu induce protective immunity against neu-expressing mammary tumors. Cancer Res 1998; 58: 1965–1971.

Amici A et al. DNA vaccination with full-length or truncated neu induces protective immunity against the development of spontaneous mammary tumors in HER-2/neu transgenic mice. Gene Therapy 2000; 7: 703–706.

Pupa S et al. Prevention of spontaneous neu-expressing mammary tumor development in mice transgenic for rat proto-neu by DNA vaccination. Gene Therapy 2001; 8: 75–79.

Quaglino E et al. Electroporated DNA vaccine clears away multifocal mammary carcinomas in HER-2/neu transgenic mice. Cancer Res 2004; 64: 2858–2864.

Lachman LB et al. DNA vaccination against neu reduces breast cancer incidence and metastasis in mice. Cancer Gene Ther 2001; 8: 259–268.

Di Carlo E et al. Inhibition of mammary carcinogenesis by systemic interleukin 12 or p185neu DNA vaccination in Her-2/neu transgenic BALB/c mice. Clin Cancer Res 2001; 7: 830s–837s.

Cappello P et al. LAG-3 enables DNA vaccination to persistently prevent mammary carcinogenesis in HER-2/neu transgenic BALB/c mice. Cancer Res 2003; 63: 2518–2525.

Disis ML et al. Soluble cytokines can act as effective adjuvants in plasmid DNA vaccines targeting self tumour antigens. Immunobiology 2003; 207: 179–186.

Chang SY et al. Enhanced efficacy of DNA vaccination against Her2/neu tumour antigen by genetic adjuvants. Int J Cancer 2004; 111: 86–95.

Suader DN . Immunomodulatory and pharmacologic properties of Imiquimod. J Am Acad Dermatol 2000; 43: S6–S11.

Stanley MA . Imiquimod and the imidazoquinolines: mechanism of action and therapeutic potential. Clin Dermatol 2002; 27: 571–577.

Hemmi H et al. Small anti-viral compounds activate immune cells via the TLT7 MyD88-dependent signalling pathway. Nat Immunol 2002; 3: 196–200.

Schon MP, Schon M . Immune modulation and apoptosis induction: two sides of the antitumoral activity of Imiquimod. Apoptosis 2004; 9: 291–298.

Thomsen LL et al. Imiquimod and resiquimod in a mouse model: adjuvants for DNA vaccination by particle-mediated immunotherapeutic delivery. Vaccine 2004; 22: 1799–1809.

Ambach A et al. Imiquimod, a Toll-like receptor-7 agonist, induces perforin in cytotoxic T lymphocytes in vitro. Mol Immunol 2004; 40: 1307–1314.

Schon M et al. Tumor-selective induction of apoptosis and the small-molecule immune response modifier Imiquimod. J Natl Cancer Inst 2003; 6: 1138–1149.

Pardoll D, Allison J . Cancer immunotherapy: breaking the barriers to harvest the crop. Nat Med 2004; 10: 887–892.

Provinciali M et al. Low effectiveness of DNA vaccination against HER-2/neu in ageing. Vaccine 2003; 21: 843–848.

Provinciali M, Smorlesi A . Immunoprevention and immunotherapy of cancer in aging. Cancer Immunol Immunother 2005; 54: 93–106.

Berman RM et al. Systemic administration of cellular IL-10 induces an effective, specific, and long-lived immune response against established tumors in mice. J Immunol 1996; 157: 231–237.

Segal BM, Glass DD, Shevach EM . Cutting edge: IL-10-producing CD4T cells mediate tumor rejection. J Immunol 2002; 168: 1–4.

Lollini PL, Forni G . Specific and non specific immunity in the prevention of spontaneous tumors. Immunol Today 1999; 20: 347–350.

Lollini PL, Forni G . Cancer immunoprevention:tracking down persistent tumor antigens. Trends Immunol 2003; 24: 62–66.

Finn OJ . Cancer vaccines: between the idea and the reality. Nat Immunol 2003; 3: 630–641.

Nanni P et al. p185neu protein is required for tumor and anchorage-independent growth, not for cell proliferation of transgenic mammary carcinoma. Int J Cancer 2000; 87: 186–190.

Provinciali M, Di Stefano G, Fabris N . Optimization of cytotoxic assay by target cell retention of the fluorescent dye carboxyfluorescein diacetate (CFDA) and comparison with conventional 51CR release assay. J Immunol Meth 1992; 155: 19–24.

Bryant J, Day R, Whiteside T, Heberman RB . Calculation of lytic units for the expression of cell-mediated cytotoxicity. J Immunol Meth 1992; 146: 91–103.

Giovarelli M et al. Local release of IL-10 by transfected mouse mammary adenocarcinoma cells does not suppress but enhances antitumor reactin and elicits a strong cytotoxic lymphocyte and antibody-dependent immune memory. J Immunol 1995; 155: 3112–3119.
About this article
Cite this article
Smorlesi, A., Papalini, F., Orlando, F. et al. Imiquimod and S-27609 as adjuvants of DNA vaccination in a transgenic murine model of HER2/neu-positive mammary carcinoma. Gene Ther 12, 1324–1332 (2005). https://doi.org/10.1038/sj.gt.3302559
Received:

Accepted:

Published:

Issue Date:

DOI: https://doi.org/10.1038/sj.gt.3302559
Keywords
Imiquimod

DNA vaccination

HER-2/neu

adjuvants

toll-like receptors

transgenic mice
This article is cited by
Fateme Sadri-Ardalani
Mahdi Shabani
Fazel Shokri

Tumor Biology (2016)

Mauro Provinciali
Alessandra Barucca
Elisa Pierpaoli

Biogerontology (2010)

S Dharmapuri
L Aurisicchio
N La Monica

Cancer Gene Therapy (2009)