Abstract
Late infantile neuronal ceroid lipofuscinosis (LINCL) is a fatal, autosomal recessive disease resulting from mutations in the CLN2 gene with consequent deficiency in its product tripeptidyl peptidase I (TPP-I). In the central nervous system (CNS), the deficiency of TPP-I results in the accumulation of proteins in lysosomes leading to a loss of neurons causing progressive neurological decline, and death by ages 10–12 years. To establish the feasibility of treating the CNS manifestations of LINCL by gene transfer, an adeno-associated virus 2 (AAV2) vector encoding the human CLN2 cDNA (AAV2CUhCLN2) was assessed for its ability to establish therapeutic levels of TPP-I in the brain. In vitro studies demonstrated that AAV2CUhCLN2 expressed CLN2 and produced biologically active TPP-I protein of which a fraction was secreted as the pro-TPP-I precursor and was taken up by nontransduced cells (ie, cross-correction). Following AAV2-mediated CLN2 delivery to the rat striatum, enzymatically active TPP-I protein was detected. By immunohistochemistry TPP-I protein was detected in striatal neurons (encompassing nearly half of the target structure) for up to 18 months. At the longer time points following striatal administration, TPP-I-positive cell bodies were also observed in the substantia nigra, frontal cerebral cortex and thalamus of the injected hemisphere, and the frontal cerebral cortex of the noninjected hemisphere. These areas of the brain contain neurons that extend axons into the striatum, suggesting that CNS circuitry may aid the distribution of the gene product. To assess the feasibility of human CNS delivery, a total of 3.6 × 1011 particle units of AAV2CUhCLN2 was administered to the CNS of African green monkeys in 12 distributed doses. Assessment at 5 and 13 weeks demonstrated widespread detection of TPP-I in neurons, but not glial cells, at all regions of injection. The distribution of TPP-I-positive cells was similar between the two time points at all injection sites. Together, these data support the development of direct CNS gene transfer using an AAV2 vector expressing the CLN2 cDNA for the CNS manifestations of LINCL.
Relevant articles
Open Access articles citing this article.
Rachele Penati

,

Francesca Fumagalli

…

Alessandro Aiuti

Journal of Inherited Metabolic Disease Open Access 30 May 2017

P. Kothari

,

B. P. De

…

D. Ballon

Scientific Reports Open Access 06 January 2017

Ryan D. Geraets

,

Seung yon Koh

…

Jill M. Weimer

Orphanet Journal of Rare Diseases Open Access 16 April 2016
Access options
Subscribe to this journal
Receive 12 print issues and online access
$259.00 per year
only $21.58 per issue
Rent or buy this article
Get just this article for as long as you need it
$39.95
Prices may be subject to local taxes which are calculated during checkout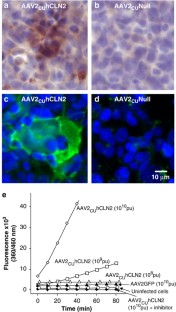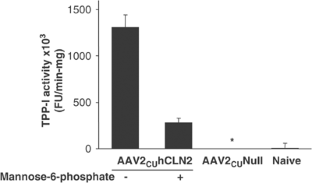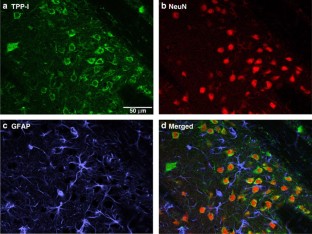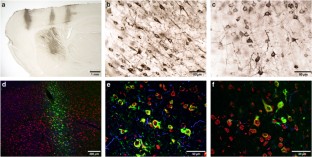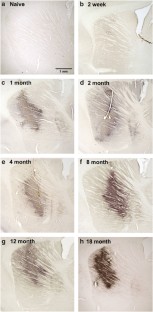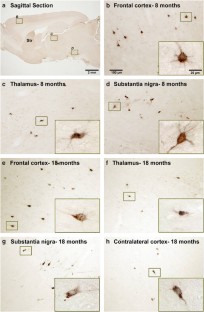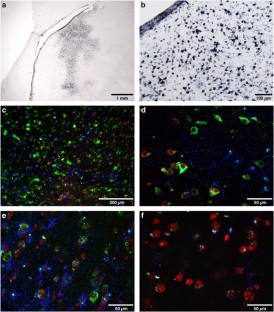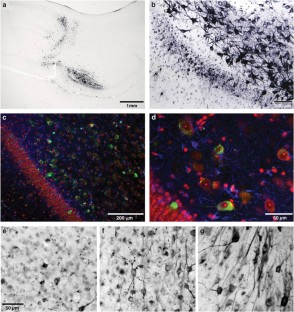 References
Lysosomal enzymes. In: Scriver CR, Beaudet AL, Sly WS, Valle D, Stanbury JB, Wyngaarden JB, Fredrickson DS (eds). The Metabolic and Molecular Basis of Inherited Disease. McGraw-Hill, Inc.: New York, 1995, p 2427.

Williams RE et al. CLN 2. Classic Late Infantile NCL. In: Goebel HH, Mole SE, Lake BD (eds). The Neuronal Ceroid Lipofuscinoses (Batten Disease). IOS Press: Amsterdam, 1999, p 37.

Haltia M . The neuronal ceroid-lipofuscinoses. J Neuropathol Exp Neurol 2003; 62: 1–13.

Sleat DE et al. Association of mutations in a lysosomal protein with classical late-infantile neuronal ceroid lipofuscinosis. Science 1997; 277: 1802–1805.

Vines DJ, Warburton MJ . Classical late infantile neuronal ceroid lipofuscinosis fibroblasts are deficient in lysosomal tripeptidyl peptidase I. FEBS Lett 1999; 443: 131–135.

Palmer DN et al. Mitochondrial ATP synthase subunit c storage in the ceroid-lipofuscinoses (Batten disease). Am J Med Genet 1992; 42: 561–567.

Umehara F et al. Accumulation of mitochondrial ATP synthase subunit c in muscle in a patient with neuronal ceroid lipofuscinosis (late infantile form). Acta Neuropathol 1997; 93: 628–632.

Ezaki J, Tanida I, Kanehagi N, Kominami E . A lysosomal proteinase, the late infantile neuronal ceroid lipofuscinosis gene (CLN2) product, is essential for degradation of a hydrophobic protein, the subunit c of ATP synthase. J Neurochem 1999; 72: 2573–2582.

Boustany RM . Batten disease or neuronal ceroid lipofuscinosis. In: Moser HW (ed). Handbook of Clinical Neurology (Vol. 22, 66): Neurodystrophies and Neurolipidoses. Elsevier Science B.V.: New York, 1996, p 671.

Birch DG . Retinal degeneration in retinitis pigmentosa and neuronal ceroid lipofuscinosis: an overview. Mol Genet Metab 1999; 66: 356–366.

Kaplitt MG et al. Long-term gene expression and phenotypic correction using adeno-associated virus vectors in the mammalian brain. Nat Genet 1994; 8: 148–154.

McCown TJ et al. Differential and persistent expression patterns of CNS gene transfer by an adeno-associated virus (AAV) vector. Brain Res 1996; 713: 99–107.

During MJ et al. In vivo expression of therapeutic human genes for dopamine production in the caudates of MPTP-treated monkeys using an AAV vector. Gene Therapy 1998; 5: 820–827.

Mandel RJ et al. Characterization of intrastriatal recombinant adeno-associated virus-mediated gene transfer of human tyrosine hydroxylase and human GTP-cyclohydrolase I in a rat model of Parkinson's disease. J Neurosci 1998; 18: 4271–4284.

Davidson BL et al. Recombinant adeno-associated virus type 2, 4, and 5 vectors: transduction of variant cell types and regions in the mammalian central nervous system. Proc Natl Acad Sci USA 2000; 97: 3428–3432.

Frisella WA et al. Intracranial injection of recombinant adeno-associated virus improves cognitive function in a murine model of mucopolysaccharidosis type VII. Mol Ther 2001; 3: 351–358.

Haskell RE et al. Viral-mediated delivery of the late-infantile neuronal ceroid lipofuscinosis gene, TPP-I to the mouse central nervous system. Gene Theapy 2003; 10: 34–42.

Skorupa AF et al. Sustained production of beta-glucuronidase from localized sites after AAV vector gene transfer results in widespread distribution of enzyme and reversal of lysosomal storage lesions in a large volume of brain in mucopolysaccharidosis VII mice. Exp Neurol 1999; 160: 17–27.

Bosch A, Perret E, Desmaris N, Heard JM . Long-term and significant correction of brain lesions in adult mucopolysaccharidosis type VII mice using recombinant AAV vectors. Mol Ther 2000; 1: 63–70.

Sferra TJ et al. Recombinant adeno-associated virus-mediated correction of lysosomal storage within the central nervous system of the adult mucopolysaccharidosis type VII mouse. Hum Gene Ther 2000; 11: 507–519.

Lin L, Lobel P . Production and characterization of recombinant human CLN2 protein for enzyme-replacement therapy in late infantile neuronal ceroid lipofuscinosis. Biochem J 2001; 357: 49–55.

Lin L, Sohar I, Lackland H, Lobel P . The human CLN2 protein/tripeptidyl-peptidase I is a serine protease that autoactivates at acidic pH. J Biol Chem 2001; 276: 2249–2255.

Sleat DE et al. Mutational analysis of the defective protease in classic late-infantile neuronal ceroid lipofuscinosis, a neurodegenerative lysosomal storage disorder. Am J Hum Genet 1999; 64: 1511–1523.

Sleat DE et al. A mouse model of classical late-infantile neuronal ceroid lipofuscinosis based on targeted disruption of the CLN2 gene results in a loss of tripeptidyl-peptidase I activity and progressive neurodegeneration. J Neurosci 2004; 24: 9117–9126.

Xiao XF, Li JF, Samulski RJ . Efficient long-term gene transfer into muscle tissue of immunocompetent mice by adeno-associated virus vector. J Virol 1996; 70: 8098–8108.

Lo WD et al. Adeno-associated virus-mediated gene transfer to the brain: duration and modulation of expression. Hum Gene Ther 1999; 10: 201–213.

Thomas CE, Storm TA, Huang Z, Kay MA . Rapid uncoating of vector genomes is the key to efficient liver transduction with pseudotyped adeno-associated virus vectors. J Virol 2004; 78: 3110–3122.

Kaspar BK et al. Targeted retrograde gene delivery for neuronal protection. Mol Ther 2002; 5: 50–56.

Passini MA, Lee EB, Heuer GG, Wolfe JH . Distribution of a lysosomal enzyme in the adult brain by axonal transport and by cells of the rostral migratory stream. J Neurosci 2002; 22: 6437–6446.

Sondhi D et al. Feasibility of gene therapy for late neuronal ceroid lipofuscinosis. Arch Neurol 2001; 58: 1793–1798.

Daly TM et al. Prevention of systemic clinical disease in MPS VII mice following AAV-mediated neonatal gene transfer. Gene Therapy 2001; 8: 1291–1298.

Passini MA, Wolfe JH . Widespread gene delivery and structure-specific patterns of expression in the brain after intraventricular injections of neonatal mice with an adeno-associated virus vector. J Virol 2001; 75: 12382–12392.

Klein RL et al. Dose and promoter effects of adeno-associated viral vector for green fluorescent protein expression in the rat brain. Exp Neurol 2002; 176: 66–74.

Klein RL, King MA, Hamby ME, Meyer EM . Dopaminergic cell loss induced by human A30P alpha-synuclein gene transfer to the rat substantia nigra. Hum Gene Ther 2002; 13: 605–612.

Prosch S et al. Inactivation of the very strong HCMV immediate early promoter by DNA CpG methylation in vitro. Biol Chem Hoppe Seyler 1996; 377: 195–201.

Fitzsimons HL, Bland RJ, During MJ . Promoters and regulatory elements that improve adeno-associated virus transgene expression in the brain. Methods 2002; 28: 227–236.

Bartlett JS, Samulski RJ, McCown TJ . Selective and rapid uptake of adeno-associated virus type 2 in brain. Hum Gene Ther 1998; 9: 1181–1186.

Chamberlin NL, Du B, de Lacalle S, Saper CB . Recombinant adeno-associated virus vector: use for transgene expression and anterograde tract tracing in the CNS. Brain Res 1998; 793: 169–175.

Haber SN, Groenewegen HJ, Grove EA, Nauta WJ . Efferent connections of the ventral pallidum: evidence of a dual striato pallidofugal pathway. J Comp Neurol 1985; 235: 322–335.

McGeorge AJ, Faull RL . The organization of the projection from the cerebral cortex to the striatum in the rat. Neuroscience 1989; 29: 503–537.

Berendse HW, Groenewegen HJ . Organization of the thalamostriatal projections in the rat, with special emphasis on the ventral striatum. J Comp Neurol 1990; 299: 187–228.

During MJ, Kaplitt MG, Stern MB, Eidelberg D . Subthalamic GAD gene transfer in Parkinson disease patients who are candidates for deep brain stimulation. Hum Gene Ther 2001; 12: 1589–1591.

Janson C et al. Clinical protocol. Gene therapy of Canavan disease: AAV-2 vector for neurosurgical delivery of aspartoacylase gene (ASPA) to the human brain. Hum Gene Ther 2002; 13: 1391–1412.

Niwa H, Yamamura K, Miyazaki J . Efficient selection for high-expression transfectants with a novel eukaryotic vector. Gene 1991; 108: 193–199.

Daly TM et al. Neonatal intramuscular injection with recombinant adeno-associated virus results in prolonged beta-glucuronidase expression in situ and correction of liver pathology in mucopolysaccharidosis type VII mice. Hum Gene Ther 1999; 10: 85–94.

Daly TM et al. Neonatal gene transfer leads to widespread correction of pathology in a murine model of lysosomal storage disease. Proc Natl Acad Sci USA 1999; 96: 2296–2300.

Grimm D, Kern A, Rittner K, Kleinschmidt JA . Novel tools for production and purification of recombinant adenoassociated virus vectors. Hum Gene Ther 1998; 9: 2745–2760.

Qui JP, Mendez BS, Crystal RG, Hackett NR . Construction and verification of an Ad/AAV helper plasmid designed for manufacturing recombinant AAV vectors for human administration. Mol Ther 2002; 5: S47–S48.

Zolotukhin S et al. A 'humanized' green fluorescent protein cDNA adapted for high-level expression in mammalian cells. J Virol 1996; 70: 4646–4654.

Zolotukhin S et al. Recombinant adeno-associated virus purification using novel methods improves infectious titer and yield. Gene Therapy 1999; 6: 973–985.

Clark KR, Voulgaropoulou F, Fraley DM, Johnson PR . Cell lines for the production of recombinant adeno-associated virus. Hum Gene Ther 1995; 6: 1329–1341.

Brough DE et al. A gene transfer vector-cell line system for complete functional complementation of adenovirus early regions E1 and E4. J Virol 1996; 70: 6497–6501.

Ezaki J, Takeda-Ezaki M, Kominami E . Tripeptidyl peptidase I, the late infantile neuronal ceroid lipofuscinosis gene product, initiates the lysosomal degradation of subunit c of ATP synthase. J Biochem (Tokyo) 2000; 128: 509–516.

Peterson DA . The use of fluorescent probes in cell counting procedures. In: Evans SM, Janson AM, Nyengaard JR (eds). Quantitative Methods in Neuroscience-A Stereological Approach. Oxford University Press: Oxford, 2004, p 88.

Peterson DA et al. Central neuronal loss and behavioral impairment in mice lacking neurotrophin receptor p75. J Comp Neurol 1999; 404: 1–20.
Acknowledgements
We thank P Lobel, Robert Wood Johnson Medical College, for providing the anti-TPP-I polyclonal antibody and the CLN2-deficient fibroblasts; K Wisniewski, Institute for Basic Research in Developmental Disabilities, for providing the anti-TPP-I monoclonal antibody; B Ferris, R McKinney, M Lam, B Bergman, J Qiu, E Salvin, E Vassallo, R Abplett, and the staff at the St Kitts Biomedical Research Foundation for technical assistance; and N Mohamed and T Virgin-Bryan for help in preparing this manuscript. These studies were supported, in part, by Nathan's Battle Foundation, Indianapolis, IN; and the Will Rogers Memorial Fund, Los Angeles, CA.
About this article
Cite this article
Sondhi, D., Peterson, D., Giannaris, E. et al. AAV2-mediated CLN2 gene transfer to rodent and non-human primate brain results in long-term TPP-I expression compatible with therapy for LINCL. Gene Ther 12, 1618–1632 (2005). https://doi.org/10.1038/sj.gt.3302549
Received:

Accepted:

Published:

Issue Date:

DOI: https://doi.org/10.1038/sj.gt.3302549
Keywords
AAV2

LINCL

Batten

CLN2

TPP-I

brain gene therapy